Private Tour of "Degenerate Art: The Attack on Modern Art in Nazi Germany"

Thursday, August 28, 2014 from 6:00 PM to 7:00 PM (EDT)
Event Details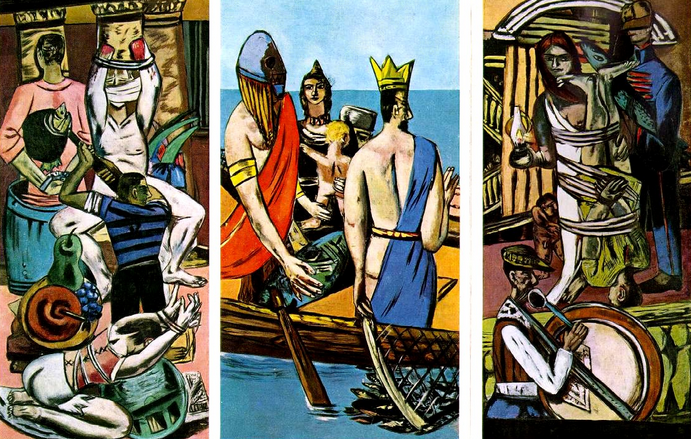 Back by popular demand, Center for Art Law is pleased to offer one more private guided tour of the Neue Galerie's critically-acclaimed exhibition "Degenerate Art: The Attack on Modern Art in Nazi Germany, 1937."
Join us for an alternative view at the artworks, the political and legal history prism, as we revisit the propaganda war waged by National Socialists against contemporary art. Promoted as "the first major U.S. museum exhibition devoted to the infamous display of modern art by the Nazis since the 1991 presentation at the Los Angeles County Museum of Art," the show is bound to generate a lot of discussion about the past, present and future of art looted, deaccessioned and displaced art between 1933 and 1945.
The tour lasts one hour. All attendees are encouraged to stay and discuss the exhibit at Cafe Sabarsky following the tour.
"Highlights of the show include a number of works shown in Munich in the summer of 1937, such as Max Beckmann's Cattle in a Barn (1933); George Grosz's Portrait of Max Hermann-Neisse  (1925); Erich Heckel'sBarbershop (1913); Ernst Ludwig Kirchner's Winter Landscape in Moonlight (1919), The Brücke-Artists (1926/27); Paul Klee's The Angler(1921), The Twittering Machine (1922), and Ghost Chamber with the Tall Door (1925); Oskar Kokoschka's The Duchess of Montesquiou-Fezensac(1910); Ewald Mataré's Lurking Cat (1928); Karel Niestrath's Hungry Girl(1925); Emil Nolde's Still-Life with Wooden Figure (1911), Red-Haired Girl (1919), and Milk Cows (1913); Christian Rohlf's The Towers of Soest(ca. 1916) and Acrobats (ca. 1916); Karl Schmidt-Rottluff's Pharisees(1912); and Lasar Segall's The Eternal Wanderers (1919), among others."
Spaces are limited. 
When & Where

Neue Galerie New York
1048 5th Avenue
New York, NY 10028


Thursday, August 28, 2014 from 6:00 PM to 7:00 PM (EDT)
Add to my calendar
Organizer
The Center for Art Law is a Brooklyn-based research and education nonprofit that offers educational resources and programming for the advancement of a vibrant arts and law community. The Center operates at three levels: its website constitutes a database of resources in the field of art law; the Art Law Blast, its monthly newsletter, keeps subscribers updated about art and law-related news, events, case law, and publications; and the Center organizes cultural and educational events include Art & Law Workshops for visual artists, CLE programs for attorneys, Art Law Mixers, film screenings, and studio tours. Today a world-renowned asset to the art law field, the Center serves artists, attorneys, students of both disciplines, art market professionals, and members of the general public.