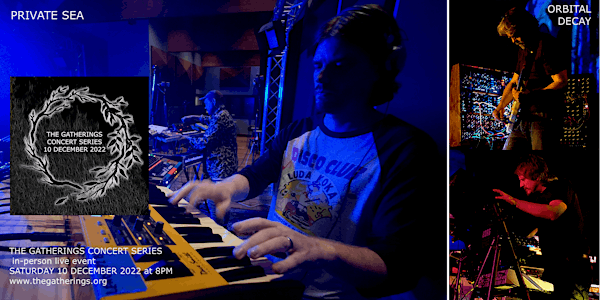 Private Sea w/Orbital Decay at The Gatherings Concert Series
Local Electronic Duos Private Sea & Orbital Decay mark the 30th Anniversary of The Gatherings with a Free Concert on 10 December 2022
When and where
Location
St. Mary's Hamilton Village 3916 Locust Walk Philadelphia, PA 19104
About this event
While Private Sea expresses and experiments in ways built on previous entries in this field, the duo of Alex Mitchell and Ryan Todd are far more focused on the wonders of the psyche than on the machinery used to make music. Their optimism and artistry are fully present throughout every one of their well-crafted musical moments. Driven by openness and compassion, vision and vibe, it is the assured pacing of their work that leads us into a remarkable euphonic, electronic state.
Private Sea debuts at The Gatherings Concert Series in Philadelphia at 8PM on Saturday 10 December 2022 (local EM duo Orbital Decay will provide an opening set)
Existing on a plane outside the oppressive rush of modernity Orbital Decay quotes the classics of spacemusic without mimicking them. Synthesist Terry Furber and guitarist Scott Watkins demonstrate a masterful grasp of the vintage gear around which the spacemusic genre gravitates and explore the past in a new way.
Orbital Decay returns on Saturday 10 December 2022 in support of Private Sea's debut at The Gatherings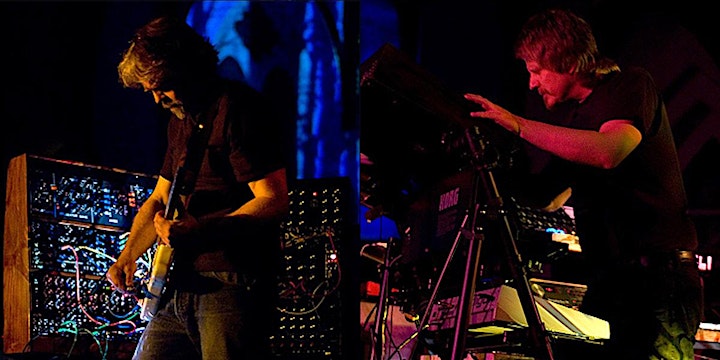 The Gatherings Concert Series presents Private Sea plus Orbital Decay live in concert on Saturday 10 December 2022 at 8:00PM (doors open at 7:30pm) in the church sanctuary of St. Mary's Hamilton Village 3916 Locust Walk (just east of 40th & Locust) on the Penn campus in West Philadelphia. Free Admission/Donation Requested. Reservations are available through Eventbrite.(a limited number of admissions will be available at the door/night of show)
For more on the Saturday 10 December 2022 appearance by Private Sea & Orbital Decay at The Gatherings Concert Series, please access: www.thegatherings.org
The Gatherings Concert Series is presented by the all-volunteer staff of The Corporation for Innovative Music and Arts of Pennsylvania, a 501(c)(3) recognized charity