World-renowned civil rights defense attorney Bryan Stevenson works to free a wrongly condemned death row prisoner.
About this event
AUDITORIUM 9 – OPEN SEATING. BE SEATED NO LATER THAN 1:45PM
Please join us for the premiere weekend screening of the movie "JUST MERCY" to support the activities of The Lepanto Project.
What is THE LEPANTO PROJECT? The Lepanto Project is a grassroots initiative to Keep People in Colorado Healthy and Safe throughout Life from Conception to Natural Death using a combined approach of Advocacy, Education, Coalition Building, Media and, most of all, PRAYER.
Let's come together as a community and watch how world-renowned civil rights defense attorney Bryan Stevenson works to free a wrongly condemned death row prisoner.
A powerful and thought-provoking true-story, "Just Mercy" follows young lawyer Bryan Stevenson (Jordan) and his history-making battle for justice. After graduating from Harvard, Bryan might have had his pick of lucrative jobs. Instead, he heads to Alabama to defend those wrongly condemned, with the support of local advocate Eva Ansley (Larson.) One of his first, and most incendiary, cases is that of Walter McMillian (Foxx,) who, in 1987, was sentenced to die for the notorious murder of an 18-year-old girl, despite a preponderance of evidence proving his innocence and the fact that the only testimony against him came from a criminal with a motive to lie. In the years that follow, Bryan becomes embroiled in a labyrinth of legal and political maneuverings and overt and unabashed racism as he fights for Walter, and others like him, with the odds-and the system-stacked against them.
1:30PM - Check in at The Lepanto Project table with your printed Eventbrite ticket or e-ticket.
1:45PM - Doors open to Auditorium #9
2:00PM - Welcome Address by Lisa Van Bramer, MD, Chairperson, The Lepanto Project, an initiative of the Rocky Mountain Research & Prevention Institute.
2:15PM - Screening of "JUST MERCY" open seating*
4:30PM - Closing Comments by Pro-life Advocates
* WHEELCHAIR ACCESSIBLE SEATING AVAILABLE. Please email Dr.Lisa@LepantoProject.org to reserve limited WC Accessible seats.
NOTE: JUST MERCY is Rated "PG 13".
MOVIE REVIEW: JUST MERCY By John Mulderig, Catholic News Service https://www.catholicnews.com/services/englishnews/2019/just-mercy.cfm
NOTE: Do you have a Colorado Kids 1st License Plate for your vehicle? Get one TODAY! Make a $30 Donation and 100% of the proceeds will benefit The Lepanto Project.
For more information about Colorado Kids 1st, go to: www.ColoradoKids1st.org. Click "Order a Plate."
Special thanks to Our Lady of Victory and Our Platinum Sponsor: Carla Little, Esq. Little Law Office A Full Service Catholic Estate Planning and Elder Law Firm.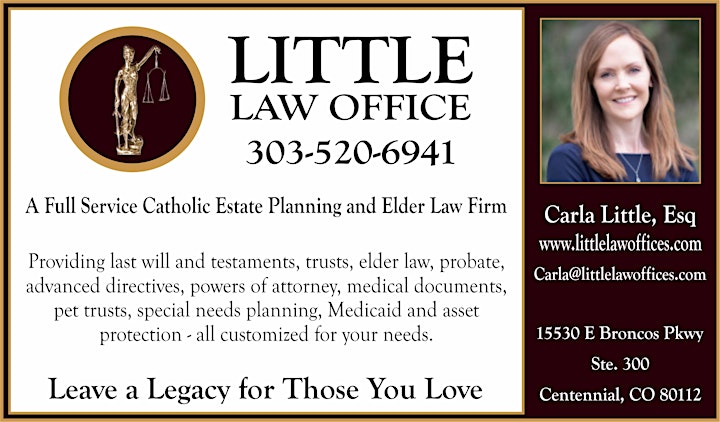 Organizer of Private Screening "Just Mercy" to Support The Lepanto Project