Refund policy
Contact the organizer to request a refund.
Eventbrite's fee is nonrefundable.
Train and Dance at your pace, your level, your time.
About this event
One-On-One Private Dance Lessons
Dancing and being creative are the two best things you can do for health and fitness. Studies show that dancing is the best exercise to keep you physically fit because it uses all the muscles and incorporates music, rhythms, and memorization of steps and sequences. It's also a lot of fun! There are many benefits of dance, and you can read my favorite five in my Journal.
Being creative is also hugely beneficial for our mental and spiritual wellness. Taking time to be creative is one of the best things you can do for your mind and to help you relax. Spending just a few minutes on mindful creating is a good way to tap into your creative genie, and transform your life.
If you want to train your body using jazz and ballet technique with a creative spirit, let's work together.
Private Dance Lessons
One-on-one private training.
Live virtual sessions.
Weekly sessions.
You set the time and duration.
15 minutes to 45 minute sessions.
Your timing.
Your pace.
Your schedule.
My technique.
In your private sessions:
We will work on exercises that focus on your specific needs and level.
You will learn the foundational movements of jazz and ballet technique.
You will learn and do yoga stretches and muscle strengthening exercises.
You will learn the language of dance.
We will work all parts of the body at your current pace and level.
We will work on choreography and creating movements.
You will build muscle, strength and grace.
My students notice a difference. They are more flexible, stronger, have greater balance and breath in their bodies. They move with grace and have more confidence.
30 Minute Private Lesson: $50
Packages available.
If none of these times work for you, please email me and we will schedule another time.
For more information email or visit my website:
Email -->> bonnie@powersourceadance.com
What people say about my classes:
I love Bonnie's classes because it is a head to toe workout. I come so that I can stretch out every single muscle in my body, starting with my head and neck, all the way, systematically done to my toes. The dance aspect to the workout frees my mind and spirit. I feel uplifted moving to the powerful music you have selected as the backdrop of the experience. I absolutely love Bonnie Wallace Dance! -- Tara G-H.
The stretches are an entity in themselves not just a prelude to activity. Some of the stretches are included in my physical therapists' recommendations for my hip and groin. I enjoy the choreography portion as it provides an opportunity to translate stretching and technique into movement/action to music. One is allowed to infuse one's own interpretation and character into the combo, in lieu of dancing behind the teacher like a robot. -- Adrienne B.
Taking Bonnie's dance class allows me to connect to my inner self; awareness of breath and connection to the body is achieved every single week through her guidance and instruction. When I am unable to take her class during the week, I suffer physically and emotionally. I find that I am sore and unable to connect to my body in the same way! It is truly transformative and I look forward to it each and every week! - Lindsay D.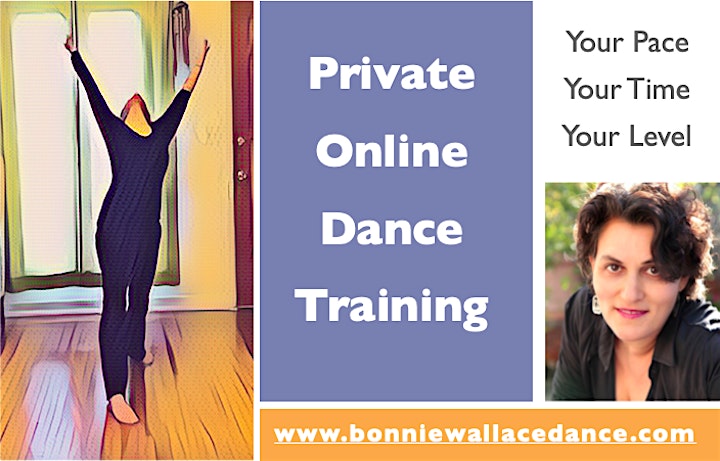 If doing a group class isn't your thing we can work privately together.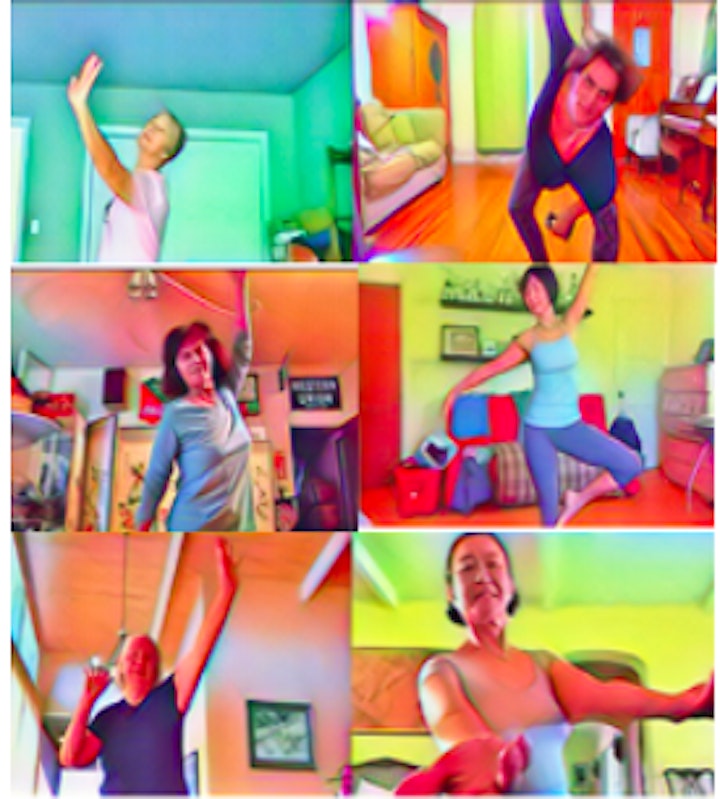 Bonnie Wallace Dance where Art and Exercise Unite.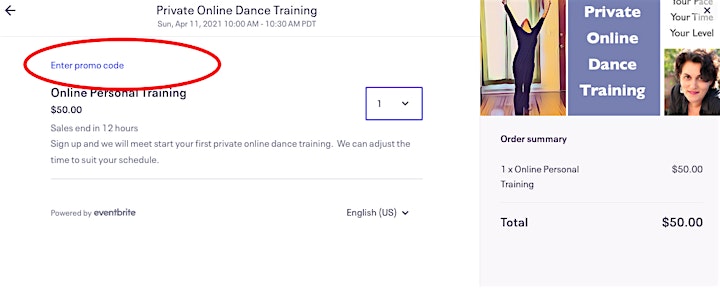 For those with promo codes: enter them after you have chosen a date, but before you check out. It's above the name of the event. If none of these times work for you, please contact me, and we will schedule a better time for you.
Hear what people say after they danced with me!