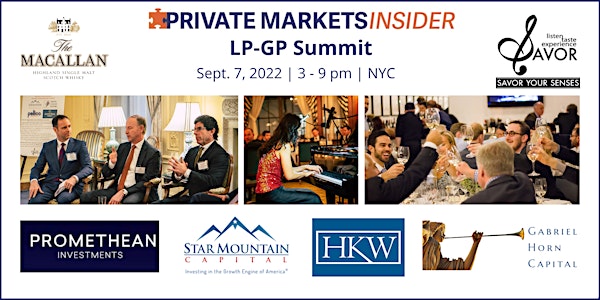 Private Markets Insider live LP-GP Summit, NYC
This live Summit (3:00pm to 9:00pm ET) features LP & GP speakers, targeted meetings, cocktails/networking, dinner, and live entertainment.
When and where
Location
New York to be announced New York, NY 10019
About this event
This live Summit is INVITE ONLY. Please register in order to apply for limited seating as we return to building key relationships in person! There is restricted capacity for speaking roles, dinner, world-class entertainment.
LP & GP Speakers, Sponsors, and Guests will join us in New York City on September 7th, 2022 for this live Summit from 3pm to 9pm ET. We will feature Insider insights into opportunities in the Private Markets.
You will be contacted shortly to determine your role in sincere efforts to build and strengthen relationships via interactive panels, targeted meetings, cocktails/networking, dinner, and world-class entertainment. Final details will be sent directly to Guests and Speakers.
Who is Attending: Select Family Offices and other Institutional LPs invited by Summit Chairs (Fund Managers, PMI Staff, and related Insiders).
*Seating is limited to 40 LP Guests, applications and invites are evaluated by Summit Chairs. Final invites and details to be forwarded.
Family Offices & other Institutional Investors expected:
747 Capital, ACE & Co., Alpha Square FO, AltaCap FO, Arrivato FO, Aurora Asset Ltd, Cheltenham Enterprises, City of Stamford, Colibri Eq, Cornell U, CVC (Comfort FO), EA Global, EnTrust, FL Putnam (Atrato Adv), Franger FO, Frank FO, Gatewood, Gordon FO, Herington FO, Ivy Capital, King FO, Kingdon Foundation, Kuberan Capital, Landmark Mgt, Legacy Wealth, Mahoney FO, McNally Capital, MetLife, Moneta, NataRock, Oxford Financial, Ruttenberg Gordon, Sagar FO, Thrivent, Unifund, and others… we're managing a wait list and LP confirmations now.
Summit Chairs:
Jim Snyder, Partner – HKW (Hammond, Kennedy, Whitney & Company)
Michael Burt, Partner – Promethean Investments
Brett Hickey, CEO & Founder – Star Mountain Capital
Brett Nelson, Managing Partner & Co-Founder – Gabriel Horn Capital
Preliminary Agenda (subject to change); 3-9pm:
3:00pm – Pre-screened LP/GP meetings on request
3:30pm – General Registration & Reception
4:00pm – Panel 1 – "Private Equity for Peak Performance"
- moderated by Jim Snyder, Partner at HKW (Hammond, Kennedy, Whitney & Co.)
- Matt Fisk, Managing Director, Private Equity Investments at Thrivent Private Investments
- Ami Samuels, Partner at Gatewood Capital
- Gijs Van Thiel, Managing Partner at 747 Capital
- Roger Vincent, Senior Investment Officer at Cornell University
4:30pm – Panel 2 – "Private Credit for Turbulent Times"
- moderated by Kevin McCaffrey, Managing Member at Private Markets Insider (& Managing Director at Gabriel Horn Capital)
- Brett Hickey, Founder & Managing Partner at Star Mountain
- Rosemary Sagar, Chief Investment Officer at Sagar Family Office
- Mindy Mitchell, Private Market Advisor at Moneta Group
- Eric Newman, Treasury Manager at City of Stamford
5:00pm – Panel 3 – "Creative Structures, Deals & Family Offices"
- moderated by Adi Divgi, Managing Director at Legacy Wealth Management
- Michael Burt, Founder & Partner Promethean Investments
- Shakeel Rangrez, Founding Partner at Conversion Venture Capital (Comfort Family Office)
- Grace Lovret, CIO & Managing Member at Franger Family Office
5:30pm – Cocktails & Networking
6:00pm – Dinner & Savor Your Senses® experience – World-class live music paired with wine and whisky woven into interactive dinner conversation.
More details to be announced shortly. For context, please review past Private Markets Insider events, speakers, agendas, and recordings at https://www.privatemarketsinsider.com/events
We aim to do well by doing good… for the cultural community as well as the investments and causes we serve by raising awareness and funds. Let's create value through shared experience.
Feel free to follow up with questions or suggestions at Kevin@PrivateMarketsInsider.com