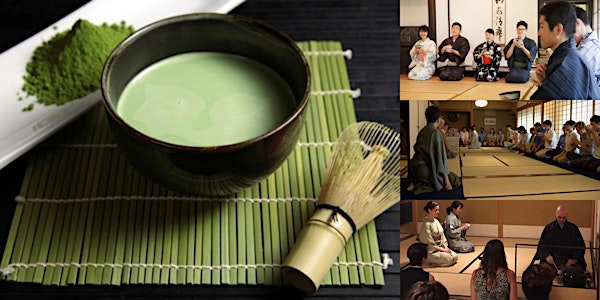 Private Japanese Tea Ceremony Demonstration @ The Secret Kyoto Garden
New York Adventure Club | www.AdventureClub.com
When and where
Location
Urasenke Chanoyu Center (See Confirmation Email for Important Instructions) 153 East 69th Street New York, NY 10021
About this event
While many cultures around the world practice some type of tea ceremony, none are as meticulous and detail-oriented as the Japanese tea ceremony of Urasenke. But where did this ancient tea ceremony come from, and why does it take a lifetime to master? It's time to experience one of Japan's oldest traditional tea ceremonies inside a secret indoor Japanese garden hidden in the Upper East Side.
Join New York Adventure Club for a traditional Japanese tea ceremony demonstration in the style of Urasenke, one of the main schools of Japanese tea ceremony.
Led by a Tea Master at the Urasenke Chanoyu Center — a private organization established in 1967 to promote the rich cultural tea tradition of Urasenke in New York City and teach its members how to master this ancient tradition over the course of 10-15 years — this unique experience will include:
A brief overview of the Urasenke Chanoyu Center, from its days as an 1880s carriage house to studio of famed artist Mark Rothko
Access inside the secret Japanese garden and its traditional tea rooms, all of which were constructed by traditional carpenters from Kyoto, Japan using imported Japanese materials
An authentic Urasenke tea ceremony demonstration to learn about its history and philosophy, etiquette, and traditions
An opportunity to consume the best quality sweets and matcha green tea from Kyoto, Japan, where Urasenke originated
See you there!
*Due to the venue's COVID-19 protocols, guests must wearing a mask while inside the building's premises. Please do not attend if you feel any cold-like symptoms.
**Cell phones and cameras are not permitted inside the teahouse — all personal belongings will be safely secured in the reception area
***Rules: Due to the fragility of the tea ceremony mats: jeans and jean shorts are not allowed, an extra pair of clean socks are required, clean pants are required, remove all hand jewelry, refrain from wearing strong perfume or cosmetics, skirts must cover knees. 
****Attendees will be asked to sit down, or on their knees, for the duration of the tea ceremony — attendees can bring their own tea ceremony chair, or request one from the Urasenke Chanoyu Center with at least 24 hours notice
*****Matcha and sweets contain allergens such as wheat, soy, and caffeine. Please understand that substitutions may not be available to accommodate those with allergies, but will be provided if possible.
Testimonials
"This event is perfect and gives you a very good idea about a Japanese tea ceremony" - Maryline
"[I liked] everything - the sensei, the space, the ceremony itself, the philosophy behind it. It was a wonderful experience." - Zhanna
"We enjoyed ourselves immensely at this event!" - Yvette
"I loved the venue--a genuine cultural experience, truly educational, unusual, off-the-beaten-path, small size, caring staff member" - Helen
"It was excellently executed. The host of the event explained everything cultural aspects of the traditional making of the tea in a clear and accurate manner. All aspects of the event went off without a single glitch. Would love to do it again." -Mardine
"Totally surprising authentic Japanese oasis in Manhattan. Very informative, half-lecture half theatrical performance. Once again, NY Adventure Club provided interesting educational unique experience. Cannot be more pleased with the time well spent." -Yevgeniya
"Detailed information provided by knowledgeable and friendly masters and their assistants, in a beautiful otherworldly setting. My first experience with the New York Adventure Club and the Urasenke Chanoyu Center, hopefully not my last with either!" -Christian
"I was so impressed teachers knowledge and environment at the venue ! Everything was awesome ! Thank you so much." -Yumi
"Enjoyed the historical aspect of the school building and learning about the tea and tea ceremony. The small group size was perfect." -Kerry
"Very informative AWESOME environment." -Miriam
"Everything. The venue, hosts and demonstrations were explained very well." -Felicia
"Got to know a lot about Japanese culture." -Megha
"Learning about a culture and tradition as very enriching." -Rachel
"I love the full tea demonstration." -Nicole
"The space, the teaching and the atmosphere." -David
"The presentation by the host." -Michael
"The atmosphere was nice, the group was nice and friendly and had a lot of interesting questions which helped everyone obtain more knowledge about the topic." -Yiheng
"Everything - interiors, a teacher, people attending." -Alexander
"Loved the gentleman who taught us about the ceremony. He was so knowledgeable and had a wonderful sense of humor." -Theresa LaSalle
"The information provided was thourough and entertaining." -Keith
"This event is perfect and gives you a very good idea about a Japanese tea ceremony." -Maryline
"Extremely informative. The host patiently answered all our questions about the tea ceremony. Lovely tea authentic house." -Ruth
"I loved the venue--a genuine cultural experience, truly educational, unusual, off-the-beaten-path, small size, caring staff member." -Helen
"The information was delivered in an entertaining and amusing manner and I learned quite a lot." -Cathryn
"The content, location and instruction." -Heather
"The location was very unique. The presentation was informative yet personable. Good length of time." -Ellen
"The hosts were gracious, the setting beautiful, and I learned a lot." -suzanne
"Learning about the ceremony. Visiting the garden." -Molly
"Learning about a different culture and its ceremonies and rituals." -Roger
"Interactive and pleasant." -Nicole
"The tea ceremony, and the explanations." -Elissa
Disclaimer
By attending a New York Adventure Club experience, you accept our terms of service.
Categories: In-Person, Instructional