Description
Art Bar 39 Private Event:
Bobbi's Bachelorette Party! Join us for a fun night out at Art Bar 39 Wine Bar/Cafe & Art Studio located at the Viking Plaza Mall in Alexandria! If you have been invited by Rachel W, we would love for you to join!
We are excited to get together for a fun night full of laughter and creativity! We will be creating our very own custom string art project! -We have mulitple templates available for you to choose from at your event! Here is a list of stencils we have currently! We are continually adding to the collection! MN state, Love , arrows, LOVE, with arrows, Buck (deer), custon letter, snowflake, possibly adding on: Camper, pine trees, and more! A selection of colored string will be offered to choose from!
No artistic or creative experience is needed for this event as local Art Bar 39 instructors will walk you through step by step.
Rustic art starts at 1pm, right in our studio in the Viking Mall. Join us for Lunch! - we offer a nice variety of Flat Breads, Artichoke dip & Cheese Platters + more! (not included in ticket price - see our Menu online at www.artbar39.com)
Also, Check out our Brand New wine list - we now offer unique wines to from sustainable wineries around the world! including Hot Dish Red & Miniscato from our local Carlos Creek Winery.
We look forward to creating with you all!
Rustic String Art Tickets are $39
Create | Sip | Fun!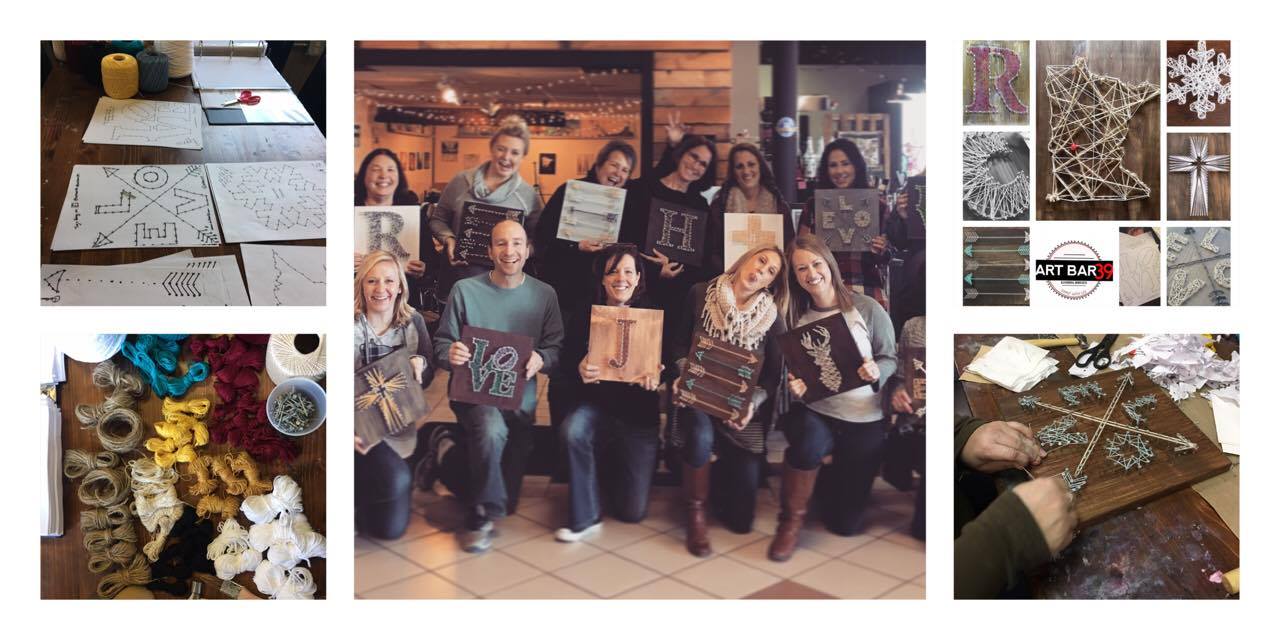 WWW.ARTBAR39.COM