Description
Experience an evening of luxurious food, wine and company from around the world with hosts Brian & Mary Ann Sullivan.
This invitation-only private dinner features a 5-course meal prepared on-site by one of Indianapolis' top chefs. A sommelier from Vine Society has carefully paired wine with each course.
Before dessert, you will have an opportunity to purchase the wines you like and support The 10|100 Committee.
This private dinner will be held at a the Sullivan's downtown canal-front home.
Seating is limited to 12 guests. A $169 contribution includes dinner, wine and a gift to The 10|100 Committee.
We would love to have you and your partner attend.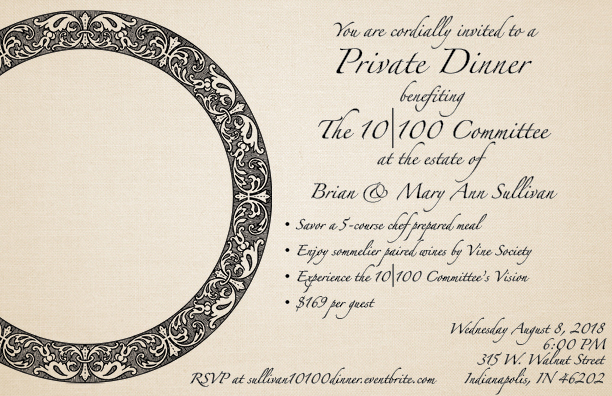 Can't attend the event? Contribute through this page OR send your gift to The Ten 100 Committee, PO Box 441271, Indianapolis, IN 46244.