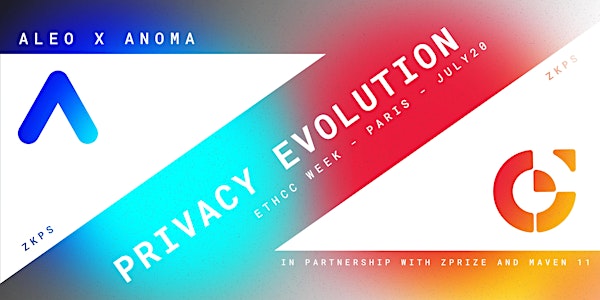 Privacy Evolution with Aleo & Anoma
Join Aleo, Anoma and friends at ETHCC[5] to learn about zero-knowledge cryptography and the future of individual privacy in Web3.
When and where
Location
The Bridge @ Pont Alexandre III Pont Alexandre III 75008 Paris France
About this event
A Note About the Venue Location
Please use "Pont Alexandre III" when using google maps search. Searching "Bridge Club" returns the incorrect venue location on google maps.
The entrance is on the north east side under the bridge. You can find it on Google Maps using this pinned location. There will also be an Anoma flag outside the entrance.
See you all tonight!
--------------------------
Event Description
Privacy should be a choice to the extent that individuals should have the power to choose what they keep private and what they decide to share. Yet the systems and applications that are an integral part of our daily lives have not only blurred these lines, but exploited it, monetizing subjective human experiences non-consensually. As technology is more interwoven into our innate reality, the notion of privacy and self-sovereignty becomes unequivocally uncertain.
This event brings together Aleo & Anoma, examining the implications of privacy and how we can build systems that make this an intrinsic aspect of their construction. With the progression of zero-knowledge proofs combined with the development of flexible, expressive and privacy-centric programming languages, the applications and technologies we use everyday can preserve and cultivate our power to choose.
--------------------------
Program Schedule
To be announced closer to the date of the event. Check out our website for updates!
--------------------------
After Party
Following the event, all attendees are invited to join an after party presented by Maven11. When you come to the Aleo & Anoma event you'll receive a wristband and a voucher for cocktails for the after party.
--------------------------
Attendance Disclaimer
We are thrilled to host as many of you as possible! However, the space is limited. We ask all attendees to come on time. Food and drinks will be served for those that arrive early. We will be prioritizing those who show up at the door (even if they may be on the waitlist).
--------------------------
About the Sponsors
Aleo
Aleo was born from a desire to achieve the impossible - build a user experience on the web that is both truly personal and truly private.By leveraging decentralized systems and zero-knowledge cryptography, Aleo protects user data on the web. With Aleo, any developer or organization can add privacy to their application. Unlike existing solutions that seek to replace the web, Aleo is designed to integrate with it.
Anoma
Anoma represents the evolution of protocols, going beyond just programmable settlement but enabling user intents to be as expressive as possible. Combining this with counterparty discovery and atomic, multi-chain settlement built upon privacy-preserving, zero knowledge proofs unlocks a more comprehensive way of coordination, one that begins and ends with the user.
ZPrize
ZPrize is a collaborative effort across the blockchain industry that includes over 32 partners and sponsors contributing time, effort, and resources to accelerating the future of zero-knowledge cryptography.
Maven11
Maven 11 is a global blockchain and digital asset investment firm. Launched by a diverse set of serial entrepreneurs, investors, and blockchain builders, the teams we partner with are on a rigorous quest to solve most exciting problems and make the necessary shift towards decentralized tomorrow.