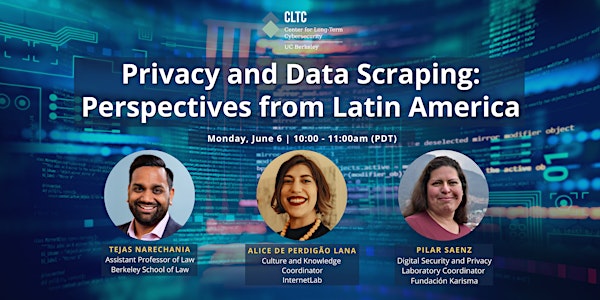 Privacy and Data Scraping: Perspectives from Latin America
The third of a series of conversations exploring the legal, technical, and policy questions that emerge when data is scraped at scale.
About this event
The rapid evolution of data scraping technologies is forcing us to reconsider some evergreen questions: What content is public? What is private? How do we decide? For the next event in our series on data scraping and privacy, civil society experts from Colombia and Brazil will join us to describe how this debate is shaping in Latin America. Where are policy and practice converging or diverging from approaches being taken in the US and/or the EU?
These are important questions for civil society groups on the ground, who may be using some scraping methodologies to understand election violence against women candidates and at the same time working as watchdogs for over-reach in data collection by government or law enforcement. Speakers will discuss the state of play in Colombia and Brazil and how new Data Protection laws (including the European DSA and Brazilian LGPD) will change the landscape for privacy in the region. Looking over the horizon, we'll also discuss the unique ways in which the Latin American context might inform future frameworks for scraping and privacy risk.
-----
Alice de Perdigão Lana is the Head of Culture and Knowledge Research at InternetLab. She holds a Master's degree from the Federal University of Paraná School of Law. Previously, she served as the Creative Commons Brazil Coordinator on the Open Educational Resources (OER) and Open Science front and a Researcher at GEDAI/UFPR – Study Group on Copyright and Industrial Rights and ModeraLab at ITS Rio.
Tejas Narechania is the Robert and Nanci Corson Assistant Professor of Law at the University of California, Berkeley, School of Law, where he writes about (and teaches courses on) telecommunications regulation and intellectual property, among other subjects. He is also a Faculty Co-Director of the Berkeley Center for Law & Technology. Before joining Berkeley Law, Professor Narechania clerked for Justice Stephen G. Breyer of the Supreme Court of the United States (2015–2016) and for Judge Diane P. Wood of the U.S. Court of Appeals for the Seventh Circuit (2011–2012). He has a J.D. from Columbia Law School, where he received the Ruth Bader Ginsburg Prize and was the Executive Notes Editor of the Columbia Law Review. He also has a B.S. (Electrical Engineering and Computer Science) and a B.A. (Political Science) from UC Berkeley.
Pilar Saenz is Coordinator of the Digital Security and Privacy Laboratory K+LAB at Fundación Karisma. She is a physicist from the National University of Colombia. She is an enthusiast of free software, open technologies and free culture. She works on projects related to civic engagement especially election issues.
-----
Accessibility Accommodations
If you require an accommodation for effective communication (ASL interpreting, CART captioning, alternative media formats, etc.) or information about mobility access in order to fully participate in this event, please contact Rachel Wesen at cltcevents@berkeley.edu with as much advance notice as possible and at least 7–10 days in advance of the event.