Description
SURGING FORWARD 2017
PRISM 2016 represents its fourth-year running as Malaysia's foremost & LARGEST PROPERTY INVESTMENT SUMMIT as Property Insight's flagship event of the year. The 2-Day event over the last 3 years facilitated the convergent of property experts, developers, investors and homebuyers into one dynamic platform for networking, learning and keeping abreast of the latest property trends and deals.
In essence, PRISM on Day 1 is the essential flagship event in providing a platform for stakeholders to align strategies, sharing their views and to give their opinions on the annual Budget. This year's PRISM will also culminate into the official launching of the new and exciting Entrepreneur Insight (EI) Summit, happening on DAY 2, presented exclusively by Entrepreneur Insight.
The EI Summit provides an invaluable opportunity for entrepreneurs, business owners, SME's and enterprising individuals to come together and listen, learn and network. Expand your horizons through insightful talks by some of the leading and successfull speakers. Meet like minded people. Be motivated and grow.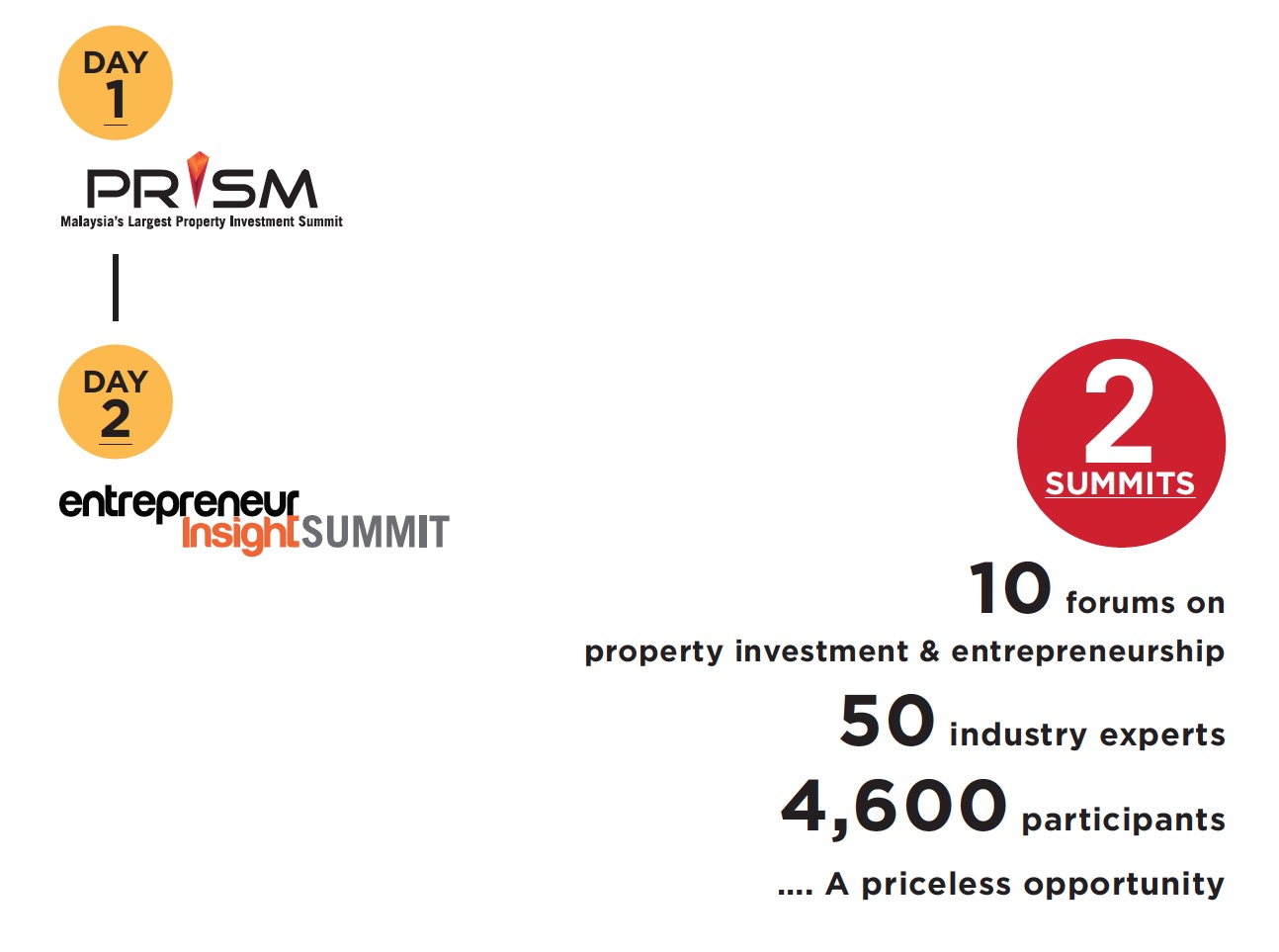 PANEL DISCUSSIONS
POST BUDGET 2017 – HOW DOES IT AFFECT US

WHAT TO LOOK OUT FOR WHEN BUYING & INVESTING IN PROPERTIES

REMAINING NIMBLE AND RELEVANT - THINKING A FEW STEPS AHEAD, AND ALWAYS ANTICIPATE CHALLENGES

SMART INVESTING – THE FUNDAMENTALS OF INVESTING IN BRICK & MORTAR

PANEL DISCUSSIONS
DIGITAL MARKETING & ADVERTISING – A BOON OR AN INVESTMENT?

FINANCIAL CRISIS – A TABOO OR A CHALLENGE?

BUSINESS SUSTAINABILITY – IMPLEMENTING CREATIVITY AND INNOVATION

BUILDING, CREATING AND MAINTAINING YOUR NETWORK – QUANTITY MATTERS (IT'S TRUE!)
For further inquiries, email : marketing@propertyinsight.com.my or call : +6-03-6156 3366.