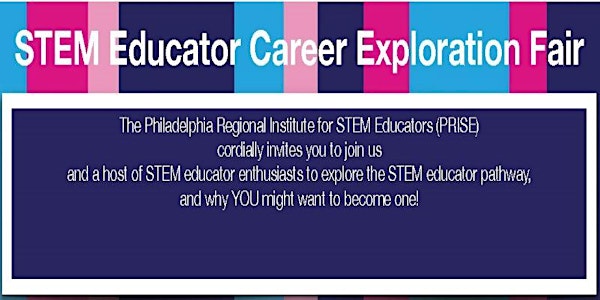 PRISE STEM Educator Career Exploration Fair
Join a variety of STEM enthusiasts to learn about exciting opportunities in STEM education and how YOU could become a STEM educator!
By Philadelphia Regional Institute for STEM Educators
Date and time
Sat, 26 Mar 2022 09:00 - 12:00 EDT
Location
Science Education and Research Center 1925 North 12th Street Philadelphia, PA 19122
About this event
The first annual PRISE STEM Educator Career Exploration Fair will connect students in high school and college along with STEM graduates and career changers to STEM educators and other STEM education stakeholders. Attendees will learn about the pathways to a STEM educator career and why being a STEM educator is such a rewarding career!
Hear from inspiring Keynote speakers who work in STEM education.
Join a breakout session focused on high school, college, or STEM graduates and career changers to hear key details and real world examples of how to become a STEM educator and what it is REALLY like to teach STEM in an inner city school.
Explore our exhibitor hall to learn about various opportunities to engage in STEM learning, opportunities to teach, as well as internships and summer programs.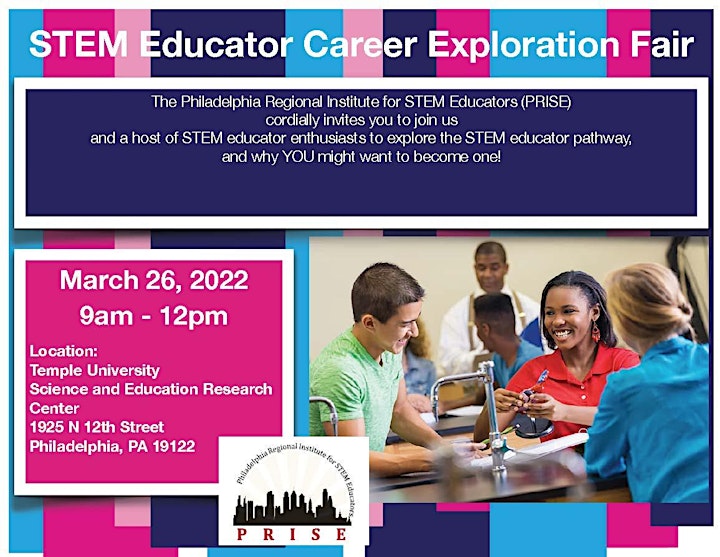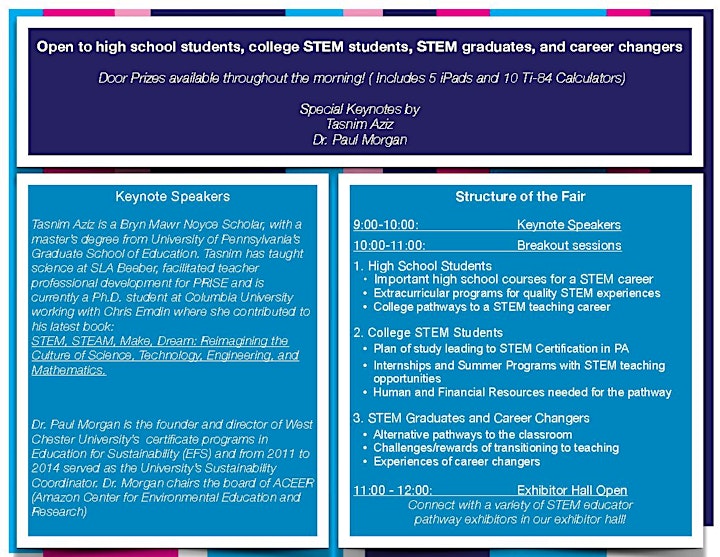 About the organiser
PRISE builds on ten years of partnership among ten institutions of higher education in the greater Philadelphia region Arcadia University, Bryn Mawr/Haverford Colleges, Community College of Philadelphia, Drexel University, La Salle University, Saint Joseph's University, Temple University, University of Pennsylvania, Villanova University and West Chester University as well as regional STEM stakeholders including The Philadelphia Education Fund (PEF) and the School District of Philadelphia. This partnership grew out of common efforts to implement the National Science Foundation Noyce Scholarship program. We recognized that we could do more together than we could do individually to ensure equitable, high quality STEM teaching in the Philadelphia region. All students in the Philadelphia region should have equitable access to high-quality STEM instruction. Supporting both the recruitment, retention and ongoing development of diverse and highly effective teachers is a critical element of supporting STEM education in the region.