Printers Row: Veronica Roth and Garth Nix
When and where
Location
Athenaeum Theatre 2936 N. Southport Ave. Chicago, IL 60657
Refund Policy
Contact the organizer to request a refund.
Description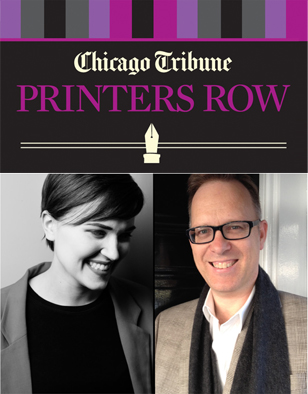 Printers Row: Veronica Roth and Garth Nix
Printers Row presents best-selling authors Veronica Roth and Garth Nix in discussion with Chicago Tribune columnist and author Jenniffer Weigel about their new books, "Four: A Divergent Collection" and "Clariel," respectively, and about what it's like to write their beloved series for adventurous young readers around the world. Roth's "Four: A Divergent Collection" was released in July and Nix's "Clariel" will be released in October. This Printers Row event will be a rare occasion to meet and hear from both authors on the same stage.
Roth and Nix will sign books after the speaking program concludes.
About Veronica Roth (@veronicaroth)
Veronica Roth is the No. 1 New York Times best-selling author of the "Divergent" series with over 20 million copies sold. Her next book, "Four: A Divergent Collection," was released in early July. Now a full-time writer, Roth and her husband call the Chicago area home. You can visit her online at veronicarothbooks.com.

About Garth Nix (@garthnix)
Garth Nix was born in 1963 in Melbourne, Australia. A full-time writer since 2001, he previously worked as a literary agent, marketing consultant, book editor, book publicist, book sales representative, bookseller, and as a part-time soldier in the Australian Army Reserve. Nix's books include the award-winning young adult fantasy novels "Sabriel," "Lirael" and "Abhorsen"; the dystopian novel "Shade's Children"; the space opera "A Confusion of Princes"; and a Regency romance with magic, "Newt's Emerald." His fantasy novels for children include "The Ragwitch," the six books of "The Seventh Tower" series, "The Keys to the Kingdom" series, the "Troubletwisters" series, and "Spirit Animals: Blood Ties," co-written with Sean Williams. Nix's next book, "Clariel," is a prequel to the "Old Kingdom" trilogy and is set to be released in October. More than 5 million copies of his books have been sold around the world, his titles have appeared on the best-seller lists of The New York Times, Publishers Weekly, The Guardian and The Australian, and his work has been translated into 40 languages. Nix lives in a Sydney beach suburb with his wife and two children.

$20 in advance, $22 at the door, 6 p.m., Athenaeum Theatre, 2936 N. Southport Ave., Chicago
Printers Row Members: Enter the promotional code "FreeTicket" and use your membership number to redeem your free member ticket.
Not yet a member? Proceed to the ticket purchasing page to start your Printers Row membership at a discounted rate!
No refunds within 7 days of the event. DigitalPLUS member tickets subject to limited availability. You will not receive paper tickets. You will receive a confirmation email that includes a confirmation number for your ticket(s). You must PRINT and bring your ticket(s) to the event entrance, or display them on your smart phone.