In this two-hour workshop with artist Beth Sheehan, students will learn how to carve and make prints with their vegetables.
About this Event
In this two-hour workshop, we will be exploring the possibilities of printing vegetables using relief and monotype printmaking techniques. Students will learn to carve a variety of veggies (mostly root vegetables) into text or images for printing. In addition to all of the fun that comes with cutting and printing your veggies, we will also focus our discussion on positive and negative stamps, creating patterns, and the longevity of vegetable printing.
Required materials:
- Vegetables: potatoes are best but I would encourage you to bring a few vegetables to try out. Other good options are carrots, beets, turnips, radishes, sweet potatoes, pumpkins, and parsnips.
- Ink (relief or block ink is best but most ink will work; I will be using Speedball water-soluble block inks)
- Brayer (I prefer the 4" Speedball brayer)
- Piece of plexiglass or glass to ink on
- X-acto knife or carving tool
- Linoleum carving tool (optional, but extremely helpful! I prefer the Speedball linocut tool)
- Paper and/or cloth to print on
- Sharpie (thinner is better)
- Stamp pad (optional)
- Apron and gloves
- Clean-up supplies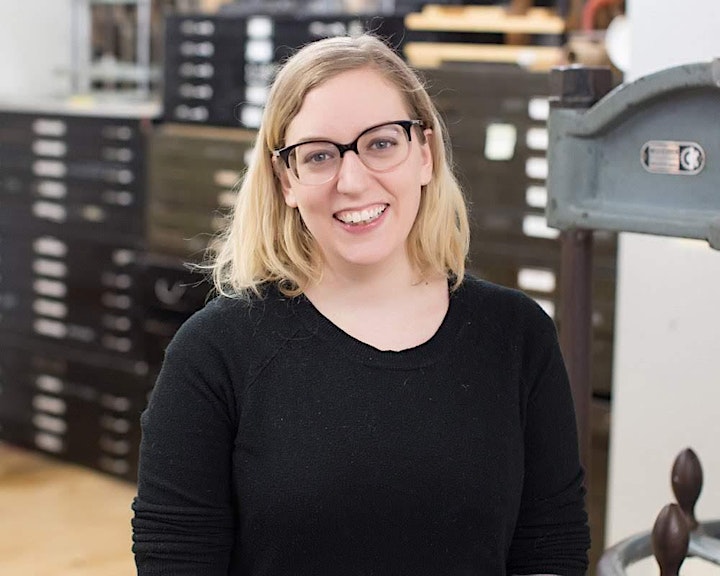 About the instructor:
Elizabeth (Beth) Sheehan is a printmaker, papermaking, and book artist living in Tuscaloosa, Alabama. Her work investigates ideas of memory and perception to explore her own lack of episodic memory. Her work has been exhibited internationally and is held in public collections including the Metropolitan Museum of Art, The Center for Book Arts, and the San Francisco Public Library. Sheehan has worked as a professional printer at Durham Press in Pennsylvania and at Harlan and Weaver in New York. She was also the Lead Binder and Bindery Manager at Small Editions in Brooklyn and teaches paper, print, and book workshops around the country.
Images courtesy of the instructor.
About the Center for Book Arts:
The Center for Book Arts promotes active explorations of both contemporary and traditional artistic practices related to the book as an art object. The Center seeks to facilitate communication between the book arts community and the larger spheres of contemporary visual and literary arts, while being a model organization locally, nationally, and internationally within the field. We achieve this through exhibitions, classes, public programming, literary presentations, opportunities for artists and writers, publications, and collecting.