Description
Wednesday May 15, 2019 6:30pm-9:30pm
Wednesday May 22, 2019 6:30pm-9:30pm
**Note: This class has two sessions. Students are expected to attend both.
Intro to Screen Printing
Print Your Own T-shirts, Tote-bags, or Posters!
Learn how to use screen printing to make your own t-shirts, tote bags, bandanas, posters, holiday cards, or something else!
In this two-session workshop you'll learn how to design and screenprint your very own design. In the first session you'll learn about the common ways that t-shirts are printed and learning how to prepare a digital file so that it can be transferred to a screen for printing. In the second session we will prepare a screen and print our t-shirts.
How does it work? We will use InkScape--free & open source graphic design software--to prepare a digital design that will be cut using a computer-controlled vinyl cutting machine. Then the design will be transferred to a screen and we will apply a coating to the screen so we can print with the screen over and over again. You'll then use your screen and fabric inks to print your design onto t-shirts or other fabric.
Bring your own laptop with InkScape installed or you can use one of our computers. You don't need to have a file prepared before the class, but if you already have an idea for your design bring a digital file with you and our instructor will help you turn it into a screen.
---
Optional material pack ($40)
Students are welcome to bring their own materials or if you want it all provided for you, bring $40 to the first class and you will get the following
one pre-stretched screen that you get to keep
one squeegee
one 4oz container of black screen printing ink
Things you need to provide:
Imagery to work from - illustrations or computer files on a flash drive or in your email. Keep it simple at first: 1 color, text should be at least 14pt, avoid very thin line work

T-shirts or paper (any type will work - Bristol pads, printmaking papers) and/or other materials to print on (t-shirts, fabric, pillowcases, etc)

Acrylic or textile printing ink, any color; Speedball brand recommended (included in the material pack)

Masking tape and/or clear shipping tape (Scotch brand; anything else might damage screens!)

Pad of newsprint for test prints - we have some scrap paper
Things that we provide:
Screens

Squeegees

Screen filler

Vinyl cutting machine

Vinyl material

Spatulas, spoons, ink mixing containers and implements

Rags, sponges, brushes, etc

Hinge clamps
About the Instructors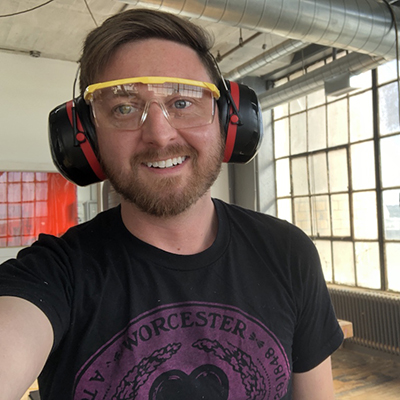 Drew Wilson is a printmaker, computer scientist, and activist. As a Fellow with the Ford Foundation, Mozilla and Code for America he has used his background in technology to support social change organizations. After graduating from FabAcademy, he began teaching digital fabrication using computer-controlled machines like laser cutters, CNC router, and a vinyl cutter. He is particularly interested in the intersection of digital fabrication and DIY printmaking such as screenprinting, stenciling, and relief printing. He's a founding member of League of Just Us, an activist printmaking collective, and founder and president of New England VegFest.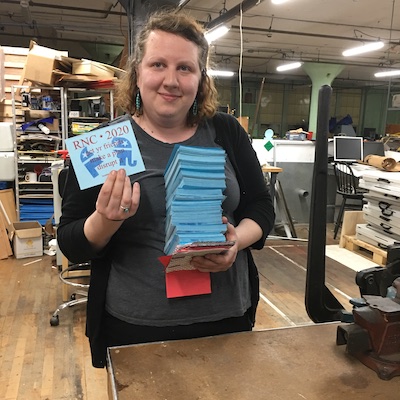 Annie Cohn is a teacher, artist, and organizer. She teaches elementary school in the Worcester Public Schools. She is certified in a number of digital fabrication techniques and has taught screenprinting for 2 years. She's a founding member of League of Just Us and an avid political activist.