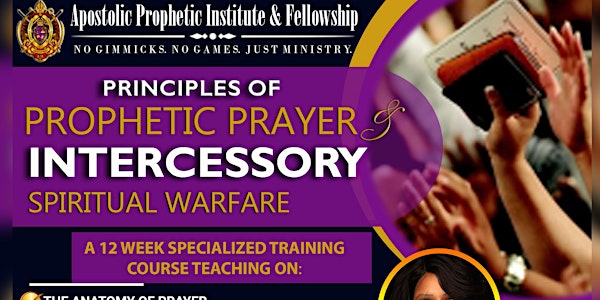 Principles to Prophetic Prayer, Intercession, and Warfare (12 Week Course)
12-Week Certificate Course (Zoom): PRINCIPLES to PROPHETIC PRAYER, INTERCESSION, & WARFARE - Begins THU, SEPT 1st, 7PM ET
About this event
Greetings in the Name of our Lord Jesus Christ!
Please find attached a PDF/Info Sheet containing information on our upcoming specialized class, Principles to Prophetic Prayer, Intercession, and Warfare, which begins Thursday, September 1st at 7PM ET. This is a structured, 12-week certificate course and is excellent for...
1. Beginners who are seeking to understand these disciplines and ignite a growing intimacy with God;
2. Those who are looking refresh and enhance their prayer life, intercessory skills, and art of warfare to include:
1. Seasoned saints,
2. Intercessory team members,
3. Prophetic presbytery,
4. Associate ministers,
5. Leaders of the church.
The disciplines learned in this class have the potential of being prayer-life changing!
It will also help aid the headship of the house as well as the local church as a whole; for if there was ever a time for the church to be uniformed prayer, it is certainly now!
NEXT CLASS BEGINS THURS, SEPT 1ST AT 7PM ET
PRINCIPLES OF PROPHETIC PRAYER & INTERCESSORY WARFARE STRATEGIES*
This structured, comprehensive class will give students the knowledge needed to understand foundational principles, privileges, and mandate of effective prayer and intercession while introducing the fundamental points in productive spiritual warfare. Students can expect to learn:
• Anatomy of Prayer
• Why Some Prayers Fail / Hindrances to Prayer
• Understanding Biblical Intercession
• Explore Different Intercessory Types (12)
• Guidelines to Hearing the Voice of God
• Understanding Revelatory Gifts
• Spiritual Warfare: How To Prepare, Endure, & Conclude the Battle
• Staying Battle Ready
• The Importance of a Biblical Worldview
• Prayer Team Dynamics
• Moving from Personal to Global
• And more.
*This is a prerequisite for The Art of Spiritual Warfare & Intercessory Strategy
THIS CLASS IS FOR: New & Seasoned Prophets, Apostles, Teachers, Pastors, All Ministers & Staff, Prophetic and Intercessory Teams, and Members in the Body Christ!
Class meet via Zoom on Thursdays (7p-10p) for 12 Weeks.
Registration begins August 1st.
$20/Weekly for 12 Weeks*
(Investment of $240 for tuition)
REGISTER BY AUGUST 14th & RECEIVE $40 OFF *
*Only applicable for new enrollees who enroll by August 14, 2022, 11:59pm et; otherwise, tuition $240 (avg $20/week). Tuition is payable via CashApp or PayPal.
Please note we do not recognize registrations until payment is complete.
"to equip the saints for the work of ministry, for building up the body of Christ," – Ephesians 4:12