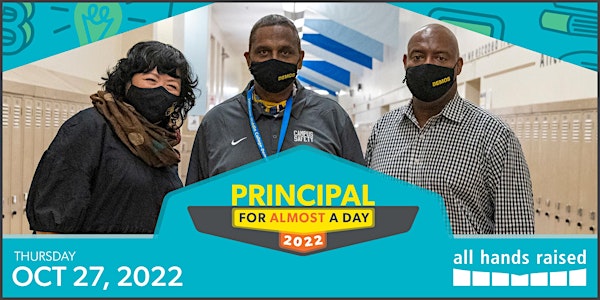 Principal for Almost a Day '22 - School Leaders
PFAD '22 - School Leaders Registration
About this event
Principal for Almost a Day (PFAD) empowers community stakeholders to experience your work firsthand, along with both the opportunities and challenges that you face.
EVENT DAY SPECIFICS
Where: Host 1-5 guest principal(s) at your school or hold a virtual meeting.
Timing: To give your guests a true window into your work, consider inviting them to join you before school begins and finish before lunch. For virtual meetings that you will schedule and host for your guests, we recommend 60-90 minutes.
COVID Protocols: If you're hosting guest principal(s) in person, AHR asks them to follow your school's policy.
We hope you'll join us for #PFAD22 to help accelerate innovation and achieve racial educational equity for all students.
ABOUT THE EVENT PRODUCER
With a focus on racial equity, All Hands Raised (AHR) relentlessly and systematically connects our community's diverse assets with the explicit goal of working in new ways together to improve students' success inside and outside of school. Working with seven school districts, culturally specific organizations, and partners from early learning through college and career training, we pursue a single goal: improving the educational outcomes and long-term career prospects for the more 220,000 young people living in Multnomah County.
WANT TO INVITE SOMEONE TO BE A GUEST PRINCIPAL AT YOUR SCHOOL?
Please share this link: https://pfad22guest.eventbrite.com
QUESTIONS?
Before event day, please email Lucero: lucero@allhandsraised.org
On event day, please email Lisa: lisa@allhandraised.org