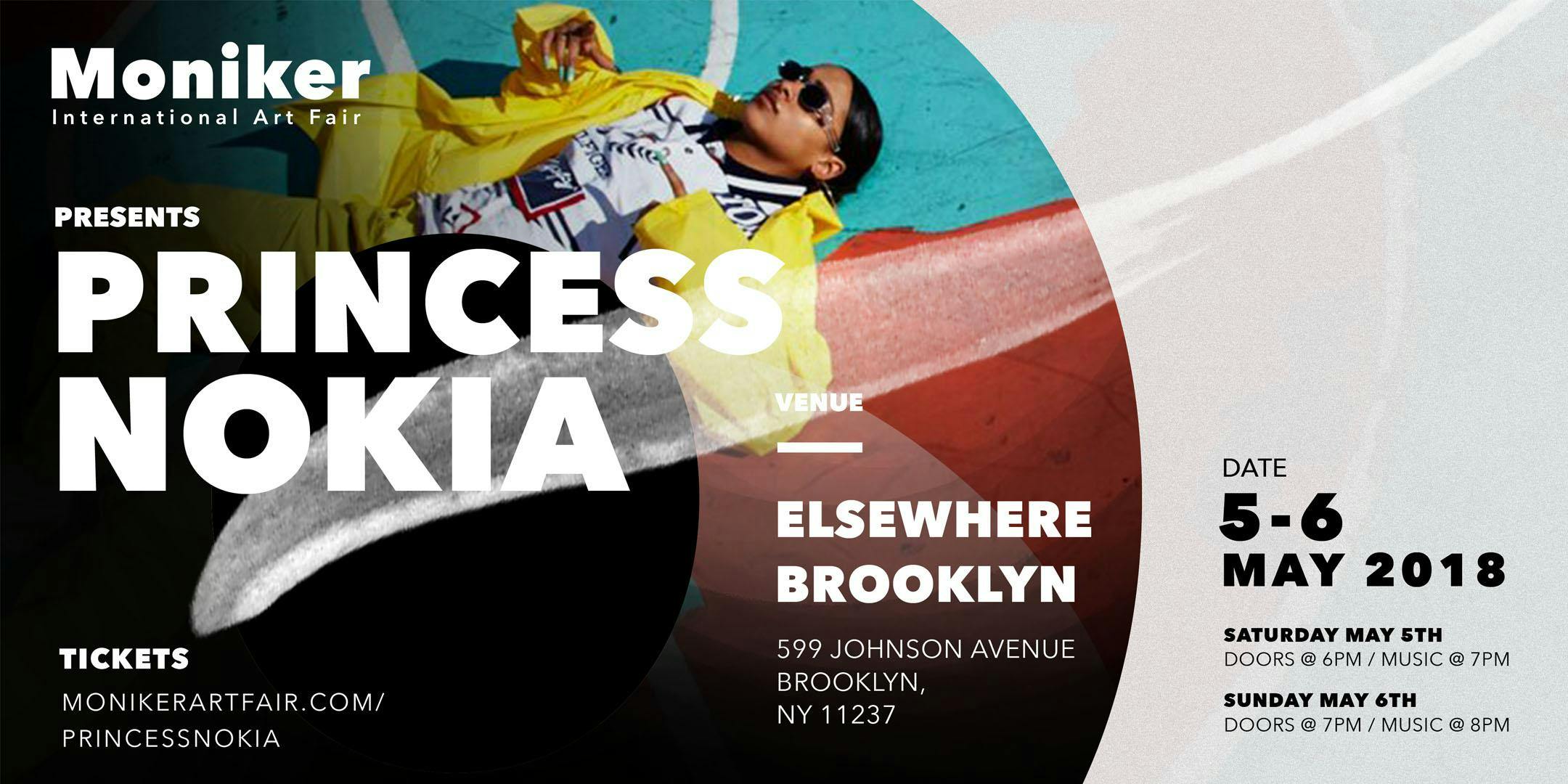 About this Event
Moniker International Art Fair is pleased to announce it has partnered with Princess Nokia for two nights of intimate performances.
Running on two evenings alongside the fair, the performances will celebrate Monikers' New York debut. Early Bird tickets will be available on the Moniker website www.monikerartfair.com/princessnokia on Friday February 23, 2018. Tickets include free entry into the fair, May 3- 6, 2018. Tickets include free one-day entry into the fair, May 4- 6, 2018. Multiday passes and private view tickets are available on www.monikerartfair.com. 
Princess Nokia is a force to be reckoned with. Her album 1992 was regarded by Rolling Stone as one of the "15 Greatest Albums You Didn't Hear in 2016". After having sold out shows in Los Angeles and London she will be returning to her hometown, New York City. A stark individual, she blends tribal beats, with trip hop and R&B, creating a truly unique sound to match her confrontational and often humorous lyrics. 
"When thinking about who to partner with, Princess Nokia was the obvious choice. Not only is she a native New Yorker who embraces art and politics, she is also a strong female whose genre bending fits naturally with the ethos of the artists shown at Moniker. Her career mirrors that of the Urban Art and Street Art movements, starting underground and gaining wide recognition" says Tina Ziegler, Fair Director. 
Moniker sets itself apart from other art fairs through experimental presentations and immersive elements. Known for producing thematic fairs, its first stateside edition will bring the interactive atmosphere of the carnival to New York City. In addition to presentations by galleries, Moniker has commission site specific installation, connecting back to the idea that an art fair should be an active experience. With each fair, Moniker strives to expose a wider audience to new emerging and established artists working within the Urban Art and Street Art movements. 
The partnership with Princess Nokia furthers Moniker's cause, providing a unique experience outside of the traditional art fair structure while connecting to a diverse group of culture enthusiasts.
6PM - 10:30PM