Location
Prince of Scots
700 Montauk Hwy
Water Mill, NY 11976
Description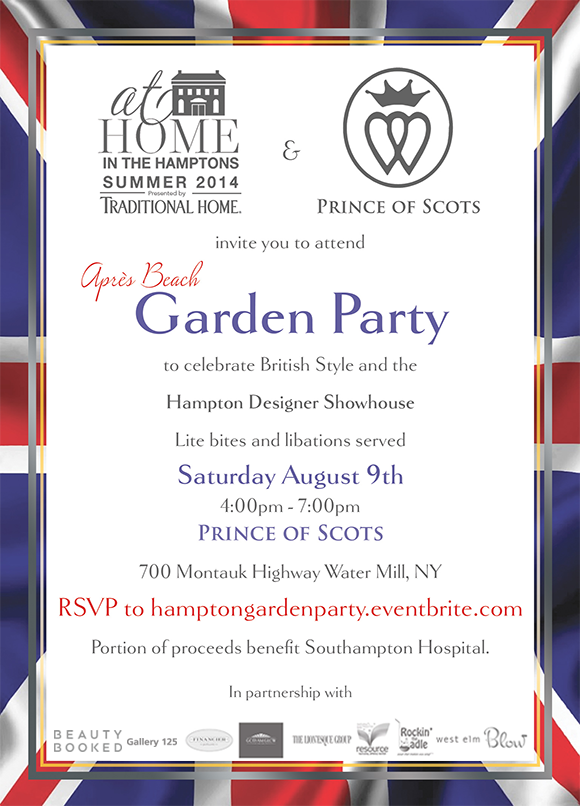 Destination: Style! Your exclusive invitation to join us for an evening in the Hamptons for an Aprés Beach Garden Party presented by Traditional Home Magazine and Prince of Scots. Join us we celebrate British Style and The Hampton Designer Showhouse.
Experience the Modern Luxury Lifestyle of Prince of Scots with their award winning home collections, exclusive brands, and The Concept Collective. Meet and greet the designers and shop the collections in our relaxing garden setting with decor accents by West Elm, while enjoying complimentary beauty services from BeautyBooked, including spray tans from Gotham Glow and hair fluffs by Blow Hamptons. Light pastries from Financier Patisserie and chilled soup from Rockin the Ladle to be served along with the night's signature cocktails and water provided by Resource Water and San Pellegrino.
Also being highlighted during the evening, Gallery 125 will be setting up a mini-gallery with 4 original paintings from artist Dan O'Keefe, whose Flag painting will be on display at Art Southhampton. The prints will be available for sale at the Prince of Scots store for the rest of the summer starting at this event.
More on Prince of Scots: On the pulse of the evolution of style, Prince of Scots is stand out in the world of luxury destinations in the Hamptons. In a world of mass market fashion, where every brand seems to look the same, they take a step back to reflect on the beauty that inspires ones senses. "We search the globe for a fresh influence, unique colors, new silhouettes, and a bespoke flavor" says co-founder Tim Danser, and these goals makes the summer alignment with The Concept Collective highly synergistic.
More on Traditional Home Magazine: TRADITIONAL HOME magazine is for everyone interested in good design and living well. They inform, inspire and entertain readers with simply the best interiors, gardens, furnishings, travel and food and entertaining stories. Their focus is on timeless design for modern life.