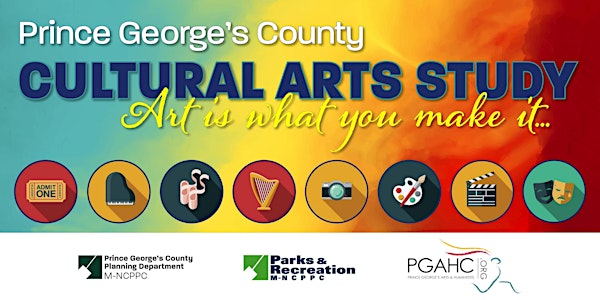 Prince George's County Cultural Arts Study - Arts and Connectivity
Arts and Culture play an important role in aiding with connectivity making transportation corridors more inviting, safe, and accessible.
About this event
Please join us for a virtual community meeting Thursday, April 8th to engage stakeholders on the role of the arts and culture in aiding transportation connectivity for the Prince George's County Cultural Art Study (PGCCAS).
Ensuring that different communities across the county are physically connected and accessible to each other plays a large part in residents' and visitors' feelings of safety and ease. Arts and culture play an important role in aiding with connectivity—making transportation corridors more inviting, safe, and accessible. Transportation networks in turn are ideal sites for creative projects, from art in subway stations to artistically designed crosswalks and manhole covers, to bus shelter designs. Pedestrian and cycling trails offer additional opportunities for creativity, including public art, landscape design, and wayfinding. Arts and culture can attract many more users of public transportation and trail routes. Art can also reduce barriers in transit stations, integrating creative wayfinding symbols to ease congestion and help direct passengers.
In Prince George's County, we want to understand how art and culture can assist with the county's connectivity needs. What public transportation areas are in greatest need of support from arts and cultural projects? What are current barriers and challenges to connectivity in Prince George's County that can be addressed by arts and culture? What are the opportunities for arts and culture to improve connectivity in the county?
 Online Teams Meeting -  Details to access the virtual meeting will be emailed to you prior to the event. PLEASE do not forget to check your inbox or spam folder for meeting details.
This meeting will include enhanced features, including breakout rooms. For the best possible experience, download the Microsoft Teams App to your computer, tablet, or smartphone to join the meeting. Also, please access the meeting by one of the following web browsers only: Google Chrome or Microsoft Edge. DO NOT use Safari, Opera, or Mozilla Firefox. If you encounter any issues accessing the breakout rooms during the meeting, staff will be available to assist you as needed.
NOTE: Registration will close at 12:00 p.m., Thursday, April 8, 2021.
Microsoft Teams Meeting Participation Instructions
Learn more about the Prince George's County Cultural Arts Study.
The study is a collaborative effort between The Maryland-National Capital Park and Planning Commission Prince George's County Planning Department, Prince George's County Department of Parks and Recreation (DPR), and the Prince George's Arts and Humanities Council.
We look forward to you joining us!
___________________________________________________________________________________________________
Special Assistance: M-NCPPC encourages the participation of persons with disabilities and the need for language interpretation in all of its programs and services. For special assistance, call the Public Affairs Office at 301-952-4584.