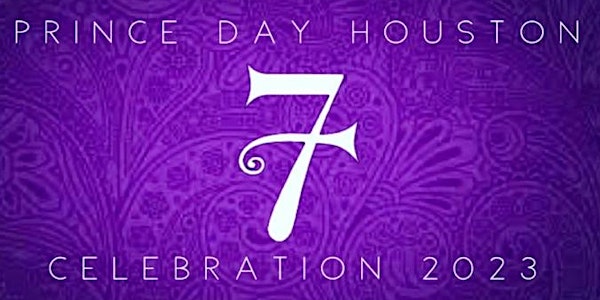 PRINCE DAY HOUSTON "7" | CELEBRATION 2023
Celebrating the life and legacy of PRINCE...with an intellect, and a savoir-faire; no one in the whole universe will ever compare.
Date and time
June 7 · 6pm - June 8 · 1am CDT
Location
Velvet Room 2208 Main street Houston, TX 77002
About this event
June 7, 2023 will mark the "65th" birth anniversary of PRINCE ROGERS NELSON. On June 7, 2016, "PRINCE DAY" was proclaimed in the city of Houston, TX and is celebrated annually; visit PrinceDayHOU.com.
COUNTING THE DAYS TIL PRINCE DAY HOUSTON "7" | CELEBRATION 2023!! We will once again pay homage to "His Royal Badness" and the longevity of his influence. In the year 2023 (2+0+2+3) we celebrate the significance of "7".
"7", written by Prince and performed with the New Power Generation, is from the 1992 Love Symbol Album and was released as the third single from the album. The single became the most successful in the United States Top 40 Pop/Mainstream chart, where it peaked at No. 3. and reached No. "7" on the Billboard Hot 100. The number "7" was incredibly important to Prince, who was born on the 7th day of June and would reference the number in significant ways throughout his immense body of work. This year marks "7" years of uplifting Prince's legacy and carefully preserving his prolific artistic output.
Dig if you will, the vivacious VELVET ROOM in Midtown Houston, Texas (2208 Main St., 77002 [Behind Pour Behavior]) where we will celebrate his LIFE, MUSIC & LEGACY featuring singer/songwriter and Prince protégé SHELBY J... LIVE in concert!! Shelby toured with her brother and mentor Prince nationally and internationally for 10 years, joining the New Power Generation in 2006, and contributed to a number of Prince projects, including Planet Earth, 20Ten, and LotusFlow3r. Her largest input was in the posthumous album Welcome 2 America, in which she is featured as a co-writer, lead vocalist and rapper on a number of tracks. Prince is also credited with helping her learn how to lead a band, produce her own music, and succeed as a solo artist. She also accompanied him in one of his most iconic performances, on one of the world's biggest stages...Super Bowl XLI!!
Partygoers will enjoy Prince video footage, themed drink specials, culinary creations, art displays, LIVE music showcase, and dance the dance electric to some of Houston's HOTTEST DJs, spinning all the hits/classics/B-Sides by Prince, Prince related artist and MORE!!
VIP TABLE RESERVATIONS...CALL/TEXT 713.449.3294.
DIG IF YOU WILL. THE EXPERIENCE...
6 pm - Happy Hour/ Video Showcase featuring the "LoveSymbol" album;
6:30 pm - VIP Painting of a Prince, Glam Art Exhibit + LIVE art by artist Maya Imani Watson and Femme Blaicasso the Artist + ABC Body Art by Vonetta Berry;
7 pm - Purple Music Classics...the "Sexy MF" set featuring DJ Michele McKnight;
9 pm - "And God Created Woman"...LIVE MUSIC SHOWCASE featuring Prince protégé, Shelby J;
10:30 pm - "The Dance Electric", dance party featuring Def Jam Blaster;
AND...other "Special invited guest" that you DON'T want to miss!!
A Royal Tribute. 
ATTIRE: Sexy. Glamorous. Chic...2 Tha 9's. What would PRINCE do?? ;o)
#PrinceDayHouston #PrinceDayHOU #PDHOU23 #TheRealShelbyJ #PurpleArmyHouston
VALET parking will be available for a fee (at the venue point of entry), as well as self/street parking. I ask that you please observe the "No Parking" zone signs, as the venue/promotion team will not be responsible for any parking citations/towing fees assessed. Thanks! UBER/LYFT, park-n-ride services strongly suggested. THIS WILL be a night to remember.
Prince Day Houston Founder | Creative Director: Craig "C.A." Alexander
FB Group: @PrinceDayHOU
Twitter: @PrinceDayHOU 
IG: @PrinceDayHOUSTON
WorldWide Web: www.PrinceDayHOU.com
PEACE AND LOVE 4 ONE ANOTHER.
NOTE: In the spirit of Prince, a portion of the proceeds from this event will benefit Yes We Code | Visit YesWeCode.org AND PRN Alumni Foundation, "Ensuring Prince's generous philanthropy remains ongoing...continuing a legendary purpose." | Visit: PRNAlumni.org. Your continued support and generosity is needed and greatly appreciated to further these causes. Thanks in advance.
DISCLAMER: "The Estate of Prince Rogers Nelson is not affiliated, associated or connected with 'Prince Day Houston', nor has it endorsed or sponsored 'Prince Day Houston'. Further, the Estate of Prince Rogers Nelson has not licensed any of its intellectual property to the producers, advertisers or directors of 'Prince Day Houston'."
Frequently asked questions
What do the different ticket types include?
If I purchase my ticket online, how do I receive my ticket?
Can I purchase tickets at the event?
What is the dress code for the event?
What are the parking arrangements at the venue?
I have special accessibility needs/requirements; can you accommodate?
About the organizer
Second2None Entertainment (S2N or 220) is a premier entertainment coordination organization; offering services for virtually any size and type of event. "Treat yourself".