Description
June 7, 2020 will mark the "62nd" birth anniversary of "His Royal Badness". On June 7, 2016, "PRINCE DAY" was proclaimed in the city of HOUSTON, TX and is celebrated annually; visit PrinceDayHOU.com.

++ COVID-19 UPDATE ++
Dearly Beloved,
I pray this communication finds you and yours in good spirits and in great health. Continue to stay safe and be well as we all get through this thing called COVID-19. Due to this pandemic, and the 'DAYS OF WILD' we are living in, the Prince Day Houston | '20Twenty' Celebration has to be re-structured. As of now, the Govenor of Texas, nor the Mayor of Houston have lifted the order allowing night clubs/lounges to re-open for regular business. Even if the order had been lifted, I still feel the need to err on the side of caution, choosing to be especially careful rather than putting ANY of you at risk. Per usual, we WILL celebrate Prince Day Houston in grand fashion...VIRTUALLY!! Join us for the Prince Day Houston 20Twenty, 'DAYS OF WILD' Celebration: The Virtual Interactive Experience. It WILL be the ultimate online extravaganza; with LIVE streaming on YouTube, Facebook + Purple ZOOM Interatcive (The appropriate links will be provided the day of the event. STAY TUNED):
++ LIVE Art feat. Maya Imani Watson;
++ Purple Music Interactive feat. Peter V.;
++ LIVE Music Showcase feat. Antonio Eye & Liz Vaughn;
++ Dance Electric DJ Dance Party Mix feat. Def Jam Blaster;
++ Special Guest: DAMON D., original member of the NEW POWER GENERATION (NPG).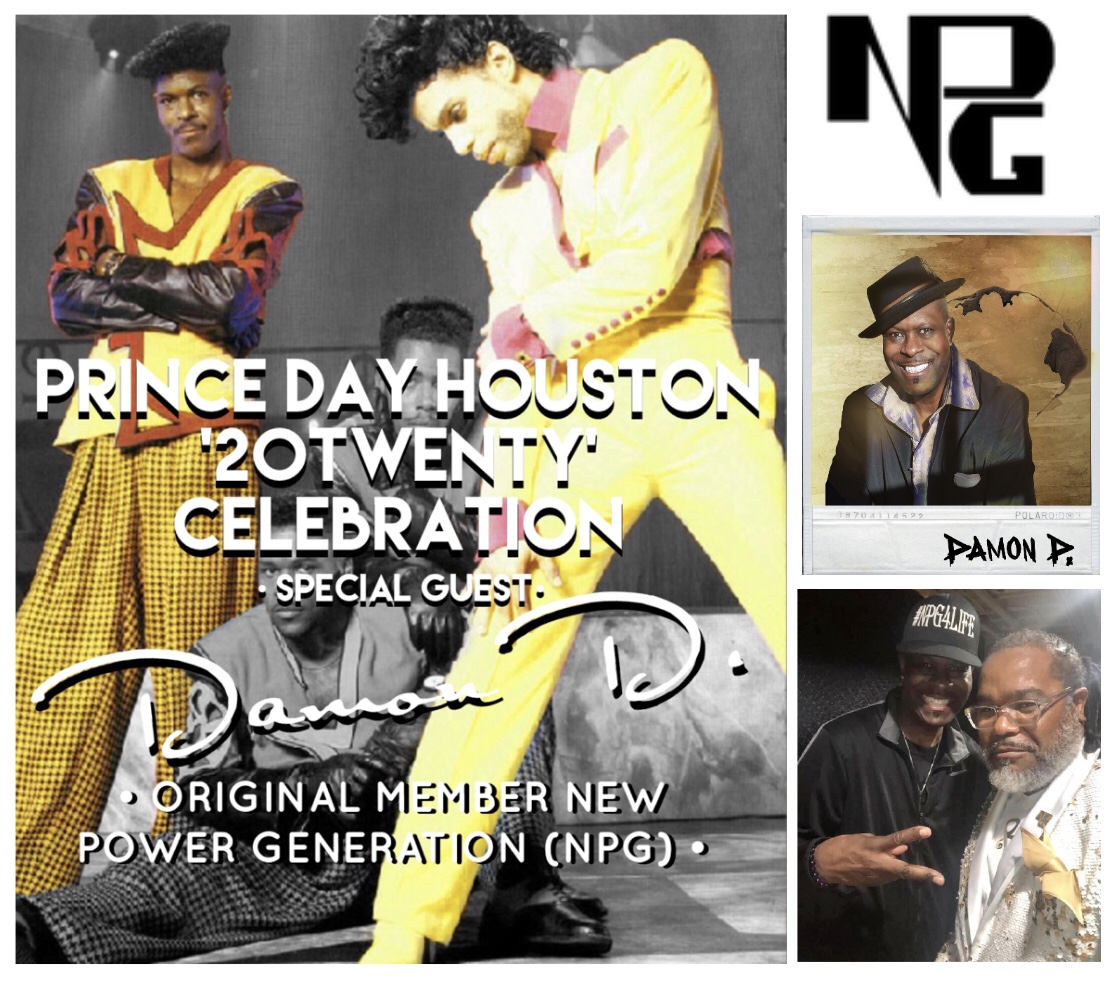 ALSO...The 'Purple ZOOM Interactive', feat. PRIZES + GIVEAWAYS:
++ Best Outfit (waist up)
++ Best Background (real or virtual)
++ Best 'Life of the Party'...GET WILD!!

++ Most Creative Cocktail...PARTY UP!!
++ Purple ZOOM Interactive details will be shared via the Prince Day HOU Facebook group page, Instagram @PrinceDayHouston, PrinceDayHOU.com and Eventbrite the day of the event. STAY TUNED!!
NOTE: Only the first '100' party people will be invited in the 'Purple Waiting Room'...this is the life of the party and we 'gon do it RIGHT...don't miss out!!
Grab your favorite purple drink, dress to tha 9's and join the celebration!!
++ ACCESS GRANTED: PrinceDayHOU2020.eventbrite.com
Your continued support is needed and donations appreciated to support the Houston area Prince Day Houston artists, support our efforts to give to Prince related charities (#YES WeCode & PRN Alumni Foundation) as well as the GEORGE FLOYD GoFund Me; ultimately making this event a success. THIS years event is fully funded by donations; thanks, in advance, for your generosity!!
CASH APP: $PDHou | PAYPAL: PrinceDayHOU@yahoo.com | ZELLE (QuickPay): Use Cell # 713.449.3294


Prince Day Houston is EXCITED 2 partner with R&R Studios — Live Stream Affiliate, 2 bring U the 20Twenty Virtual Interactive Celebration. See ALL Live Stream platforms posted below and PLEASE take time 2 do the following in preparation for o6.o7 #PrinceDay‼️



++ NOTE: Set "Reminder" for Upcoming live stream ++
Meeting ID: 871 0360 5382
Password: 9428
One tap mobile
Dial by your location
Meeting ID: 871 0360 5382
Password: 9428


Organizer of PRINCE DAY HOUSTON '20TWENTY' CELEBRATION | 'DAYS OF WILD'