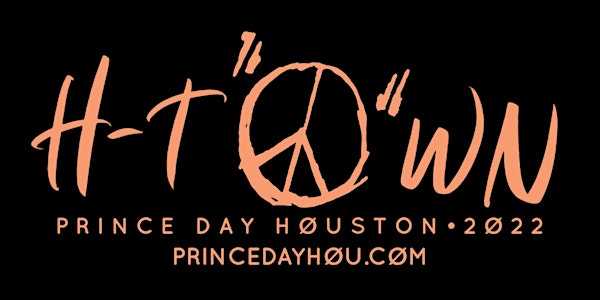 PRINCE DAY HOUSTON 2022 | SIGN 'O' THE TIMES
++ SIGN 'O' THE TIMES ++
When and where
Location
Velvet Room 2208 Main street Houston, TX 77002
About this event
June 7, 2022 will mark the "64th" birth anniversary of PRINCE ROGERS NELSON. On June 7, 2016, "PRINCE DAY" was proclaimed in the city of Houston, TX and is celebrated annually; visit PrinceDayHOU.com.
COUNTING THE DAYS TIL PRINCE DAY HOUSTON-2022 CELEBRATION!! We will once again pay homage to "His Royal Badness" and the longevity of his influence. Over the past couple of years, we've ALL had to change virtually all aspects of everyday life on a daily basis, constantly guided by a plethora of signs, advisories, and directional instructions: a SIGN "O" THE TIMES!! This year as we get back to "live"…we will embrace a NEW Sign "O" The Times, literally, paying respect to Prince's most acclaimed album (voted 1987's best album in the Jazz & Pop critics poll), which is also included in many lists as one of the greatest albums of all time!!
Dig if you will, the vivacious VELVET ROOM in Midtown Houston, Texas (2208 Main St., 77002 [Behind Pour Behavior]) where we will celebrate his LIFE, MUSIC & LEGACY featuring some of the most talented artists in the city who come together to honor this iconic genius. Party-goers will enjoy rare concert/video footage, themed drink specials, culinary creations, art displays, Purple music interactive, LIVE music, dance the dance electric to some of Houston's HOTTEST DJ's, spinning the hits/classics by Prince + related artist and MORE!!
DIG IF YOU WILL. THE EXPERIENCE...
Happy Hour + Movie Screening, "SIGN 'O' THE TIMES";
VIP Painting of a Prince, Glam Art Exhibit + LIVE art by artist Maya Imani Watson;
ABC Body Art by Vonetta Berry + Prince Themed Custom Jewelry by Rasta Renee;
Purple Music Interactive..."Deep Purple Concord Jamz" w/ Peter V.;
PRINCE...and All That Jazz featuring Perry Richard and his "Mad Sax";
"Snare Drum Pound On The 2 & 4" with Marvan "Mr. Drumhead" Alexander;
"The Dance Electric" DJ Dance Party feat. Def Jam Blaster.
ATTIRE: Sexy. Glamorous. Color me PEACH & BLACK!!
#PDHou22 | A Royal Tribute. 
NOTE: In the spirit of Prince, a portion of the proceeds from this event will benefit Yes We Code | Visit YesWeCode.org AND PRN Alumni Foundation, "Ensuring Prince's generous philanthropy remains ongoing...continuing a legendary purpose." | Visit: PRNAlumni.org. Your continued support and generosity is needed and greatly appreciated to further these causes. Thanks in advance.
VALET parking will be availabe for a fee (located at Pour Behavior [Travis & Webster entrance]), as well as self/street parking. I ask that you please observe the "No Parking" zone signs, as the venue/promotion team will not be responsible for any parking citations/towing fees assessed. Thanks! UBER/LYFT, park-n-ride services strongly suggested. THIS WILL be a night to remember.
Prince Day Houston Founder | Creative Director: Craig "C.A." Alexander
FOR VIP RESERVATIONS & MORE INFO...CALL/TEXT 713.449.3294. 
O(+> SOCIAL MEDIA <+)O
FB Group: PRINCE DAY HOU
Twitter: @PrinceDayHOU 
IG: @PrinceDayHOUSTON
WorldWide Web: www.PrinceDayHOU.com
PEACE AND LOVE 4 ONE ANOTHER.
DISCLAMER: "The Estate of Prince Rogers Nelson is not affiliated, associated or connected with 'Prince Day Houston', nor has it endorsed or sponsored 'Prince Day Houston'. Further, the Estate of Prince Rogers Nelson has not licensed any of its intellectual property to the producers, advertisers or directors of 'Prince Day Houston'."