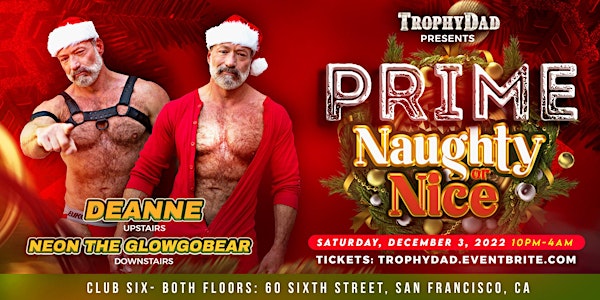 PRIME - Naughty or Nice!
PRIME - Naughty or Nice!
When and where
Location
Club Six - Both Floors! 60 6th Street San Francisco, CA 94103
About this event
TrophyDad presents its annual holiday event:
PRIME – Naughty or Nice – 2022
SATURDAY, DECEMBER 3, 2022
CLUB SIX – BOTH FLOORS
SAN FRANCISCO
Santa rewards the good ones, but TrophyDad rewards the good AND the bad! Join us for our annual "Naughty or Nice" edition of PRIME as we bring accomplished DJ/Producer Deanne to the upstairs dancefloor at Club Six taking us on a melodic, high-energy journey accompanied by our hot go-go dads over 50. Meanwhile, our resident DJ Neon the Glowgobear makes his return to the Daddy Pit downstairs bringing dark and sexy beats for those bad dads out there.
=== FEATURING ===
* Upstairs DJ: Deanne
* Downstairs DJ: Neon the Glowgobear
* Lighting by RAGErLAZER
* Enhanced Audio Upstairs Powered by a Funktion-One Sound System
* Hot Go-Go DADS in their PRIME
* Clothes Check
=== MUSIC ===
DJ/PRODUCER DEANNE
After over two decades of pleasing enthusiastic clubbers as a DJ as well as a successful career as a Producer and #1 Billboard Remixer, Deanne is more passionate than ever about bringing the party to life and her music to the masses. It's all about the big beats, strong synths, dramatic arrangements, and soulful sprinkling of vocals that come from her combination of tech, electribal, and progressive house. Deanne's continual evolution of sound provides infectious rhythms to intimate, sexy spaces or big, booming rooms and expansive stages as she takes her listeners on a unique journey that is marked with emotion, sensuality, undeniable energy, and a palpable "dance floor drama".
DJ NEON THE GLOWGOBEAR
DJ Neon the Glowgobear hails from the "dirty South" of Atlanta and is known for an upbeat musical style based on progressive house and classic tracks with a twist. For this special holiday party, Neon will be sharing a different, darker side as he spins deeper house and electro beats that are fitting for the bad dads in the sexy basement of Club Six.
=== WHERE ===
Club Six (BOTH FLOORS!)
60 Sixth Street
San Francisco
=== TROPHYDAD GIVES BACK TO THE COMMUNITY ===
* TrophyDad supports the Grass Roots Gay Rights Foundation serving as a Platinum Sponsor of its annual event REAL BAD.
* All proceeds of the clothes check will benefit AIDS/LifeCycle.