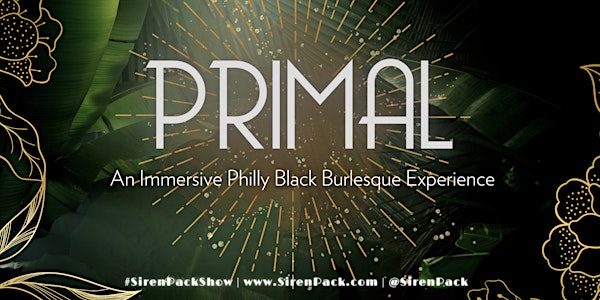 Primal - An Opulent & Immersive Philly Black Cabaret
A one-night-only erotic cabaret experience, "PRIMAL" by Siren Pack features immersive & interactive storytelling, pole dance, and theatre.
By Siren Pack Productions
Date and time
Starts on Friday, February 24 · 8pm EST
Location
Secret Location, Downtown Philadelphia TBA Philadelphia, PA 19107
About this event
"Something primal was awake within her, a violent will to live as old as the universe itself."― Lucas Mangum
A one-night-only, erotic cabaret experience, "PRIMAL" by Siren Pack Productions features an immersive, interactive, and ritualistic take on ceremony. Premiering in Philadelphia, PA, during Black History Month 2023, nationally acclaimed performance artists pay homage to legendary erotic figures and ancestors while also showcasing their own primal erotic flow through storytelling, aerial arts, pole dance, theatre, and sensual movement in this experimental burlesque cabaret.
On Friday, February 24th, join the Sirens in their secluded temple for a wild evening of provocative performances and ceremony experiences. Infuse your senses and elevate your cabaret journey with perfectly paired dessert treats and drinks as you ascend and descend their mysterious altars during this immersive, interactive, and theatrical show.
Hosted by Switchress Shay Au Lait with provocative performances and ceremonies featuring:
with more show announcements to come!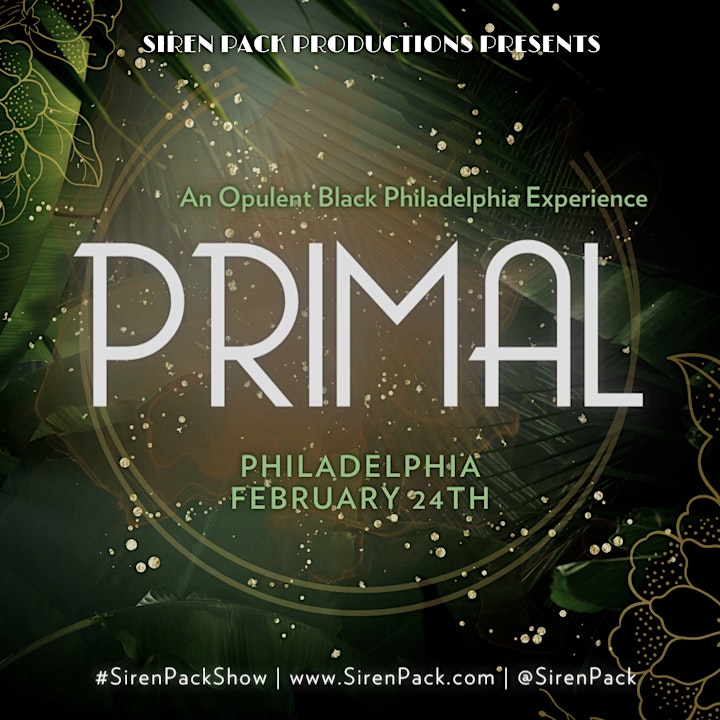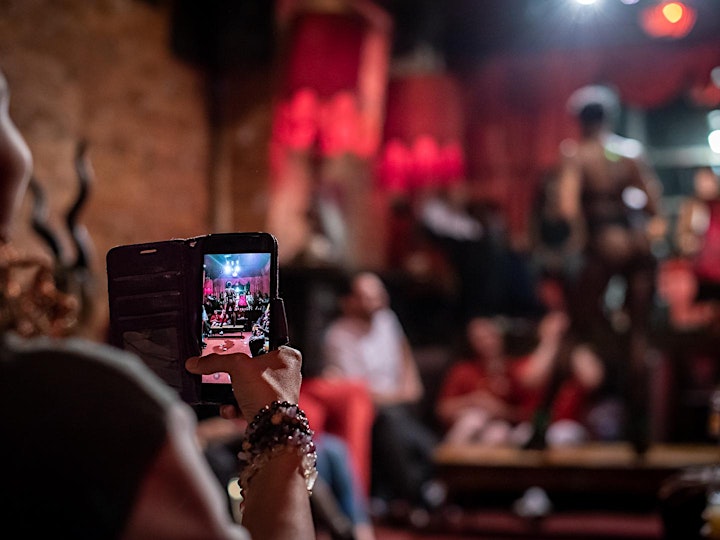 PRIMAL is an immersive and theatrical show experience that invites guests into a sanctuary of black excellence and liberation. Welcome to the Erotic Temple.
What are they saying?
"It's more than magical. TRANSCENDENT." - Rashida Khanbey Miller
"The most wild burlesque show we've been to [in] a while." - idktonight.com (now Cobble).
"Had the best date night. Sexy, lushes, beautiful and fun performance by Siren Pack. Loved the production." - Olesya, Audience Member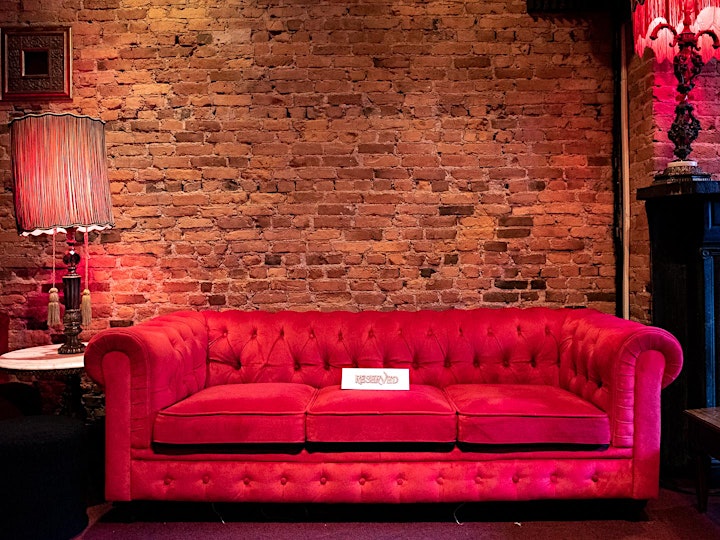 TICKET TYPES - TIXS ONLY AVAILABLE IN ADVANCE. All ticket types include :
Admission into the PRIMAL ceremony show.
Intentional and consensual ritual participation (Siren Pack shows are immersive and interactive. Choose your own journey and experience. Ex: might be lighting a candle, placing an object on an altar or a popup moment with a performer.)
Communion Sacrament - In muggle terms, one dessert treat and one signature mocktail /cocktail elixir shot is included.
PRIMAL sacred text (A digital ebook inspired by the show, available for download of erotic and sensual rituals, including anecdotes, tips, playlists, and recipes from the Sirens' themselves. This prompted guidebook serves as a great integration tool for your Primal Experience. )
TICKET TYPES OPTIONS
$60 for VIP Seating: VIP ticket holders have the best seats in the house and receive a gift from our VIP sponsors. The VIP Experience begins at 8:00 pm WITH the Sirens. After 8:30 pm, you may be seated at the discretion of the Erotic Temple, which may include forfeiting your seat. If you arrive late, you may have to stand.
$50 for Reserved Seating: This ticket includes early entry beginning at 8:30 pm & reserved seating with preferential views. After 8:45 pm, you may be seated at the discretion of the Temple House, which may include forfeiting your seat. If you arrive late, you may have to stand for the duration of the experience.
$40 for Standing Room: Standing room ticket holders may be standing or possibly seated if any seats remain after 8:45 pm. This depends on availability.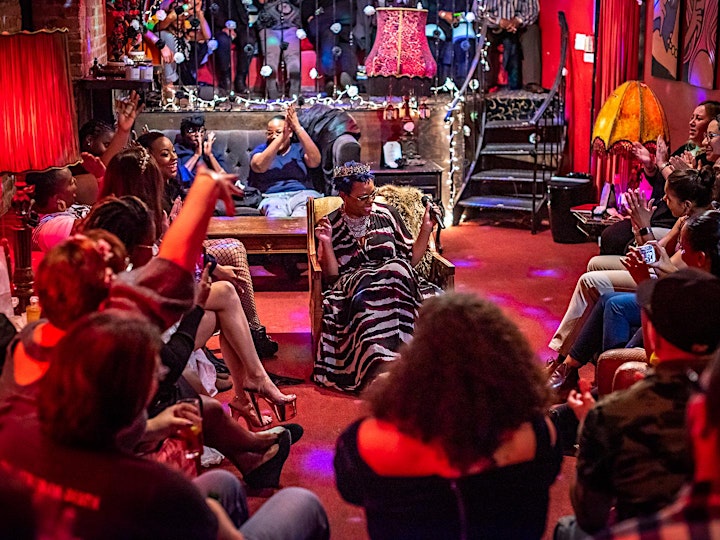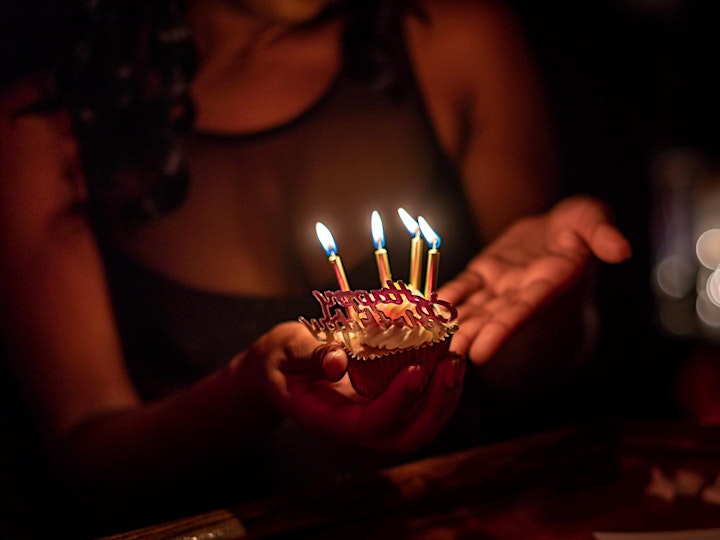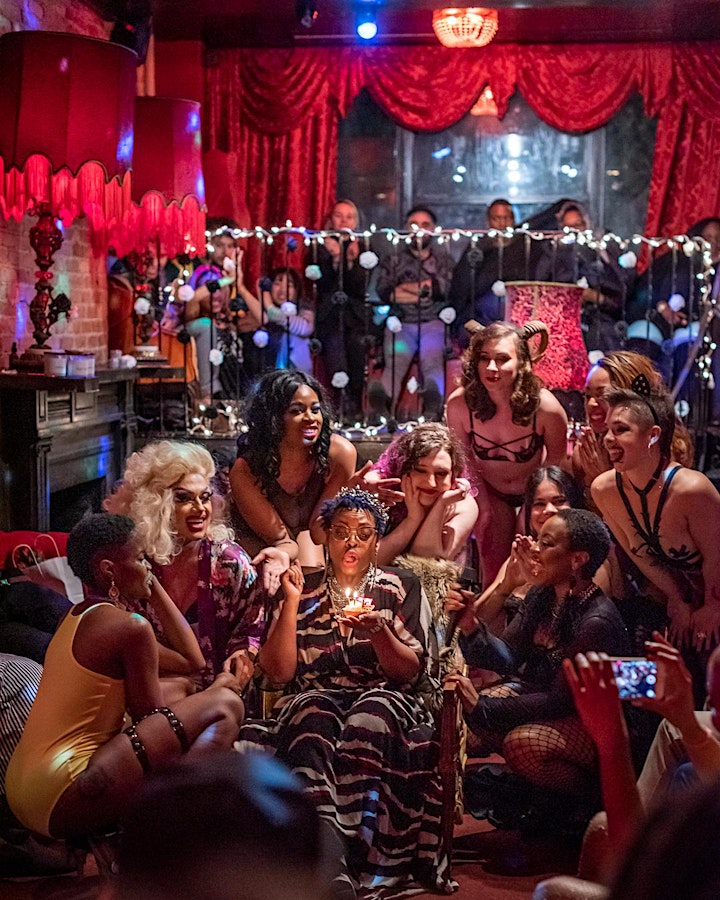 For the adventurous, experimentalist, and curious who enjoy a healthy dose of the unknown, join us for PRIMAL.
INFO, AGREEMENTS & GUIDELINES
LOCATION: Keeping with the mystery of these sacred rites, the exact location will be revealed 24hrs before the show experience. Can you agree to be discreet and private about the location once it's revealed to you?
TIME: Latecomers may not be permitted. This is a sacred ceremony in which full presence is requested, and then the ceremonial container will be closed. Please do note your ticket type and your ticket entry time. After 9:00 pm, NO ONE will be admitted.
ATTIRE: Dress like you mean it. Dress for Primal Erotic Ritual. We request color tones of nudes, bronzes, browns, and earth tones. This Pinterest board sets a vibe and tone. Can you agree to our ceremonial attire?
CONSENT: Please take full responsibility for your agency and autonomy. by choosing to attend this experience. Every participant should be 21 years or older. Please also take responsibility for receiving full, total consent in any interaction that extends beyond yourself.
REFUNDS: As with industry standards, Siren Pack Productions does not offer refunds unless cancellations occur on behalf of the event organizers. For extenuating circumstances, please contact info@SirenPack.com.
INTENTIONAL & PROTECTED SPACES: Please do take note of the production company, team, and cast. Your attendance is at the discretion and discernment of Siren Pack and its team. Problematic people with no pattern of awareness and accountability will not be allowed in the sacred space.
CAST: Line-up is subject to change.
SEATING - All guests are escorted to their seats by Siren Pack. Please note that latecomers will be seated at the discretion of the team.
Photography Credit: Citizen_Rob
Branding, Design & Marketing: SpeakEasy Noir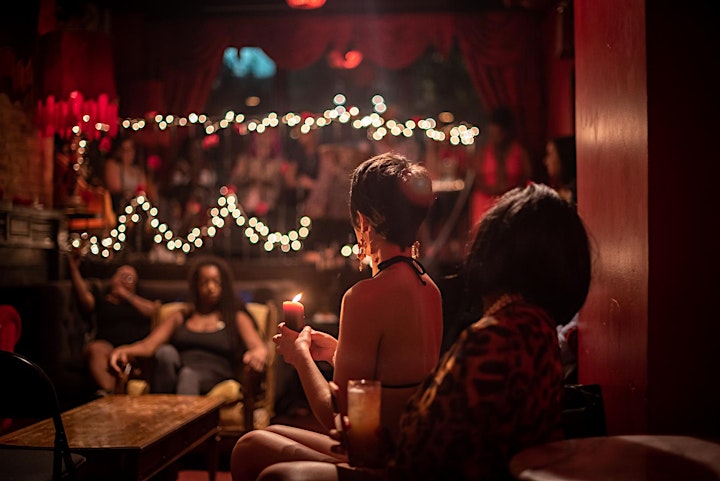 About the organizer
An immersive & subversive burlesque variety company producing provocative experiences. Created in 2018 by a collective of Black Queer Femme Producers, Siren Pack is known for its theatrical erotic shows, corporate entertainment productions, and immersive event activations.