Sales Have Ended
Ticket sales have ended
Tickets at the door. Cash and card accepted.
Sales Have Ended
Ticket sales have ended
Tickets at the door. Cash and card accepted.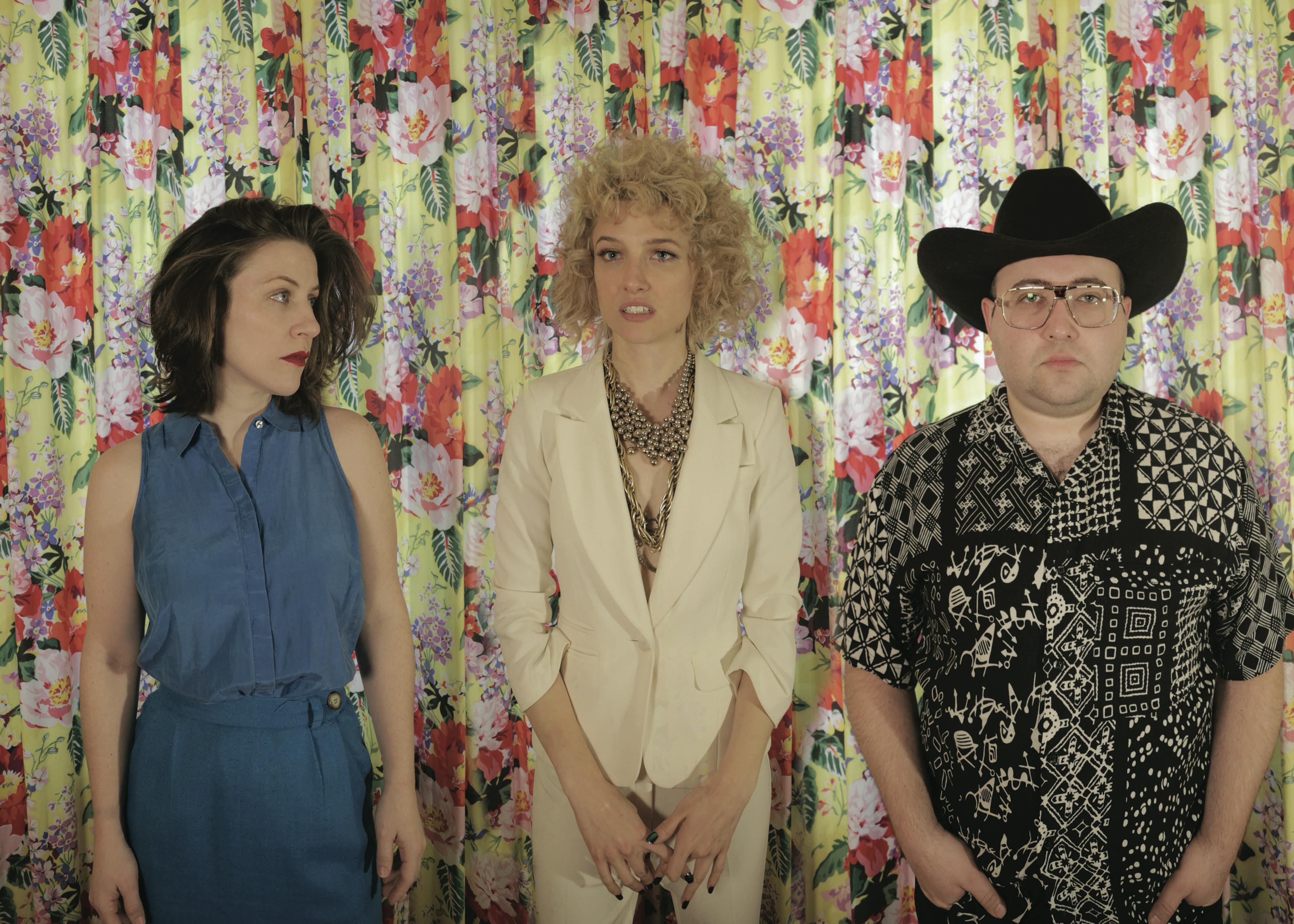 About this Event
Priests
What is at stake in the seduction of Kansas? The question rattles across the second LP from Washington, D.C. rock iconoclasts Priests: The Seduction of Kansas. Seduction evokes pleasure, sex—but it can become propaganda, a tactic of manipulation, a ploy in the politics of persuasion. Kansas, meanwhile, is a compass. As journalist Thomas Frank explored in 2004's What's the Matter With Kansas?, the ideological sway of Kansas has often predicted the direction in which the U.S. will move—whether leaning socialist in the 1800s or going staunchly conservative in the 1980s. "There's something sinister about the idea of seducing a whole state," says drummer Daniele Daniele. "You're clearly up to something. Why would you do it?" The title—like Priests—is a moving target, probing questions about the realities and mythologies of America in 2019 without giving in to easy answers.
Entering their eighth year as a band, Priests—Daniele, vocalist Katie Alice Greer, and guitarist G.L. Jaguar—remain an inspired anomaly in modern music. A band on its own label, Sister Polygon Records—jolting the greater music world with early releases by Downtown Boys, Snail Mail, Sneaks, and Gauche—they are living proof that it is still possible to work on one's own terms, to collectively cultivate one's own world. Bred in punk, Priests play rock'n'roll that is as intellectually sharp as it is focused on pop's thrilling pleasure centers, that is topical without sloganeering. The high-wire physicality of their live shows, the boldness of their Barbara Kruger-invoking visual statements, their commitment to cultural, political, and aesthetic critique—it's all made Priests one of the most exciting bands of their generation, subversive in a literal sense, doing things you would not expect.
Priests' 2017 debut LP Nothing Feels Natural was heralded as a modern classic of "post-punk"—but Priests feels urgently present. If Nothing Feels Natural captured the reach and conviction of a band pushing beyond itself, willing itself into existence on its own adventurous terms, then Kansas stands boldly in the self-possessed space it carved. Its 10 pop songs are like short stories told from uncanny perspectives, full of fire and camp, meditating on anger, U.S. violence, and the fury of feeling tokenized. They make up Priests' most immediate and musically cohesive record, a bracing leap forward in a catalog full of them.
The path was not easy. Following the amicable departure of bassist Taylor Mulitz (now leading Flasher), Priests was faced with a challenge not unlike "sawing off the fourth leg of a chair, and rebuilding it to balance on three." The challenge was difficult, something not unexpected for an egalitarian group of strong personalities. They had to rethink the interlocking dynamic of their band. "It's almost like the version of Priests that made Nothing Feels Natural really died; we didn't have time to grieve about that and also had to build a Frankenstein's monster of a new version of Priests," Greer says. The uncertainty brought a kind of freedom.
Priests enlisted two primary collaborators in writing, arranging, and recording The Seduction of Kansas. After playing cello, mellotron, and lap steel on Nothing Feels Natural, multi-instrumentalist Janel Leppin (Mellow Diamond, Marissa Nadler) returned to breathe air into Priests' demos, serving as primary bassist and a fourth songwriting collaborator on The Seduction of Kansas. The band also found a kindred spirit in producer John Congleton (Angel Olsen, St. Vincent), recording for two weeks at his Elmwood Studio in Dallas. It marked the band's first time opening up their creative work to collaborate with someone outside of their DC-based community—a decidedly less hermetic approach. Priests found a third collaborator in bassist Alexandra Tyson, who has also joined the touring band. The songwriting process found the group once again analyzing the textures and scopes of albums as aggressive as they are introspective, like Massive Attack's Mezzanine, Portishead's Third, and Nine Inch Nails' Downward Spiral.
Greer remains one of rock's most evocative lyricists. The Seduction of Kansas stitches images of USA lore—Superman and Dorothy, cowboys and Hollywood, politicians and news anchors, Pizza Hut, White Castle, Applebees, Dollar Tree, The Last Picture Show, the Koch Brothers, airplanes, cornfields, the Macy's Day Parade, strip mall—in vivid, novelistic detail. "I am fascinated with myth-making," Greer says of her lyrics, mentioning a pointed interest in "the manufactured mythology of Americanism," in the stories—true, false, erased, exaggerated—our elected leaders and society tell us, the ways we "communicate our values and our national sense of self." With greater poetic license, a bit more surrealism, and their biggest hooks yet, Priests hope to "seduce the listener closer."
Sons Of An Illustrious Father
Sons Of An Illustrious Father are a band.
Ezra says immediately: "We have to make music otherwise we will combust."
Started in as a group of two, who grew to five, but settled at three, Sons Of An Illustrious Father is the musical outlet of Josh Aubin, Lilah Larson, and Ezra Miller. Everyone plays a little of everything; everyone writes the songs. They frequently trade instruments, and co-produce their music They've released a couple much-loved albums, an EP, and have toured multiple times throughout America. Their sound is a bit punk, a bit folk, a bit raw, and a bit elemental, a mix they've summed up and named "genre queer." Released in 2018 Sons' most recent creation, a tightly-coiled, gorgeously prismatic collection of 9 songs, is titled Deus Sex Machina: or, Moving Slowly Beyond Nikola Tesla. After two albums, it's the first time the band have experimented with electronics, nestling machine-made droplets and hums, turns and whirs, amongst their visceral melodies. It's also an album that reconciles with the struggles of our now, a response to the sociopolitical and technological climate. And like all things Sons do, it's an all-encompassing response - a record for every person who feels unseen, unidentified, ill at ease in the current political climate who seeks them out as a salve. Their inherent inclusivity, vulnerability, and expression makes them more than three parts creating a whole; these things make the band and their expansive new record a resonant, emotional movement.
Ziemba
Multisensory artist René Kladzyk makes music and connected artifacts (especially fragrances) under the moniker Ziemba, and is NYC-based. Since first making an incense for her debut album (using flowers from the yard of her childhood home, bearing the instruction to burn while listening), she has expanded the ways that she uses fragrance to transform sonic spaces. For instance, in a commission at National Sawdust, she composed original 5 part a cappella music for fire organ, where the voices of the vocalists directly transformed the scent in the room, using a fragrance apparatus within the fire organ as the translator between the human voice and a continually changing scent. Ziemba's new full length album, Ardis, is a feminist sci-fi adventure and multisensory experiment. It has been released sequentially throughout spring 2019, in the form of audio download, limited batch fragrance, video, and tape. In March of 2019 Ziemba was music artist-in-residence at Pioneer Works. She also co-leads the experimental vocal collective XHOIR with artist and musician Colin Self. 
Performers
Date and Time
Location
Refund Policy