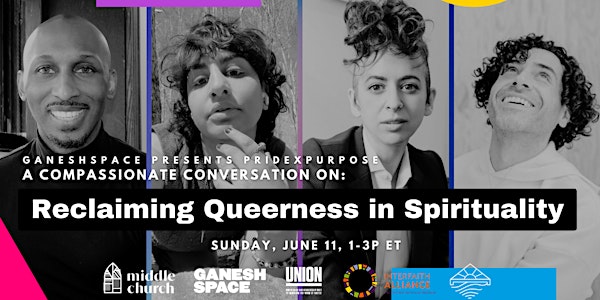 PrideXPurpose Compassionate Convo: Reclaiming Queerness in Spirituality
We will be bringing together Queer spiritual leaders from across different faiths who are redefining what it means to be Queer today.
Date and time
Sunday, June 11 · 1 - 3pm EDT
Location
Middle Church East End Temple 245 East 17th Street New York, NY 10003
Refund Policy
Contact the organizer to request a refund.
Eventbrite's fee is nonrefundable.
About this event
About this Event
As the LGBTQIA+ community continues to face oppression, discriminatory legislation and faith-based attacks, join us for a community panel discussion on Reclaiming Queerness in Spirituality. We will gather on Sunday, June 11 from 1P-3P (In-person in NYC / Virtually on Zoom) to bring together Queer spiritual leaders from across different faiths who are redefining what it means to be Queer today. This is a healing space for LGBTQIA+ folks and allies on how we can rewrite these narratives, and explore the challenges and joys of reconnecting with a form of spirituality and faith, exactly as you are.
In partnership with Middle Church, the event will be hosted by Felipe Gonzalez (he/him), one of GaneshSpace's Founding Teachers. We will start with an opening breath and close with a performance to celebrate PRIDE. Everyone is welcome to this event, and we actually strongly encourage allies of the LGBTQIA+ community to attend to be part of this new spiritual revolution.
Meet our PrideXPurpose Panelist
Karmen Smith (he/him): Born and raised in small-town Texas, Karmen Michael Smith is a Black queer theologian, cultural critic, author, and Lizzie Mae's grandson. Karmen is the founder and pastor at Poor Culture, an inclusive and affirming Black church experience. Karmen serves as Director of the Center for Community Engagement & Social Justice (CCESJ), at Union Theological Seminary, to advance the causes of social justice.
Vuzmal Sharma (they/she): Hi, my name is Vuzmal Sharma, but most folks call me Meesha. My name Vuzmal means lightning in Kashmiri, the language of my maternal lineage. Meesha is a pet name I was given at birth. Sharma comes from my Punjabi father's lineage. I am the first of my family to be born outside of South Asia. I grew up Hindu with grandparents and relatives who studied Sanskrit, Yoga, Tantra, and many more gifts from Indian culture. My iteration of this long line of medicine and tradition has been looking at my culture through a radical and queer lens to unearth what gifts are here for me to explore and share with others.
I believe all people are ever-evolving multi-dimensional entities, so it's hard to encapsulate who I am in a few sentences. However, the key words that come to mind right now are: writer, disruptor, yoga sadhaka and guide, community space holder, queer trans lover, and creatrix.
My passion lies in teaching the indigenous medicine of yoga in inclusive and communal spaces, while co-weaving new ways of being with my peers and allies. Through healing and praxis we can begin to dismantle harm and unlock our true potential. I am the founder of a virtual community called Alchemystic Studio (www.alchemysticstudio.com) where we come together to do the work of healing and change-making in a joyful and supportive way. It is an honor to be a part of this incredible event, and I look forward to co-creating this experience with you. IG: @alchemystic_studio
Jericho Vincent (they/them): The founder and spiritual leader of Temple of the Stranger, a mystical community in Brooklyn that is rooted in Jewish ancestral wisdom and open to all. A leading contemporary teacher of feminist Torah, trans Torah, and the Torah of restorative justice, they teach on Instagram @thealef and as a guest at houses of worship and organizations around the country.
Raised in an ultra-Orthodox home with an illustrious rabbinical lineage, Jericho learned from Buddhist, Sufi, and atheist communities before returning to Judaism to excavate timely wisdom from their family's ancient traditions. Jericho has been named to the Jewish Week's 36 Under 36 and The Forward's Forward 50 for their work. Their writing has appeared in The New York Times, The Daily Beast, The Cut, The Rumpus, and Catapult, and in 2023 their groundbreaking rabbinic responsa on trans sacred sexuality was published by Svara's Trans Halacha Project. Jericho holds a master's degree in Public Policy from Harvard University, where they were a Pforzheimer Fellow. They are a rising rabbi within the Renewal lineage of Reb Zalman Schachter-Shalomi and a fellow at Atra: Center for Rabbinic Innovation. They are constitutionally incapable of turning down an offer of babka.
PrideXPurpose Panelist Facilitator
Felipe Gonzalez (he/him): A certified 500 ERYT, Katonah Yoga teacher, and Founding Teacher at GaneshSpace. Based in Santa Monica, California (Tongva land) he has spent the last six years learning, unlearning, and exploring the intersections of yoga, mindfulness, and social justice. His mission is to rewrite the narrative around wellness and healing. He believes that Yoga is a practice of activism. By allowing oneself to engage in practices and techniques of self awareness, self regulation, and self care, it awakens the desire to make the world a better place than you found it.
About Compassionate Conversations
Every year, we host a radical, bi-annual talk series featuring trailblazing thought leaders in wellness and social justice movements called Compassionate Conversations. The intention behind these talks is to shine a spotlight on historically excluded communities by creating space for learning, unlearning, personal healing and collective transformation. This conversation series cultivates awareness and uplifts our lived experiences around race, gender, the body, and sexuality.
About GaneshSpace
GaneshSpace is a 501(c)(3) mindfulness organization that creates healing spaces for historically excluded communities and social justice education for all. Through somatic awareness and personal reflection, we are a community of mindful changemakers moving towards personal and collective liberation. We believe that our breath can transform and free all of us — in this moment and beyond.
Your ticket purchase is a donation.
Thank you for supporting GaneshSpace. All or a portion of this sale is tax-deductible. Please reference the email from us acknowledging your donation.
Disclaimer: Media Release
By purchasing a ticket, you hereby authorize and grant permission to GaneshSpace, as well as their agents, representatives, to take and use your photography, video recording, or live- streamed image, likeness, voice, and name for any and all purposes, including marketing, commercial, or advertising purposes, and in any and all forms of media, without further consideration. You understand and agree that you have no rights to any benefits derived from the use of such image, likeness, voice, or name.
About the organizer
GaneshSpace is a grassroots community organization dedicated to advancing social justice through mindfulness education. These programs allow the space to reflect on the identities and biases we embody; and are specifically designed to cultivate compassionate awareness on the power and privilege each of us hold — and our capacity to create collective change through our own personal transformation.