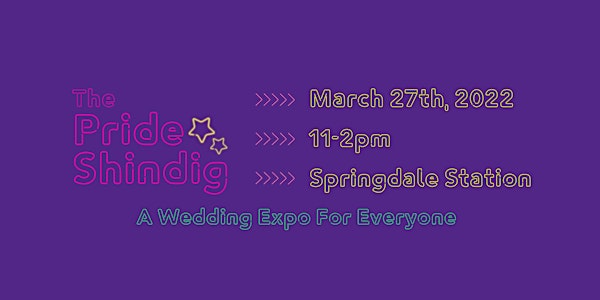 Pride Shindig 2022 - Bring us all the Neon!
We are an inclusive LGBT-focused expo for the top wedding vendors in Austin. Tickets are free! See you soon!
By Creatrix Photography & Bride's Best Friend Wedding Planning & Design
When and where
Date and time
Sunday, March 27, 2022 · 11am - 2pm CDT
Location
Springdale Station 979 Springdale Road #Suite #160 Austin, TX 78702
About this event
Are you excited?!!? You should be!
Brought to you by Creatrix Photography and Bride's Best Friend.
Raise your hand if you're tired of the same ol' wedding event. Size Two * White * Hetero. Of course, it's 2022 and things are changing. Yet, there is still a fear—a very valid one—that you'll reach out to a vendor and instead of receiving a pricing guide, they preach skewed bible verses and/or are suddenly busy. Weddings/love parties are stressful enough without facing rejection from strangers. Facebook does that job well enough, amirite?
In 2019, Creatrix Photography set out to create a boutique wedding expo that catered specifically to the LGBTQIA+ communities, as well as other underserved demographics. Of course, all people are welcome. Regardless of size, race, orientation, relationship style—it doesn't matter. As long as you value equality and inclusivity, this is the place for you to come and of course, brunch it up with us!
Did someone mention brunch? Why yes! In fact, the 2022 theme is NEONS, with a tad touch of Lisa Frank. Come enjoy the vibrant colors and designs, drank some drinks, and enjoy yummy noshes.
We can't wait to see you!