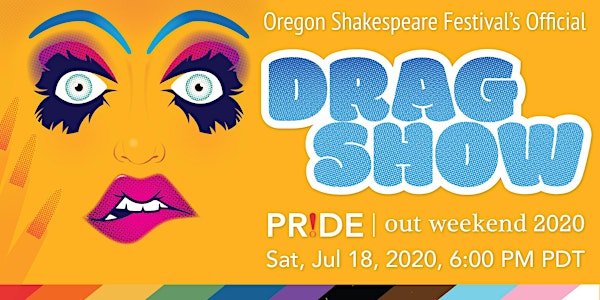 PRIDE on O!: OUT WEEKEND 2020 // OFFICIAL DRAG SHOW
A Digital Drag Show hosted by O!, the digital platform for the Oregon Shakespeare Festival
About this event
Celebrate Pride with OSF and help raise funds for queer charities! Join us for this FREE digital drag extravaganza featuring drag performances by:
ISAIAH ESQUIRE & JOHNNY NURIEL OF IZOHNNY
and a comedy-poetry performance by BARUCH PORRAS HERNANDEZ.
The performance will be followed by a LIVE dance party with DJ YUNGUPTOWN.
Visit our PRIDE ON O! page for more information on the full weekend.
_______________________
Content Advisory: This is a drag show! Queer performers included celebrate their sexuality and their performances will include partial nudity and swearing. Please make choices for yourself and young ones in your care accordingly.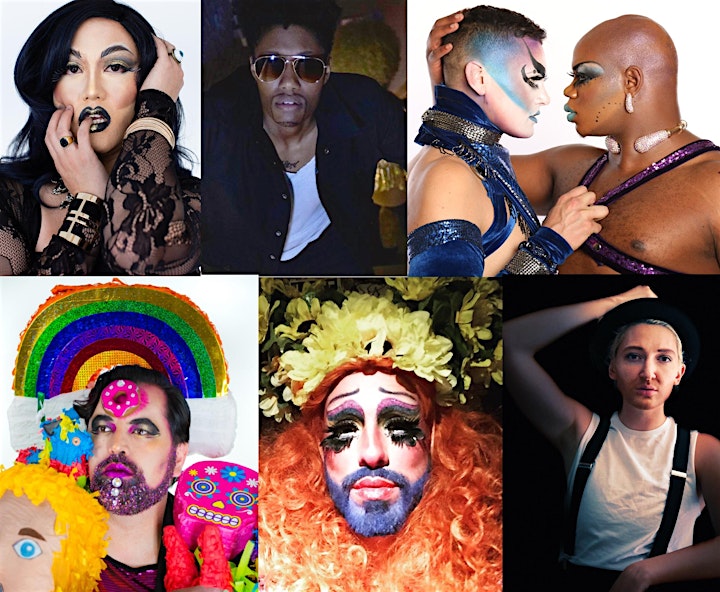 About the Performers
A DC native and performer in the area for more than 10 years, BLAQ DINAMYTE has done it all from musical theater to "boi-lesque" to drag and everything in-between. He brings his own special brand of drag performance mixed with a one-of-a-kind energy that leaves audiences begging for more.
_______________________
BUKA KAY! started her drag career in 2007 by entering her first pageant and winning the title of Ms. GAPA (Gay Asian Pacific Alliance). She is a proud member of the Rice Rockettes, the premier Asian Pacific Islander drag troupe in the SF Bay Area, and Clutch The Pearls, queering up the Mission District and creating a safe space to celebrate all types of authentic selves. Often infusing socio-political commentary into her performances, Buka Kay! strives to celebrate the resilience of the marginalized while taking opportunities to educate audiences through the art of drag.
_______________________
CHURRO NOMI is a drag performer based in San Francisco and Buenos Aires. She hosts Clutch The Pearls, a monthly drag cabaret at the Make Out Room, and Drag Spectacular Spectacular, a sporadic drag show at The Rite Spot. Three words to describe her: FOSSE FOSSE FOSSE.
_______________________
DRACO MOUTHFUL is a magical drag king who flicks his massive wand at anyone who doesn't stand up for Trans rights. Now sit back and relax, because he's ready to slither-in... to your zoom screen!
_______________________
Known as the ""Goliaths of Glam"", IZOHNNY is the dynamic performance duo of Isaiah Esquire & Johnny Nuriel. This statuesque pair of 6'6'' ebony & ivory specimens deliver a jaw-dropping performance experience with an androgynous and gender fluid style that audiences swoon over.
_______________________
BARUCH PORRAS HERNANDEZ's work has been described as inspirational, terrifying, vibrant, startling, witty, hilariously honest, and a little too sexual. After years of working as an actor, he made a rule to only perform things he writes and since then he's rocked stages all over North America as a poet, performance artist, slam poet, stand up comedian, storyteller, and solo performer to large crowds. Sam Sax called him ""a long time luminary of the Bay area literary and performance worlds"", Marga Gomez calls him a ""San Francisco treasure"", and his mother calls him ""Hey, drive me to Target, and stop telling people that joke about me asking you for grandchildren, I gave up on that dream long ago, and just want to grow old and disappointed in peace."" His writing and performance will make you laugh, cry, and leave you horny for more.
_______________________
Washington DC-based Actor & DJ, YUNGUPTOWN bringing you the latest EDM, Pop & Hip-Hop in his virtual DJ sets. Turn on your LOUDEST speakers.