Pride of Baltimore II

Multiple Dates
Event Details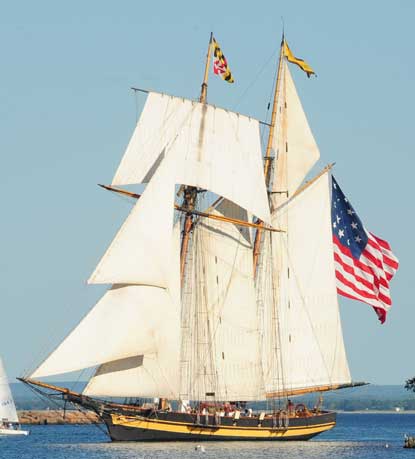 Whether blasting off her shipboard cannons or skimming majestically over the waves with all sails aloft, Pride II grabs attention! Step aboard Pride of Baltimore II as she makes a dockside visit to Maine Maritime Museum and helps us celebrate the 200th anniversary of the War of 1812. Pride of Baltimore II  is a reproduction of an 1812-era topsail schooner the type of vessels often referred to as Baltimore Clippers. American privateers, many of them sailing out of Chesapeake Bay in Baltimore Clippers, captured or sank some 1,700 British merchant vessels during the two and a half year war. Other Baltimore Clippers served as cargo vessels to bring needed munitions and other armaments through the naval blockade that the British imposed on the US coastline. These vessels helped America win the War of 1812 and finally secure its freedom.
Boarding Pass does not include Museum Admission
Organizer
Maine Maritime Museum
Maine Maritime Museum offers a myriad of opportunities to explore Maine's maritime heritage and culture and to experience the mystique of Maine.
Visitors can find:
fascinating exhibits brimming with art and artifacts
contemporary, interactive areas for children and adults
an historic shipyard with five of the original 19th century buildings
a Victorian-era shipyard owners home
an active waterfront
a life-size sculptural representation of the largest wooden sailing vessel ever built
a scenic campus on the bank of the Kennebec River
Click these links to learn more about the museum's history and mission, find out who is on our staff and how to contact us.