PRIDE Cape Coral Sunday Brunch - Two Seatings Available
Description
Sit back and enjoy local fare while being entertained! Cape Coral's inaugural PRIDE celebration takes place on Saturday and Sunday, April 6-7, 2019. Hosted by South Cape Hospitality & Entertainment Associations, in conjunction with PRIDE SWFL, this two-day celebration happens on SE 47th Terrace.

Sunday Brunch will take place on SE 10th Place, as it intersects with SE 47th Terrace. Two 2-hour seatings are available: 10:30am-12:30pm and 1pm-3pm.
You'll start with coffee and pastries from Perk & Brew, followed by a buffet featuring a selection of awesome tastes from local restaurants, including Big Blue Brewing, Nice Guys and Ralph's Place. Also included is one mimosa, Absolut bloody mary or Absolut screwdriver. Additional alcoholic drinks will be available for purchase.
While you eat and mingle with friends, national and local talent will take to the big stage.
Please stay tuned for the full menu. Your ticket guarantees you have a seat. Please arrive on time, as seating assignments are on a first-come, first-served basis.
---
During checkout you can also preorder your PRIDE Cape Coral T-shirt. This guarantees you get the size and style you want. Pre-ordered shirts will be available for pickup prior to, during and after PRIDE Cape Coral.
Pre-ordered PRIDE shirts will be available for pickup at Zak's Jewelry beginning Monday, March 25th. Zak's is located at 1314 Cape Coral Pkwy E, Cape Coral. Pickup hours are Monday-Friday: 9:30am-5:30pm and Saturday 9:30am-4:30pm.
Available in two styles – Unisex Crew Neck and Ladies V Neck – PRIDE Cape Coral t-shirts are just $20.
These shirts will include sponsor logos on the back, representing the following businesses: BackStreets Sports Bar, Brand 1 Ink, Center for Spiritual Living, Cruisers, Dixie Roadhouse, Genius Computers, Good Times Amusement, Interactive Creative Group, Patrick O'Photos, Perk & Brew, Rascals, Rockade, Tiki Hut, Wicked Dolphin and Zak's Jewelry.
(Please note that t-shirts are originally $20. Due to Eventbrite adding a small fee, we've adjusted the price to $19 when they are purchased with your Sunday Brunch ticket.)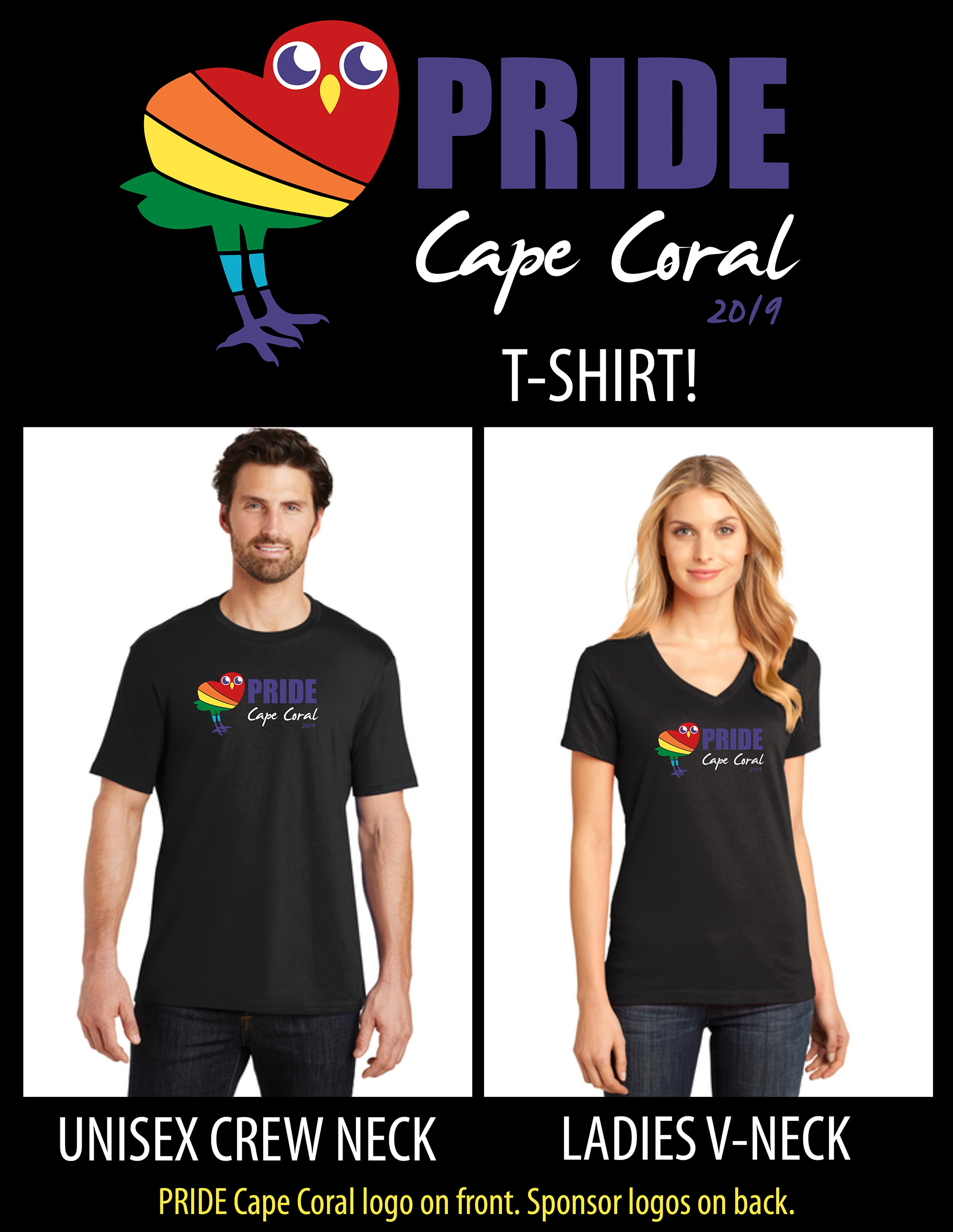 ---
Do you own a business that would like to sponsor PRIDE Cape Coral? Please contact us today. We are still in need of sponsors to make this inaugural event the best it can be!