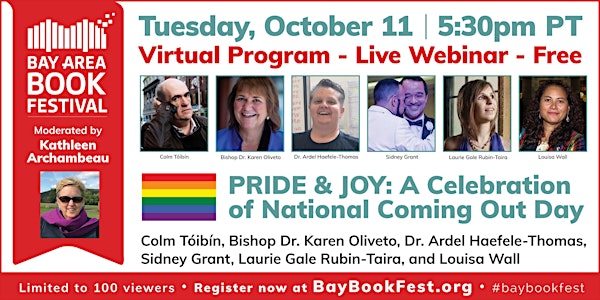 Pride and Joy: A Celebration of National Coming Out Day
Celebrate National Coming Out Day with a star-studded panel of creative LGBTQIA+ change makers from around the world.
Refund Policy
Contact the organizer to request a refund.
About this event
An opera singer, a Methodist bishop, a tango champion, a celebrated scholar, a member of the New Zealand parliament, and a Booker Prize–nominated author. What do these creative, dynamic change makers have in common? They're all making waves worldwide, and doing so as out and proud members of the global LGBTQIA+ community.
In her book Pride & Joy: LGBTQ Artists, Icons, and Everyday Heroes, writer, LGBTQ activist, and native San Franciscan Kathleen Archambeau highlights positive, affirming, life-changing stories of prominent and unsung queer folks from around the world. Now, in the spirit of National Coming Out Day, we're bringing together six of those icons—joining us virtually from across the globe—for an evening of conversation and celebration. Sidney Grant, Ardel Haefele-Thomas, Karen Oliveto, Laurie Gale Rubin-Taira, Colm Tóibín, and Louisa Wall will join Kathleen (and you!) to share their own coming-out stories and offer their visions for the future of the global LGBTQIA+ community.
This event will be hosted on Zoom and is free to attend, though registration is limited. Donations to support the Bay Area Book Festival and the SF LGBT Center are optional but encouraged. Online book sales are provided by Green Apple Books in San Francisco.
About the Panelists
Dr. Ardel Haefele-Thomas (they/them) is the chair of LGBTQ studies at City College of San Francisco and is a white, nonbinary, trans/queer author of the first undergraduate transgender studies textbook, named a top 10 book by the 2020 Over the Rainbow Committee of the American Library Association. Their titles include: Transgender: A Reference Handbook (2019); Introduction to Transgender Studies (2019); and Queer Others in Victorian Gothic: Transgressing Monstrosities (2012). A graduate of Stanford University with a PhD in modern thought and literature and a minor in history, Haefele-Thomas is a globally known expert in queer Gothic and transgender studies and a sought-after speaker at international conferences. They live in the San Francisco Bay Area.
Sidney "Dr. Dance" Grant (he/him) is a USA Argentine Tango Champion and was part of the first gay couple to make it to the finals of the USA Argentine Tango Competition. He taught dance to Julia Roberts and Marcia Gay Harden (an honorary board member of Ballroom Basix) for the film Mona Lisa Smile and was featured in the documentary Mad Hot Ballroom, with Antonio Banderas, in his role as the co-founder of American Ballroom Theater Youth Company, where he worked for seven years. In 2008, Grant went on to become the founder of Ballroom Basix, a nonprofit program of noncompetitive ballroom and Latin dancing for sixth graders in New York City's public schools. Grant has been a featured New Yorker on NY City television highlighting this program, which has served more than 12,000 students to date. Grant lives in Spanish Harlem and has studied Spanish since he was a child. Grant graduated from Rutgers University with a minor in Spanish and performs around New York City.
Bishop Dr. Karen Oliveto (she/her) is the first openly LGBTQ+ bishop of the United Methodist Church (UMC). No stranger to firsts, she performed the first legal same-gender wedding in a UMC during San Francisco's "Winter of Love" in 2004. She was also the first woman to become lead pastor of one of the largest Methodist churches, Glide Memorial, in San Francisco. Oliveto is the author of three nonfiction books, including, most recently, Together at the Table: Diversity Without Division in the United Methodist Church (2018) and Our Strangely Warmed Hearts: Coming Out into God's Call (2018). She's married to Robin Ridenour, a deaconess in the UMC and a retired nurse anesthetist.
Laurie Gale Rubin-Taira (she/her) is one of the only queer blind opera mezzo-soprano singers to have played Carnegie Hall and Lincoln Center in NYC and Wigmore Hall in London. The NY Times has praised her performance for its compelling artistry and communicative power, and the LA Times has lauded her charismatic, multi-textured performance. The great mezzo-soprano Frederica von Stade has asked Rubin to perform duets with her, and Kenny Loggins enlisted her as a back-up singer when she was just twelve years old. Rubin is a graduate of Oberlin College and Conservatory, where she met her now wife, Jenny Taira, a fellow music student who was a clarinetist and pianist. In 2010, they co-founded Ohana Arts, an interdisciplinary arts program for youth in Honolulu. Ohana Arts teaches children of all backgrounds and skill levels: acting, singing, dancing, musical theatre, songwriting, choir, audio and musical technology production. Rubin's memoir, Do You Dream in Color: Insights from a Girl Without Sight (2012), offers readers, sighted and unsighted, a window into her struggles and triumphs. Laurie and Jenny parent their three children and live in Honolulu, near Jenny's extended Japanese American family, while also co-directing Ohana Arts.
Colm Tóibín (he/him) is an award-winning Irish writer. He is the author of ten novels, two of which were shortlisted for the Booker Prize and one of which was longlisted for the Booker Prize. In 2022, he won the Rathbones Folio Prize for his latest novel, The Magician. His novel Brooklyn was made into an Academy Award–nominated film starring Saoirse Ronan. In 2015, ahead of the successful Marriage Equality Referendum, Tóibín delivered a talk, "The Embrace of Love: Being Gay in Ireland Now," at Trinity Hall, incorporating readings from the works of prominently historical gay figures, including Oscar Wilde. Tóibín is openly gay and has been in partnership with artist Hedi El Kholti of Los Angeles. He teaches at Columbia University and lives in Ireland, New York, and Los Angeles.
Louisa Wall (she/her) is the sponsor and author, along with her wife, Māori Women's Welfare League National President and rights lawyer Prue Kapua, of the successful 2013 Marriage Amendment Act, guaranteeing New Zealand same-sex couples marriage equality. Wall has served as a Labour Party Member of Parliament from 2011-2022, representing her Manurewa district in Auckland, New Zealand. Prior to her time in parliament, Wall excelled as a professional athlete, as a member of Netball's New Zealand Silver Ferns and Rugby's New Zealand Black Ferns. She won Gold in the Rugby World Championships and was named New Zealand Women's Rugby Player of the Year in 1997. Skills learned on the pitch—dedication, commitment, preparation, teamwork—served her well as she negotiated the controversial bill, which received over 21,000 public comments and submissions, across party lines. In 2022, Wall resigned from her MP seat and was appointed by Foreign Minister Nanaia Mahuta as Pacific Gender Equality Ambassador for New Zealand. In her new role, Wall will continue to promote human rights and equality across the Pacific Islands.
About the Moderator
Kathleen Archambeau (she/her) is an award-winning writer and longtime LGBTQ activist. A native San Franciscan, she was a founding contributor to the James Hormel LGBT wing of the San Francisco Public Library. As VP of the Board of Directors of Operation Concern, one of the oldest and largest mental health agencies serving the LGBT community, she was given an Outstanding Service Award. With her wife, she competed and won two Bronze Medals in Ballroom Dancing at the Gay Games in Cologne, Germany. She currently serves on the Board of the Women's National Book Association—SF Chapter and is an LGBTQ Teaching Elder at USF. Archambeau contributed a regular column profiling LGBTQ artists in one of the country's longest-running LGBTQ publications, the San Francisco Bay Times. Her first book, Climbing the Corporate Ladder in High Heels, was featured in Forbes twice. Her book Pride & Joy: LGBTQ Artists, Icons and Everyday Heroes was positively reviewed in the worldwide Gay & Lesbian Review, Bay Times, Windy City Times, and Ponsonby News and featured in a Pride opinion piece in the SF Chronicle. Her next book, co-authored with gay dad and author Eric Rosswood, We Make It Better: The LGBTQ Community and Their Positive Contributions to Society, was featured in Publishers Weekly for being banned briefly by Target for its queer content. Archambeau lives with her Kiwi wife and Guide Dogs for the Blind Career Change dog in the SF Bay Area.