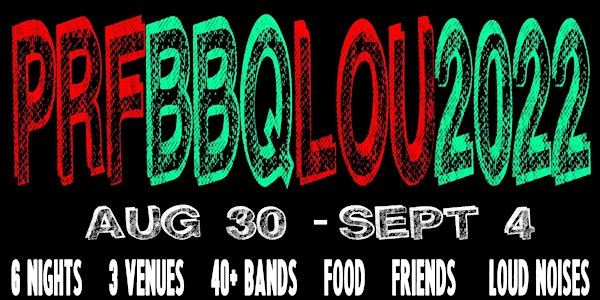 PRFBBQLOU2022 Aug 30-Sept 4
The PRFBBQLOU is back after a long 5-year hiatus. 6 days, 3 venues, multiple stages, 40+ bands, vendors, food, and fun!
When and where
Location
PORTAL @ fifteenTWELVE 1512 Portland Avenue #Suite 102 Louisville, KY 40203
Refund Policy
Contact the organizer to request a refund.
Eventbrite's fee is nonrefundable.
About this event
SCHEDULE:
Tuesday Aug 30 @ Kaiju 1004 E. Oak St. Doors at 7:00pm / Music at 8:00pm $15 - 21+
8:00-8:30 - WIREWORKS (KY)
8:45-9:15 - DYE JOB (KY)
9:30-10:00 - OVERCHOICE (KY)
10:15-10:45 - CELEBRITY DEATH SLOT MACHINE (GA)
Wednesday Aug 31 @ Mag Bar 1398 S. 2nd St. Doors at 7:00pm / Music at 8:00pm $15 - 21+
8:00-8:30 - ZURICH CLOUD MOTORS (KY)
8:45-9:15 - COPIERS (KY)
9:30-10:00 - PRIMITIVE BROADCAST RADIO (WI)
10:15-10:45 - DANA (OH)
11:00-11:30 - FLAMINGO (KY)
Thursday Sept 1 @ Kaiju 1004 E. Oak St. Doors at 7:00pm Music at 8:00pm $15 - 21+
8:00-8:30 - JANE. (KY)
8:45-9:15 - BLOOD CHILL (OH)
9:30-10:00 - CASTLE BLACK (NY)
10:15-10:45 - LUNG (OH)
11:00-11:30 - FRUIT LOOOPS (OH)
Friday Sept 2 @ Mag Bar 1398 S. 2nd St. Doors at 7pm, Music at 7:30 - $15 - 21+
7:30-8:00 - DEADY (KY)
8:15-8:45 - LASHES (OH)
9:00-9:30 - KNIFE THE SYMPHONY (OH)
9:45-10:15 - CONAN NEUTRON & THE SECRET FRIENDS (WI)
10:30-11:00 - BURNED OR BURIED (IL)
11:15-11:45 - NAW (GA)
12:00-12:30 - MISTER GOBLIN (IL/IN)
Saturday Sept 3 @ PORTAL / fifteenTWELVE Creative Compound 1512 Portland Ave. - Doors at 2:00pm, Music at 3:00pm-12:00am - $20 - 3 stages - All Ages (UNDER 16yo NEEDS ADULT SUPERVISION)
STAGE A - PORTAL MAIN STAGE INSIDE
3:00-3:30 - CHEER ACCIDENT (IL)
4:00-4:30 - ISOLATION TANK ENSEMBLE (KY)
5:00-5:30 - GOD DAMN YOUR EYES (IL)
6:00-6:15 - ACROYOGA with KEITH MANIFY & JOLEE RANCHER (GA)
6:15-7:15 - DINNER BREAK
7:15-7:30 - ED BURMILA (IN)
8:00-8:30 - VINCAS (GA)
9:00-9:30 - THE CELL PHONES (IN/IL)
9:45-10:15 - SALVATION (IL)
10:30-11:00 - FRIENDSHIP COMMANDERS (TN)
11:15-12:00 - SERVICE (IN)
STAGE B - "MONNIK BEER STAGE" OUTSIDE OF HIDDEN ROOM STUDIOS
3:30-4:00 - BLIGHTS (MO)
4:30-5:00 - FATHER WEREWOLF (GA)
5:30-6:00 - TERMINUS VICTOR (IL)
7:30-8:00 - DJUNAH (IL)
8:30-9:00 - IFIHADAHIFI (WI)
STAGE C - PORTAL PATIO STAGE
3:45-4:15 - DJ FLANNEL JAMMIES (WI)
4:45-5:15 - SOLAR FLIGHT (KY)
5:45-6:15 - NARCISSY (VA)
6:45-7:15 - DJ FLANNEL JAMMIES (WI)
Sunday Sept 4 @ PORTAL / fifteenTWELVE Creative Compound 1512 Portland Ave.- Doors at 2:00pm, Music at 3:00pm-12:00am - $20 - 3 stages, All Ages (UNDER 16yo NEEDS ADULT SUPERVISION)
STAGE A - PORTAL MAIN STAGE INSIDE
3:00-3:30 - SUMP PUMPS
4:00-4:30 - SYMPATHY JAR
5:00-5:30 - WIIRMZ
6:00-7:00 - DINNER BREAK
7:00-7:30 - GALACTIC SPECTRE
8:00-8:30 - SATELLITE TWIN
9:00-9:30 - NEIGHBOR
9:45-10:25 - BRETT EUGENE RALPH'S KENTUCKY CHROME REVUE
10:40-11:20 - BAD WIRES
11:30-12:00 - WORK SHIRT
STAGE B - "MONNIK BEER STAGE" OUTSIDE OF HIDDEN ROOM STUDIOS
3:30-4:00 - BON AIR
4:30-5:00 - FUTURE FOSSILS
5:30-6:00 - HEAT MACHINE
7:30-8:00 - SHITFIRE
8:30-9:00 - THE DADDY SISTERS
STAGE C - PORTAL PATIO STAGE
3:45-4:15 - ANDY MATTER SOLO
4:45-5:15 - FROGMEN
5:45-6:15 - THE GOLDEN WHIP
6:45-7:15 - CHARLES RIVERA BAND
THINGS TO BRING TO THE FEST
-PHOTO ID
-FOLDING/CAMPING CHAIRS
-REUSABLE WATER BOTTLES/TUMBLERS
-SUNGLASSES
-SUNSCREEN
-PICNIC BLANKETS
-10X10 POP UP TENTS
-COMFY SHOES
-EAR PROTECTION
-GOOD VIBES
-SNACKS
-CASH FOR MERCH
-FACE MASK OPTIONAL
THINGS NOT TO BRING TO THE FEST
-BAD VIBES
-DOGS
-HARD DRUGS
-WEAPONS
-OUTSIDE ALCOHOL