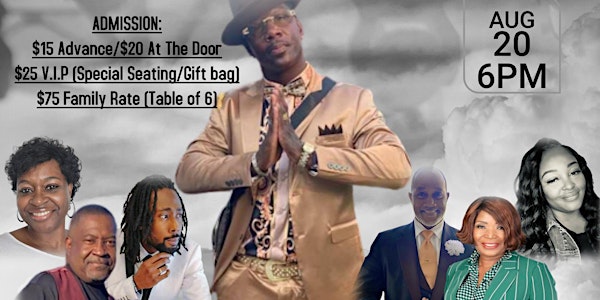 "Preying In Secret" Gospel Stage Play
The Gospel Stage Play where preying in secret comes to the light!
When and where
Location
Fountain B Wims Community Center 7062 Green Grove Road Lumpkin, GA 31815
About this event
Christopher is a famous rapper better known as Chris-T. While on the road and touring the country, Christopher is preying in the secret. He is not representing God, as he should, while traveling all over the world rapping about the Gospel. Meanwhile, his beautiful wife Tricia is taking care of home and trusting God. You see, Tricia is watching and praying in a different kind of way. While dealing with family and friends judging her situation, she refuses to let anyone tell her anything unpleasing about her husband. She knows that what happens in dark WILL eventually come to the light. Is Tricia being naive or is she praying in secret to be rewarded openly? You be the judge!!
Special appearance will be made by Dee Armstrong, Host and Anchor Woman for WTVM, one of the highest rated news teams ever in the city of Columbus, Georgia.
This event is a fundraiser for the youth department of the Fountain B. Wims Recreational Center. Donations are accepted.