Preview the Upcoming PBS Documentary 'Is School Enough?'

Wednesday, May 29, 2013 from 5:00 PM to 7:30 PM (PDT)
Event Details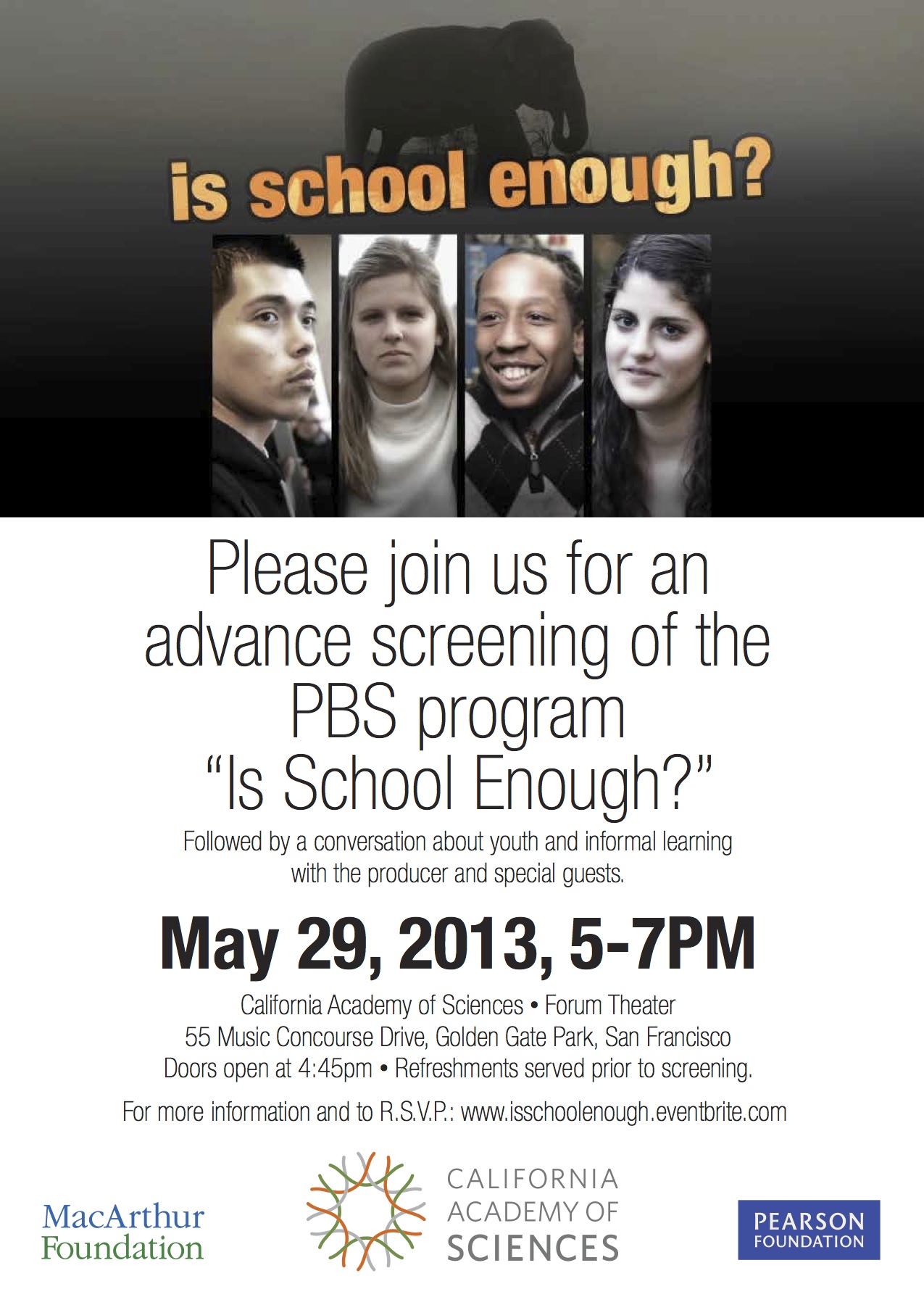 While policy-makers and educational experts try to determine the best "system" for delivering a world-class education to tens of millions of students across the country, many young people are finding their own ways of expressing themselves, pursuing interests, and participating in communities that are both on and offline. Largely unmediated by school and teachers, these young people, without really being aware of it, are connecting how they learn with what they care most about. Too commonly, young people are asked to solve problems in the classroom that have no relationship to the real world or relevance to their lives. Memorization and the measurement of what we know is the final basis for evaluating a students' success; moreover, it's the final evaluation of a teacher's success as well. But in what ways do we ask our students to apply what they've learned in the classroom to something that's happening in the world outside of it? 

In what ways do we reward the authentic learning and work that young people do that is not validated and evaluated by our educational institutions? In this highly connected world that is powered by what we need when we need it, is school really enough? 

Designed for parents and educators inside and out of the classroom, Is School Enough? – a one hour documentary - examines how young people are using everyday tools - including today's digital ones - to explore interests, connect with others, solve problems, and change the world around them. It is a call to action that moves the discourse away from how do we fix schools to how can we support, sustain and galvanize learning by helping students solve problems in their everyday lives. 

Please join us for a preview screening of the new documentary that will be aired on PBS this fall. The screening will be followed by a panel discussion with Joe Kahn, Elliot Washer, and the Director, Stephen Brown.  The panel will also include a youth featured in the film and a member of the California Academy of Science's Careers in Science Internship program.
Panel includes:
Stephen Brown is President and Executive Producer at Mobile Digital Arts. Mobile Digital Arts uses film and video production as a way to showcase and advocate for innovative educational practices, digital media programs, and 21st century approaches to learning.  Brown produced Reborn, New Orleans Schools, a feature documentary about the school reform movement after Hurricane Katrina; A 21st Century Education, a series of twelve short films about innovation in education; and Digital Media and Learning, eleven short films profiling the work of leading researchers, educators and thinkers on the impact that digital media is having on young learners. Mobile Digital Arts' production – Digital Media, New Learners of the 21st Century – aired nationally on PBS in February 2011. He is also producing an on-going series of films with the OECD about the world's best performing educational systems. Formerly, Brown was a business development manager, product planner and MSN producer at Microsoft. He has been a publisher of adult educational programs at Learning Network and a producer for WOMAD, a music and dance festival founded by Peter Gabriel. Brown is currently the General Manager of the New Learning Institute for the Pearson Foundation. 
Joseph Kahne, John and Martha Davidson Professor of Education at Mills College. Kahne's research focuses on ways school practices and new media may be influencing youth civic and political development. He also studies urban school reform. At the Pew Internet and American Life Project, Professor Kahne also recently completed a national survey of youth that examined the civic potential of video games.
Elliot Washor, Ed. D. is the co-founder and co-director of Big Picture Learning (www.bigpicture.org), a global leader in education reform, research, and innovation, with highly successful schools throughout America, the European Union, the Middle East, and Australia. Elliot is also the co-founder of The Met Center in Providence, RI. Elliot has been involved in school reform for more than 35 years as a teacher, principal, administrator, consultant, producer and writer. His work encompasses school design, pedagogy, learning environments, and education reform.

Elliot's professional development programs won an "Innovations in State and Local Government Award" from the Ford Foundation and the Kennedy School of Government at Harvard University. He has been selected as one of the Daring Dozen– The Twelve Most Daring Educators by the George Lucas Education Foundation. Elliot's dissertation on Innovative Pedagogy and New Facilities won the merit award from DesignShare, the international forum for innovative schools. Elliot, along with (Charles Mojkowski) are authors of "Leaving the Learn." 
When & Where

California Academy of Sciences
55 Music Concourse Drive
San Francisco, CA 94118


Wednesday, May 29, 2013 from 5:00 PM to 7:30 PM (PDT)
Add to my calendar
Organizer
The California Academy of Sciences is a world-class scientific and cultural institution based in San Francisco. The Academy recently opened a new facility in Golden Gate Park, a 400,000 square foot structure that houses an aquarium, a planetarium a natural history museum and a 4-story rainforest all under one roof.
The new facility is also home to the Academy's staff of world-class scientists, an education department that provides a wide range of student and teacher services, and an extensive science library with over 28 million specimens and artifacts.
Preview the Upcoming PBS Documentary 'Is School Enough?'