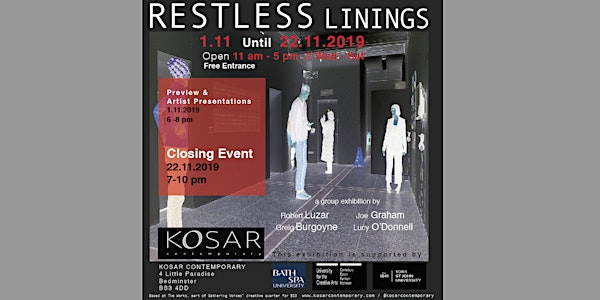 Preview - Artist Presentations - Restless Linings Exhibition
Preview with an opportunity for the participating artists to present their exhibition ideas.
When and where
Location
Kosar Contemporary 4 Little Paradise Bedminster Bristol BS3 4DD United Kingdom
About this event
Opening Event: 1st November 2019 | 6 - 8 pm
Kosar Contemporary is pleased to announce our next exhibition Restless Linings, featuring performances, experimental drawings, videos and ephemera by Robert Luzar, Greig Burgoyne, Lucy O'Donnell and Joe Graham.
Restless Linings is an exploration of the concepts of 'precarious labour' and 'collective social change' through experimental drawings presenting the following:
'Demonstrations' by Robert Luzar
'Partly Present Mother' by Lucy O'Donnell
'Power Diagrams' by Joe Graham
'Ball Drawings' and 'Walkabout' by Greig Burgoyne who will also lead a workshop 'Open gestures/ fluid spaces' , 4 -6 pm on Friday, 22nd November.
Participation: We welcome you to participate in various drawing activities for its duration at Kosar Contemporary as this experimental evolving exhibition will happen socially, engaging with the audience while the artists will work on site. Live-art performances, videos, installations and ephemera will shift 'drawing' from the familiar (works-on-paper, paperwork) over to certain stages of uncertainty.
Themes of economic uncertainty, or "precarious labour" will act as a background to open up conversations around temporary jobs, reserve labour and debt as many ways of describing precariousness, which is very much a common struggle within the horizon of social and structural change flickering somewhere beyond.
Closing Event: As the exhibition will change and evolve throughout its duration; a closing event will take place on Friday, 22nd November, to celebrate the final outcome. This event will be free for all to attend.
Curated by Laura Bottin and Béa Kayani.
Exhibition Concept: Lucy O'Donnell, Grieg Burgoyne, Robert Luzar, Joe Graham
This exhibition is supported by Bath Spa University, York St John University and UCA Farnham.
Kosar Contemporary is an artist-led independant art gallery; the vision and creation of artist Béa Kayani, based at The Works, part of Gathering Voices' creative quarter for BS3.