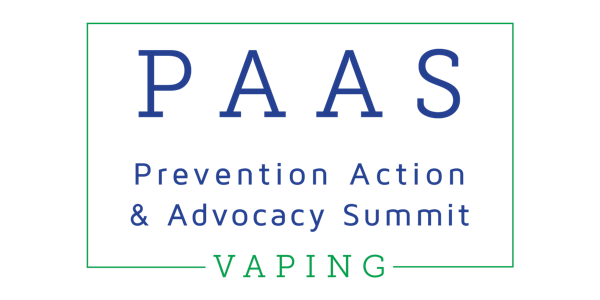 Prevention Action and Advocacy Summit
When and where
Location
Renaissance Columbus Westerville-Polaris Hotel 409 Altair Parkway Westerville, OH 43082
Refund Policy
Refunds up to 7 days before event
Eventbrite's fee is nonrefundable.
Description
Prevention Action and Advocacy Summit: Vaping

Skyrocketing youth vaping rates have captured significant public attention and created great public health concerns. What are the health risks of vaping? How does youth vaping impact marijuana use? Which policies have the potential to prevent youth vaping in the first place? How has Tobacco 21 changed the landscape of youth vaping prevention?

We at Prevention Action Alliance created the first ever Prevention Action & Advocacy Summit: Vaping to assemble experts and resources for policy-based solutions to vaping prevention. This will be a one-day summit in Columbus, Ohio, to help the following groups address youth and adult vaping:
Coalition members and leaders
Adult allies who work with youth leaders
Government, health, and school officials
Law enforcement officers
This one-day summit in Columbus, Ohio will be held at the Renaissance Columbus Westerville-Polaris Hotel on December 5, 2019. Registration includes a continental breakfast and lunch. We will apply for Continuing Education from the Ohio Chemical Dependency Professionals Board and the Social Worker and Marriage and Family Therapist Board.



Hotel Information:


A discounted room rate has been secured for attendees of the Prevention Action and Advocacy Summit. Please click here to reserve your hotel room. Don't wait, the reserved rate will end November 15!


---
Session Information
The Health Effects of Vaping
By Dr. Michele Dritz
Adolescent Medicine Physician, Cornerstone Pediatrics
With youth vaping on the rise and the short-term and long-term risks still unclear, this presentation is designed to cover the latest research on the health effects of adolescent e-cigarette use. Topics covered include: the known risks and concerns of e-cigarette use, the important enhanced risks of nicotine exposure on the developing adolescent brain and the most recent life-threatening medical consequences of EVALI (E-cigarette/Vaping product use Associated Lung Injury).

About Michele Dritz
Dr. Michele Dritz is an Adolescent Medicine physician at Cornerstone Pediatrics in Dayton, Ohio where she provides care for the practice's adolescent and young adult population. In addition to her time in the clinic, she works closely with the Ohio Chapter of the American Academy of Pediatrics (AAP) to enhance quality adolescent healthcare through various programs, education and physician support throughout the state – including a series of recent trainings on youth vaping prevention and treatment and a primary care consultant on their "Smoke Free for Me" infant health collaborative. She is a Clinical Assistant professor with the Wright State University School of Medicine in Dayton and an Assistant professor with the University of Toledo, acting as "faculty-from-afar" to enhance adolescent medicine education for Pediatric residents. She also works closely with the Ohio Department of Health and various other public and private organizations as part of the Ohio Adolescent Health Partnership, which is a statewide consortium of providers, government agencies, and community organizations working together to maximize the health and well-being of adolescents in Ohio. Her clinical interests lie not only in providing healthcare to adolescents and young adults, but in assuring quality care and exceptional clinical outcomes in all clinical settings.
Out Wit, Out Play, Out Last
By Wendy Hyde
Ohio/Michigan Regional Director, Preventing Tobacco Addiction Foundation
Tobacco use has declined steadily among youth for years, but now e-cigarette use is up. At the same time, many communities have gotten behind one initiative to address the youth e-cigarette epidemic: Tobacco 21. At minimum, the Tobacco 21 movement seeks to raise the legal sales age for tobacco products to 21 years of age. Model policies include provisions for the monitoring, regulation, and enforcement of tobacco control policies as well as funding for these activities.
In this keynote session, Wendy Hyde will review Ohio's new Tobacco 21 policy. She'll detail its strengths and limitations and provide strategies for building on its momentum. She'll show you how to advocate for the strong enforcement and regulations Tobacco 21 needs to be successful. And she'll show you how to outwit, outplay, and outlast the control, influence, and impact of the tobacco industry.
About Wendy Hyde
Wendy is the Ohio/Michigan Regional Director of the Preventing Tobacco Addiction Foundation and an Assistant Professor at Baldwin Wallace University. The Preventing Tobacco Addiction Foundation is well known for leading the Tobacco 21 movement around the country. As Ohio's regional director, Wendy has worked on many of the Tobacco 21 policies in Ohio and provided health departments with education programs and training materials. She's also worked on smoke-free campus campaigns and youth-led advocacy initiatives.
Vulnerable Populations & E-Cigarettes
The tobacco industry has a long history of advertising to young people. In 1973, R.J. Reynolds (which owns Camel cigarettes) wrote a memo that it needed to attract 14- to 24-year-olds to be successful. They were "tomorrow's cigarette business." Today, e-cigarettes have perfected advertising to youth with colorful ads on social media featuring young models.
Megan Roberts, Ph.D., will describe the prevalence of e-cigarette use among youth and other vulnerable populations. She'll show how tobacco companies target these groups with addictive products and identify which risk factors explain the high rate of e-cigarette use among these groups.
Cincinnati T21: Tackling Youth E-Cigarette Use through Local Policy Change
Megan Folkerth will present on community policies to prevent youth e-cigarette use and share her experiences to engage decision-makers in Cincinnati around the adoption of Tobacco 21, a policy primarily characterized by a provision to raise the minimum legal sales age of tobacco products to 21, but which often accompanies a wide range of enforcement and other regulatory measures. Attendees will learn how to strengthen local e-cigarette prevention and enforcement policies as well as their advocacy skills when speaking with local policymakers.
Vaping 101
"Pod," "atomizer," "Juul," "e-juice"? Many people would love to do something about the vaping epidemic…if only they knew more about it. Enter Logan Kazelman, a high school student active in youth-led prevention who regularly provides presentations to parents and other community members so they can catch up on the basics of vaping and e-cigarettes. In his session, Logan will describe different kinds of electronic cigarette devices, share the health history behind this new style of smoking, and demonstrate how manufacturers market this sleek design to teens and young adults. This session is recommended for anyone who needs to learn the basics of vaping and e-cigarette use as this information will not be covered in additional sessions.
Protect Your Brain! A Short Film Screening
Join Addiction Policy Forum (APF) for the launch of their new campaign about the brain science of addiction and how to prevent it. During the session, APF Founder Jessica Hulsey Nickel will show a video about vaping by an award-winning animator and discuss what scientists know about e-cigarettes to help debunk common myths.
The Role of School Policy in Responding to the Vaping Crisis
This workshop will outline the impact of vaping on the school environment and the need to employ a comprehensive response on multiple levels with an emphasis on the role for school policy. Participants will identify approaches for engaging school administrators in a discussion of school policy, list the elements of scope for policy, and list the steps in conducting a review to strengthen current policies.
Advocacy 101
Jean-Philippe Dorval, Manager of Legislative Affairs and Administrative Services at Prevention Action Alliance, will be providing an interactive presentation on how to advocate to Ohio's legislative body and the differences between advocacy and lobbying. Additional topics that will be touched on include general assembly structure, ways to contact your legislature at the state level, how to find an ally in the legislature, and how to testify.
School Panel: Challenges & Successes in Addressing the Vaping Crisis
Peer pressure and easy access to e-cigarettes has transformed school hallways, bathrooms, and parking lots into prime locations for students to initiate and become addicted to this new form of tobacco. A panel of school administration officials will share how several Ohio middle and high schools have addressed e-cigarette use on school property, including: updates to school policies, technological solutions, and education initiatives. Participants will also receive advice on how to engage school administration in their own districts around improving or strengthening school interventions. The panel will conclude with questions from the audience.
Training in Action: A Facilitated Conversation
At the end of a conference, the information gleaned from sessions often sits in attendees' notes, later filing away and never to be touched again. But the information shared today is valuable. This session will give participants time for a structured conversation about how to take what they learned and apply it to their work next week. Through peer-to-peer learning and technical assistance from state and national experts, participants will create strategies and develop a framework for incorporating takeaways from today's conference into their everyday operations and long-term goals.

---


Agenda At-A-Glance
Thursday, December 5th
8:00-9:00 - Registration Opens
9:00-9:30 - Opening Remarks
9:45-10:45 - Breakout Sessions
11:00-12:00 - Breakout Sessions
12:00-1:00 - Luncheon
1:15-2:15 - Breakout Sessions
2:30-3:30 - Closing Keynote
The Prevention Action and Advocacy Summit will be a green conference: slides and other handouts will be accessible via the web during the conference and ahead of time, but no printed materials will be made available at the conference. Please plan accordingly.
---
Additional Learning Opportunities
Join us the day before and the day after for our other events, Coalitions Rising 2019 and the 2019 Ohio Adult Allies Summit! After registering for the Prevention Action & Advocacy Summit on Vaping, you'll receive an email with a discount code for $25 off registration for Coalitions Rising.
---
Exhibiting and Sponsorship Opportunities
Interested in sharing your resources at this year's Prevention Action and Advocacy Summit? Sponsoring the PAA Summit shows the people you serve that you care about prevention and about Ohio's families and communities. It funds our mission of leading healthy communities in the prevention of substance misuse and the promotion of mental health wellness. It's also a solid investment in showing your organization's commitment to the prevention of substance misuse and the promotion of mental health wellness. Your sponsorship:
Empowers teens who do not use drugs or alcohol
Develops Ohio's prevention workforce
Fosters a robust system of prevention services
Advocates for prevention in every community
And inspires solutions to the drug epidemic
In addition to funding the mission of Prevention Action Alliance, your sponsorship is a branding opportunity for your organization. Sponsoring one of our events shows your brand for what it is—an organization that believes in doing good by the community it serves. Your sponsorship comes with promotional consideration before, during, and after the event that can help your brand show thousands your commitment to Ohio's young people, its families, and its communities. Those opportunities include:
Mentions and links to your organization in communications before, during, and after the event.
Placement of your logo at the event
Speaking opportunities at the event
Opportunities to interact with event attendees, including to showcase your services or products
And more ways to brand your company
Sponsoring a Prevention Action Alliance event doesn't just bring you exposure; it improves how those you serve view your organization. It's a worthy investment in both a good cause and a good branding opportunity. It helps us fulfill our mission, and it helps you stand out from the crowd.Prevention Action Alliance has a demonstrated history of hosting large, successful events for Ohio's prevention workforce and even multi-state policy summits. Sponsors and Exhibitors have access to a limited amount of vendor tables and can interface directly with attendees. Download the Sponsorship Form, or email Brittany Koza at bkoza@preventionactionalliance.org for more information.