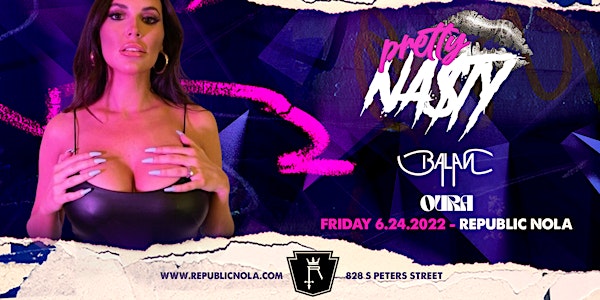 PRETTY NA$TY
Republic NOLA & Freaky Femme Friday Presents...
Location
Republic NOLA
828 S Peters St
New Orleans, LA 70130
Republic NOLA & Freaky Femme Friday Presents... PRETTY NA$TY on Friday, June 24th!
About this event
Ain't nothing pretty about how nasty it's about to get! PRETTY NA$TY is making her debut on Friday, June 24th with Balan and Oura! She don't miss, so neither should you 👿
PRETTY NA$TY - New to the decks but no stranger to the scene, New Orleans' own Pretty Na$ty is ready to show the world what they've been missing out on: There ain't no party quite like a Pretty Na$ty party…
Our girl is bringing all the vibes and fun in her high energy sets, filled with thick, satisfying bass lines, Southern rap/hip hop flair, plus your favorite classic bangers. Pretty Na$ty was born out of a need for self expression, to be unapologetically yourself and be confident in the vibe you carry. We encourage you to do the same, so grab your friends and get ready to cut up like no one's watching!
With top notch selections that never miss and an energy so unique you have to see if for yourself, don't miss her debut on June 24th at Republic NOLA.