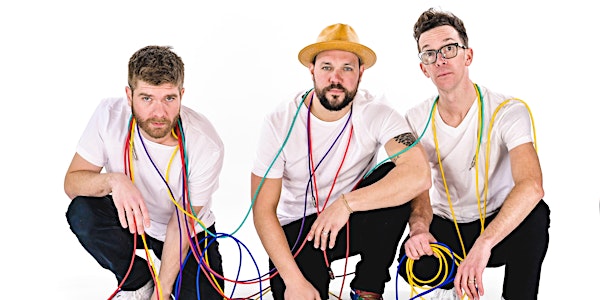 Pressing Strings
Ages 21+
21+ // $12 ADV / $20 DOS
21+ // $12 ADV / $15 DOS
Date and time
Starts on Thursday, March 30 · 8pm EDT.
Location
Tellus360 - B Stage 24 East King St. Lancaster, PA 17602
About this event
3 hours

Ages 21+

Mobile eTicket
What was started in a crowded beach house in 2006 has since morphed and grown, and morphed and grown, and morphed and grown some more...and a decade an a half into it, Pressing Strings is as active as ever. Writing, recording, releasing and touring. Singer/bandleader Jordan Sokel reflects on the process "Music is an extension of who I am, what I'm going through, what I'm feeling, who I'm close to--It's my vent to release and connect to people. It's always been comforting to me in the best and worst of times and I just want to be able to provide some of that same comfort to others"
Sokel found comfort relatively late in the creative musical process, at age 20, locked into a college major that was longer making sense. His grades were tanking but songs were being written and the choice was made to change course a focus on a life dedicated to making music.
Which at first meant waiting tables, teaching lessons, and stocking shelves to make it work. He began penning songs and independently releasing material with longtime bassist Nick Welker and drummer Brandon Bartlett. They played every type of gig available grinding to build a following and steadily released material. Local radio began taking notice, landing PS on top 100 songs of the year charts on multiple stations, and eventually national AAA and non-com stations across America.
When the spring of 2020 came, the band found themselves grounded with their hands tied like everyone else. Sokel started hosting a weekly livestream every Sunday morning to stay active and it proved to be a powerful connection for fans. "That really gave me a psychological boost that I needed at a time when things were looking very grim. People from all over the world were tuning in and I could tell that it was providing a sense of normalcy and comfort for them and I was really inspired by it. I saw exactly what the exchange of music can do for people" said Sokel.
When the wheels began to turn and venues opened back up, the band hit the road, re-formed with new drummer Justin Kruger and a newfound gusto. Kruger, a California native, is the product of professional musician parents and a long history of touring and performing. They immediately dove back into the studio to record new music in Baltimore's Wright Way Studios with producer Steve Wright. The result is the 10 track LP ...And I For You -- set for a June 2023 release with their first record label deal under Evil Teen Records, a label run by Stefani Scamardo and husband Warren Haynes.