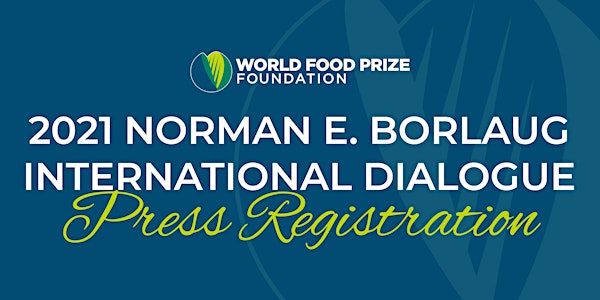 Press Registration - 2021 Borlaug Dialogue and Laureate Award Ceremony
Press registration for the 2021 World Food Prize Week of Events held Oct. 20-21 in Des Moines, Iowa, is now open.
When and where
Location
World Food Prize Hall of Laureates 100 Locust Street Des Moines, IA 50309
About this event
Press Registration for 2021 World Food Prize Week Events is Now Open
Press registration for the 2021 World Food Prize Week of Events held Oct. 20-22 in Des Moines, Iowa, is now open. Press are invited to register for the following two opportunities during the week:
NORTH AMERICAN GOVERNMENT AGRICULTURAL LEADERS DIALOGUE
Thursday, October 21 | 12 p.m. - 1 p.m. CDT
Hon. Tom Vilsack, Secretary of Agriculture, United States
Hon. Victor Villalobos, Secretary of Agriculture and Rural Development, Mexico
Hon. Chris Forbes, Deputy Minister of Agriculture and Agri-Food, Canada
Barbara Stinson, President, World Food Prize Foundation
2021 LAUREATE AWARD CEREMONY
Thursday, October 21 | 7 P.M. - 8 P.M. CDT
Iowa State Capitol, by Invitation Only | Recipient: Shakuntala Haraksingh Thilsteld
The three-day conference brings together over 1,200 people from more than 65 countries and has been called "the premier conference in the world on global agriculture." This year at the Borlaug Dialogue International Dialogue an incredible array of scientific experts, policy leaders, business executives and farmers will come together to discuss and address critical issues facing our world's food security.
Twenty-twenty brought many challenges to and opportunities for working in the Decade of Action towards the UN Sustainable Development Goals. Communities worldwide faced unprecedented barriers to meeting food security needs with at least 20 countries on the brink of famine, highlighting the importance of global collective action. As we continue to move forward in this decade of action towards the UN Food Systems Summit and other global convenings, we have the opportunity to gain momentum as never before. We recognize that we cannot 'reboot' the system, but must transform food systems to right inequitable structures. Solutions must be innovative, commitments must be bold and collective action must be systematic.
Members of the media can apply for press credentials at www.worldfoodprize.org/pressregistration.
The full agenda and speaker list can be found HERE.
Many sessions of the event will also be webcast live from www.worldfoodprize.org/live.
Event organizers cannot guarantee entry to media that have not registered ahead of time. Verified members of the press will need to produce a valid press badge onsite in order to collect their credentials for access to any events during the World Food Prize Week of Events.
About the World Food Prize Foundation: The World Food Prize Foundation elevates innovations and inspires action to sustainably increase the quality, quantity and availability of food for all. The Foundation supports this through a variety of innovative programs year-round including by: recognizing and rewarding individuals making exceptional achievements in addressing food security; convening global leaders in Des Moines each year to address the latest issues and innovations in food and agriculture; inspiring, recognizing and empowering students around the world by providing educational and professional experiences on pressing food security and agriculture issues; and addressing Iowa's challenges and successes in fighting hunger and poverty.