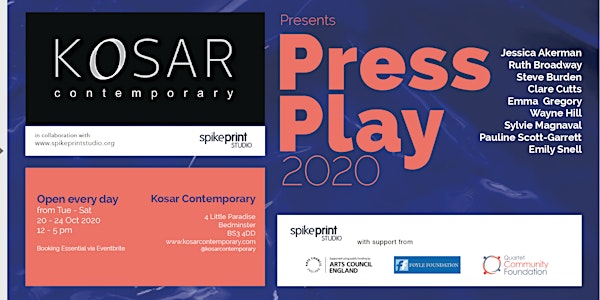 Press Play 2020
Spike Print Studio's end of year show for Press Play 2020 at Kosar Contemporary, showcasing the works of nine artists.
When and where
Location
Kosar Contemporary 4 Little Paradise Bedminster Bristol BS3 4DD United Kingdom
About this event
KOSAR CONTEMPORARY is delighted to present the culmination of Spike Print Studio's year long course Press Play in 2020, designed to support artists to sustain working practice and develop research strategies.
"The idea of this show revolves around the need to be fleet of foot, light touch, quick to respond. We're living in a moment when policy, guidance, rules, opportunities, incomes can change in hours. We respond to this playfully; we turn up, materials under arm, and assemble. Fallen branches, rolls of paper, lengths of cord, translucent substrates, sheets of silicon...the only theme binding us is our willingness to play, fail, imagine, realise and share."
Participating artists include Jessica Akerman, Ruth Broadway, Steve Burden, Clare Cutts, Emma Gregory, Wayne Hill, Sylvie Magnaval, Pauline Scott-Garrett and Emily Snell.
Course Leader: Emma Gregory
Curatorial Support: Natasha McVoy
Exhibition Sponsored: Spike Print Studio
Exhibition Dates: 20.10. 2020 | 24.10.2020
Open: Tuesday - Saturday | 12:00 - 5:00 pm
Venue: Kosar Contemporary : 4 Little Paradise, Bedminster, Bristol, BS3 4DD
Free Entry.
****Booking essential via Eventbrite*****
****Kosar Contemporary is adhering to strict health and safety guidelines to protect our visitors. Masks should be worn at all times. If you have a fever or any signs of covid, kindly do not visit the gallery. Kindly cancel your booking and let us know so we can allocate the slot to someone else. ****
Spike Print Studio is a charitable organisation based in Bristol and the largest open-access print studio in the South West with a mission to provide exceptional resources, inspiration, space, training for all, from beginners to professional artists and by doing so, advance printmaking and educate the public in the inclusive art of printmaking.
Instagram//Twitter// Facebook: @spikeprintstudio
*KOSAR Contemporary is an independent art gallery with a mission to deliver a diverse, inclusive and experimental programme of curated gallery exhibitions, performances and residencies throughout the year. Through these exhibitions, we support and collaborate with local emerging artists as well as national and international artists.
Kosar Contemporary is the vision and creation of Bristol based British contemporary artist Bea Kayani.
Instagram// Facebook: @Kosarcontemporary