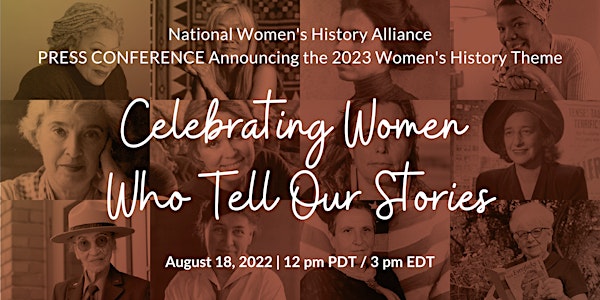 Press Conference: Announcing the 2023 Women's History Theme
An online press conference to announce the 2023 Women's History Theme "Celebrating Women Who Tell Our Stories."
About this event
Join us for an online press conference hosted by Gloria Feldt and the National Women's History Alliance as we announce the 2023 Women's History Theme "Celebrating Women Who Tell Our Stories."
Throughout 2023, the NWHA will encourage the recognition of women, past and present, who have been active in all forms of media and storytelling including print, radio, TV, stage, screen, blogs, podcasts, news, and social media. This timely theme honors women in every community who have devoted their lives and talents to producing art and news, pursuing truth and reflecting society decade after decade.
Gloria Feldt is the Co-founder and President of Take The Lead Women, author of Intentioning: Sex, Power, Pandemics, and How Women Will Take the Lead for (Everyone's) Good and No Excuses: 9 Ways Women Can Change How We Think About Power. The #1 tool in No Excuses is: "Know your History." Knowing one's history is key to the empowerment of individuals and society.
The National Women's History Alliance is credited with the establishment of National Women's History Month in 1980. Women's history is a veritable treasure-trove of unknown stories. While March is Women's History month, there are far too many people who don't know that, let alone celebrate it. What is history other than our collective stories? Our story-telling sisters in the media are essential in making history visible for themselves and their foremothers. Together, we can change the story landscape finally and forever.
As the late Ursula LeGuin said, "We are volcanoes. When we women offer our experience as our truth, all the maps change. There are new mountains. That's what I want — to hear you erupting. You Mount Saint Helens-es who don't know the power in you — I want to hear you… If we don't tell our truth, who will?"