Presidio Presents: Women in Tech Featuring Yahoo's Christina Page, VMWare's...
Event Information
Location
Intersection for the Arts
925 Mission Street
San Francisco, CA 94103
Description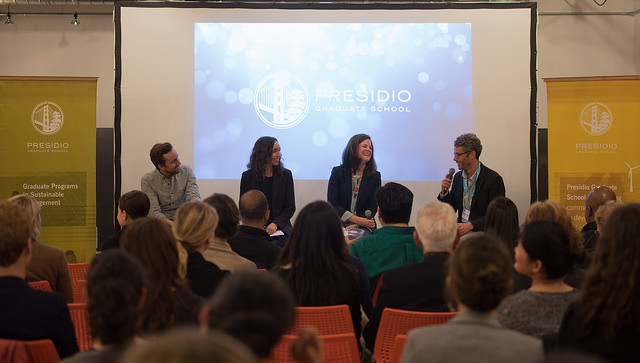 Join Presidio Graduate School for
Presidio Presents: Women in Tech

Date:
Thursday, November 5th, 2015

from7:00 PM to 8:30 PM

Location:
Intersection for the Arts, 925 Mission Street, San Francisco, CA 94103
---
An informative evening with three amazing professionals
on the leading edge of sustainability: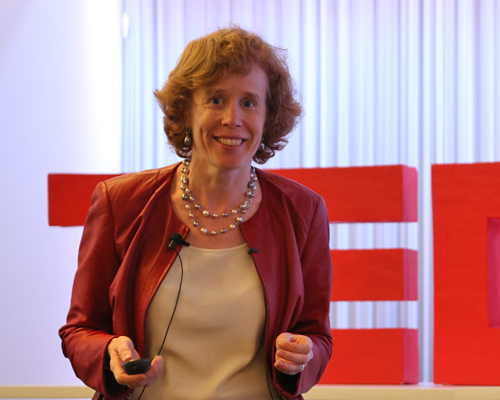 Christina Page


G

lobal Director of Energy and Sustainability Strategy at

Yahoo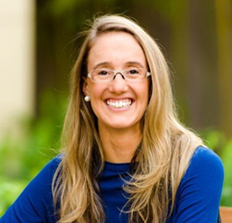 Nicola Acutt


Vice President of Global Community Affairs at

VMWare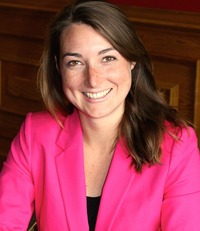 Casey Shultz (C17)


Marketing, Community, and Events Manager at

Citrix
---

This event is part of Presidio Graduate School's Presidio Presents speaker series, featuring world-class entrepreneurs on the leading edge of sustainability and social entrepreneurship.


---
Featured Speaker Bios



Christina Page is the Global Director of Energy and Sustainability Strategy at Yahoo.
Chris is responsible for overseeing Yahoo's climate program, efficiency and clean tech initiatives, and providing technical support to the company's all-volunteer Green Team, an employee group that harnesses the collective energy of Yahoos around the world to reduce our carbon footprint. Prior to joining Yahoo, Chris was a senior consultant on the Energy and Resources Team at Rocky Mountain Institute, a Colorado-based "think-and-do tank". She leads regular lectures on sustainable business practices at National Taiwan University, Peking University, and University of Colorado Leeds School of Business. Previously, Chris was a field instructor for the National Outdoor Leadership School and a writer/editor for National Public Radio's "Living on Earth". In addition to being a Fellow, Chris has a Bachelor's degree in Environmental Studies and Religious Studies from Brown University and a Masters in Environmental Management from the Yale's School of Forestry and Environmental Studies.


Nicola Acutt is the Vice President of Global Community Affairs at VMWare.
Nicola is the Director of the VMWare Foundation, which is focued on providing a platform for the virtualization and cloud computing company's more than 11,000 employees across 40+ locations to be active corporate citizens and make a differnce in the communities in which they live and work, and in the wider world. Nicola developed and runs the global programs, including the signature Service Learning initiative. Prior to joining VMWare, Nicola was the Associate Dean and faculty member at Presidio Graduate School. She has worked as a consultant to the South African Government on natural resource policy and, as a Ph.D. candidate, undertook research at the Center for Social and Economic Research on the Global Environment in the UK. Originally from South Africa, Nicola received a Commonwealth Scholarship to complete her Ph.D. at the University of East Anglia in the UK, and has a Bachelor of Science degree from the University of California, Berkeley.


Casey helps keep Citrix on the leading edge of innovation by mentoring entrepreneurs through the Citrix Startup Accelerator Seed and Innovators Programs as well as managing the Citrix Startup Accelerator Grove Workspace. She hosts regular webinars that highlight the innovation pathways for the 6,000+ employees at Citrix and works with senior management to encourage women in technology through the Women's Informal Network (WIN). Prior to joining Citrix, Casey was the director of legal and finance at CouchSurfing International where she helped the startup secure $7.9 million in venture capital from Benchmark and Omidyar Group. Casey has her BA in International Business from Linfield College and MBA in Sustainable Management from Presidio Graduate School.


Panel Moderated by: William Shutkin, President and CEO of Presidio Graduate School.
A renowned social entrepreneur, educator, author and attorney, William is the President and CEO of Presidio Graduate School, where he is also the Richard M. Gray Fellow in Sustainability Practice. The legendary David Brower described him as "an environmental visionary creating solutions to today's problems with a passion that would make John Muir and Martin Luther King equally proud."
---
Join the conversation



We will be live tweeting the entire event.
Follow the official PGS twitter account -

@PresidioGrad


and add your voice using the hashtag #PresidioPresents

---
Special Thanks to our Presidio Presents Sponsors
















Date and time
Location
Intersection for the Arts
925 Mission Street
San Francisco, CA 94103