Presidio Presents: Impact Investing

Wednesday, March 20, 2013 from 7:00 PM to 8:30 PM (PDT)
Event Details

Presidio Presents: Impact Investing
The next Presidio Presents speaker series event is Wednesday, March 20th.  This series features world-class entrepreneurs at the leading edge of impact investing in conversation with Presidio President and CEO William Shutkin. The 2012 / 2013 Presidio Presents Speaker Series is made possible by the generous corporate sponsorship of Wilson Sonsini Goodrich & Rosati, Sustainable Industries, and Jones Lang LaSalle.
Date: March 20, 2013
Time: 7:00PM to 8:30PM
Location:
SoMa Hub
901 Mission Street 
San Francisco CA 94103

Tickets are $10.00 for general admission. Discounted tickets will be available for Presidio students, alumni, and prospective students.
Student Discount Code: student
Meet the Panelists


Julia Sze, Managing Director of Sonen Capital LLC

Julia Sze is a Managing Director of Sonen Capital LLC, where she is involved in the creation and management of institutional quality impact investment products.  Julia has over twenty years of experience in the investment management field, with a specialization in emerging markets and alternative investments.  Prior to joining Sonen, Julia managed large portfolios at Wells Fargo's Family Wealth Group for high net worth clients and foundations. Her personal interest in microfinance and impact investing contributed to the development of that firm's practice in the area. Previous experience includes launching and managing a long/short Asia Pacific hedge fund based in San Francisco, managing several award winning funds in Asia, global gold, Australia/New Zealand, as well as launching and co-managing the first Greater China fund. 
Chris Larson,  Director of Real Assets
Chris oversees the Real Assets and Sustainable Agriculture Programs. Prior to his work at New Island Capital, Chris worked as an independent farmland investment and conservation finance consultant. Earlier, Chris worked at Cambridge Associates, helping the firm launch its Mission-Related Investment initiative, and authored research on real assets investments for institutional clients. He served as the Executive Director of the Mattole Restoration Council, a community-led conservation non-profit in rural northwestern California. At the Council, Chris facilitated restoration and acquisition projects across 189,000 acres of range, forest and parkland. Chris completed a BS at Cornell University's College of Agriculture and Life Sciences and an MBA at the Yale School of Management. Chris operates a small farm in Marin county focused on organic vegetable, fruit and berry production. 
Stephen DeBerry, Founder of Bronze Investments
Stephen DeBerry makes investments in companies that align strong financial returns with positive social impact. He is the Chief Investment Officer at Kapor Enterprises and the founder of Bronze Investments which provides mission-aligned asset management to foundation endowments and high net worth individuals. He is a Trustee and member of the investment committee at The California Endowment, a board member of the Association of Marshall Scholars and Chairman of Friends of New Orleans. He earned a Bachelor's degree in Anthropology with highest honors from UCLA as well as a Master's degree in Social Anthropology and an MBA from Oxford University. He is a Marshall Scholar and a Crown Fellow at the Aspen Institute.
Maud-Alison Long, President of the Springcreek Foundation

Maud-Alison "Ali" Long is President & Trustee of The Springcreek Foundation (TSF) in Corte Madera, California. She has been committed both personally and professionally to Philanthropy Promotion & Education since 1996. At TSF she has introduced the founding family and donors to charitable investing through MRI and PRI, as well as the family's investment management firm to Impact Investing. With her knowledge of philanthropic tools, trends and strategies, together with her background in psychology, Ali has dedicated her career to catalyzing new grantmakers and supporting existing ones. 

Before her current role as mother of two boys and President of TSF, Ali has been a social entrepreneur and CEO of an online training start-up, IntegriTeach; she was a Project Director at Philanthropy Northwest in Seattle for The Northwest Giving Project, an initiative funded by the New Ventures in Philanthropy coalition to "inspire new philanthropists regionally;" she was also a Microsoft Software Trainer. At Social Venture Partners Seattle, where Ali has been a member since 1998, she developed the partner education curriculum matrix. In addition to her involvement with her children's school, Greenwood School in Mill Valley, Ali sits on the board of Educational Tall Ship in Sausalito. Ali earned a B. A. from Dartmouth College, an M.A. in Psychology from the University of San Francisco, and a Training Specialist Certificate from the University of Washington, Seattle.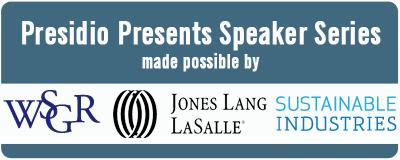 When & Where

The HUB
901 Mission St., Suite #105
San Francisco, CA 94103


Wednesday, March 20, 2013 from 7:00 PM to 8:30 PM (PDT)
Add to my calendar
Organizer
Presidio Graduate School - 415.655.8912
Presidio Graduate School (PGS) educates and inspires a new generation of skilled, visionary and enterprising leaders to transform business and public policy and create a more just, prosperous and sustainable world. For information about admissions, please email admissions@presidio.edu or call our Admissions Director Kari Dorth at 415-655-8912.
Presidio Presents: Impact Investing