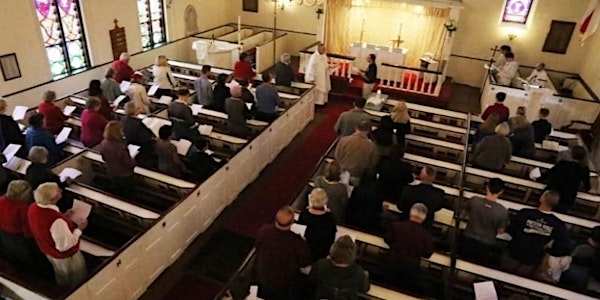 Presiding Bishop Michael Curry Visits St. Peter's, Hebron
Presiding Bishop Michael Curry to visit St. Peter's on 16 October 2022
When and where
Location
St Peter's Episcopal Church 30 Church Street Hebron, CT 06248
About this event
Presiding Bishop and Primate of The Episcopal Church, the Rt. Rev. Michael Curry, will be visiting St. Peter's Episcopal Church, Hebron for Sunday worship on 16 October 2022. Many of you may remember Bishop Curry who preached at the wedding of Prince Harry and Meghan Markle and who is a regular guest on religious and social issues by national press.
The service will start at 9am. Our church can hold approximately 150 persons, and therefore once these tickets are reserved there will be a waitlist. Those on the waitlist will be able to join us in the overflow seating in the parish hall.
Out of an abiding love of our neighbor, face masks will be required for attendance at the worship service with Bishop Curry for congregational singing and going to communion. Registered guests will be informed in advance of any changes in COVID-19 related guidelines.
Important Information:
Photographs: Bishop Curry will have to leave shortly after the service to catch a plane. However, he has agreed to have some staged photograph with those present. The photo will be used in advertisements and social media by the church. There will be no selfies or private photos with Bishop Curry. At registration, you will be required to read and agree to a media waiver in order to attend. If you do not wish to have your likeness captured during the staged photograph, you will be invited to leave before the photograph takes place.
Waitlist: In the event that all 150 seats have been reserved in advance, a separate reserved list will be maintained, and we will determine if overflow space in the parish hall will be used for a broadcast of the service in the church. If there is overflow, communion will be brought to the parish hall.
If you have any questions regarding this event, please contact Rev. Ron Kolanowski at 860-280-8526 or email Maggie Breen, NE Region Missionary at mbreen@episcopalct.org or 860-214-0085 (or reply to your confirmation email).