Event Information
Location
Dupont Circle
Washington, DC
United States
Description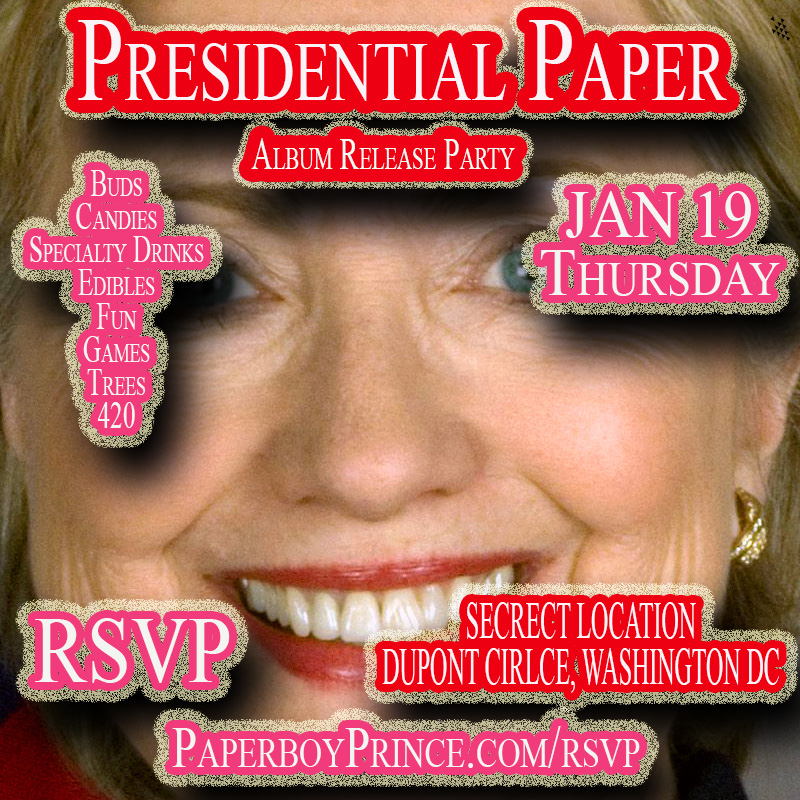 WELCOME! This Will Be a celebration of the release of Paperboy Prince of the Suburbs' Album "Presidential Paper" . This will be a party protesting Trump and thanking Obama on his last day. You will enjoy a show full of performances, great music, drink specials and exotic buds and candies. You can download Paper's project on PaperboyPrince.com and check out his music on Youtube, Itunes and Spotify by searching "Paperboy Prince of the Suburbs"
The venue is named "Manor"
The address is "1327 Connecticut Ave NW, Washington, DC 20036"
It's walking distance from Dupont Circle Metro Station on the Orange Line
We're organizing a fun, diverse, magical, amazing 420 friendly party at a club with a full bar to celebrate Paperboy Prince of the Suburbs' new project and Barack Obama's last day in office. We'll be giving out "Paper's Package" to all guests so everyone can participate in the party. To cover costs we are accepting donations!
Citizen Donation $20 - Paper's Package (Includes .5 grams of mary jane, Album)

Royalty Donation $50 - Paper's Package (Includes 2 grams of mary jane, Album, trading card)

Paperboy Prince Donation $100 - Paper's Package (Includes 5 grams of mary jane, Album, trading card, Papers)

Legend Donation $200 - Paper's Package (Includes 7 grams of mary jane, Album, trading card, papers, Vintage Clothing)
Date and Time
Location
Dupont Circle
Washington, DC
United States