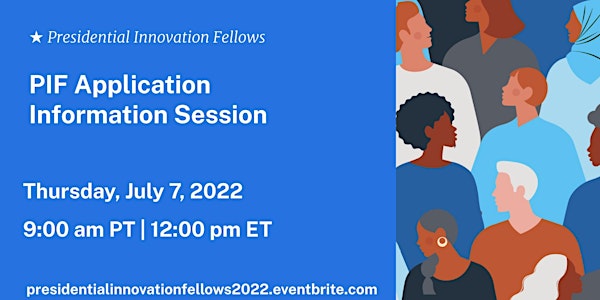 Presidential Innovation Fellows Application Information Session (7/7/22)
Applying to become a Presidential Innovation Fellow? We're here to support you along the way!
About this event
Interested in becoming a Presidential Innovation Fellow (PIF)? We know the federal hiring process can be very different from other sectors. To help, we're providing everything you need before and during the PIF application process--including the chance to connect with the Technology Transformation Services Talent team to ensure you have all the details you need. Applications are open through July 8.
Join us for a tactical information session on the Presidential Innovation Fellow role, led by the Technology Transformation Service talent team! This event is open to the public. All are welcome to join and learn more about this civic tech opportunity.
We will…
Share an overview of the Presidential Innovation Fellows program, as well as Technology Transformation Services and the federal landscape.
Review the job requirements, including the expertise tracks for Presidential Innovation Fellows
Go over the application process, including resume preparation
Answer your questions!
We look forward to seeing you there, and will be hosting these sessions weekly. You can find all sessions, as well as our weekly discussions with current Presidential Innovation Fellows and alumni here.
About Presidential Innovation Fellows
Founded in 2012, Presidential Innovation Fellows (PIF) unites industry's brightest technologists with forward-thinking federal leaders to improve how our government designs, develops, and delivers services for the public. Our fellows are embedded within government agencies as strategic advisors for 12 months, with opportunities to collaborate across each cohort on issues of national priority. Since 2012, PIF has matched more than 200 fellows with more than 40 federal agencies, improving how our government works for hundreds of millions of people. Applications for the next PIF cohort are open now through July 8, and you can learn more and submit your application at apply.pif.gov.
How to Attend
Thank you for your interest in this PIF event. Please contact us directly at pif-application@gsa.gov if you need accessible accommodations to register or be able to attend the event.
Two important items!
Once you register and before the event, you will need to download the Zoom web browser client in order to attend this event. Visit the Zoom Download Center to install.
Be sure to check your email, as the Zoom link and password will be sent 24 hours and 1 hour prior to our event start time for anyone that registers. The email subject line will contain the event name.
Please click "Register" to sign up and reserve your spot for the event.
This event will be held and recorded over Zoom for Government. For general questions about the tool, please review the Zoom computer and device requirements and FAQs. If you have specific questions or security concerns about Zoom for Government, please visit ZoomGov.com.