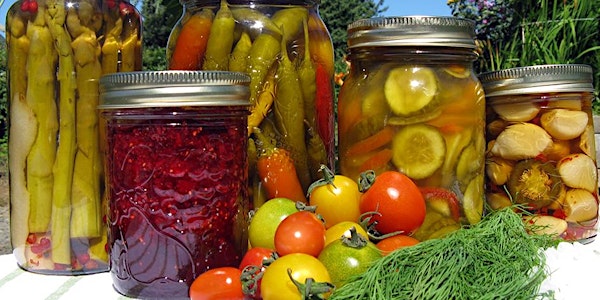 Preserve the Harvest 2021 Series
Home food preservation is easy and fun with a little instruction. Four online classes via Zoom feature live presentation and time for Q&A.
About this event
Canning as a method of home food preservation can be easy and fun with a little instruction. Attend one or all four online classes to learn how you to safely preserve the fresh taste of summer fruit and vegetables for your family to enjoy year-round.
Each class features a live presentation and slide show along with plenty of time to answer questions you have about safely canning foods at home.
After each class, a detailed outline with recommended resources will be provided via email to those registered for the class along with a link to a video recording of the class. The videos will be available to watch for six months.
Basics of Safe Canning
Wednesday, June 2, 7:00 — 8:00 pm
New to the science of canning? Been a few years since you've canned? Learn about the most recent research and changes to home canning procedures along with links to plenty of safe, tested recipes. First in the Preserve the Harvest series, we'll cover the basics of food safety and canning skills, canning equipment, and canning high and low acid foods.
Jams, Jellies, and Spreads
Wednesday, June 16, 7:00 — 8:00 pm
Delight in the bright flavors of fresh fruit and discover how easy it is to capture sunshine in a jar. Create that perfect balance of fruit, sweetener, and other ingredients to enhance flavor and shelf life with research-based recipes. Low and no-sugar recipes covered.
Quick Pickles
Wednesday, June 30, 7:00 — 8:00 pm
Crisp, tasty pickles are the ultimate test of a canner's skill. Learn how to make a great product every time with a variety of fresh produce.
Tomatoes, Salsa, & Relish
Wednesday, July 14, 7:00 — 8:00 pm
Learn how to turn the local abundance of tomatoes and fresh vegetables into jars of color and flavor for the dreary days of winter.