Preserve Rondo: Raise Your Voice, Be Heard, Be Counted - No Land Bridge without Your Input. It is time we called on the elected officials.
About this event
The state of Minnesota has just granted ReConnect Rondo $6.2M to continue planning a Land Bridge that many people have not been fully informed of in terms of ownership, impact on property taxes, impact of development or the true nature of the relationship with the historically racist development institution, Urban Land Institute, nor the relationship between their current leadership and their ties to the Minnesota Department of Transportation.
This lack of transparency, coupled with the mere 40 collected surveys of community members over the span of seven years, raises a lot of concerns about exclusion, neglect and who this project will actually benefit.
It is time to raise your voice, be counted and be heard. With both Mayor Melvin Carter III and Ramsey County Commissioner Toni Carter's aides sitting on the Board of Directors as voting members it is beyond time to call on the elected officials funding and advancing this project despite the lack of community engagement to ensure that our tax dollars work to support programs that include us, not programs that exclude us by invoking the language of white saviors: "leading Black people to prosperity," as ReConnect Rondo exclaims proudly.
We say: NOTHING ABOUT US WITHOUT US.
Join us in a public meeting at Springboard for the Arts to make your voice count.
Share your experience with ReConnect Rondo. Share your thoughts on the Land Bridge. Share your $459M idea and how it could benefit Old Rondo. Hear from other community leaders about their experience and more.
There will be free food, water, masks, sanitizer, support for young children, bus cards to reimburse people for transportation costs (if needed) and so much more.
This meeting will be documented.
Reach out to preserverondo@gmail.com with any questions
Sign a petition to urge elected officials to advocate for community, here: https://www.change.org/p/gov-tim-walz-petition-to-demand-transparency-around-the-rondo-land-bridge?utm_content=cl_sharecopy_29849821_en-US%3A4&recruiter=1216039257&recruited_by_id=18540750-e3e8-11eb-8d89-4b5237eb8e0b&utm_source=share_petition&utm_medium=copylink&utm_campaign=psf_combo_share_initial&utm_term=petition_dashboard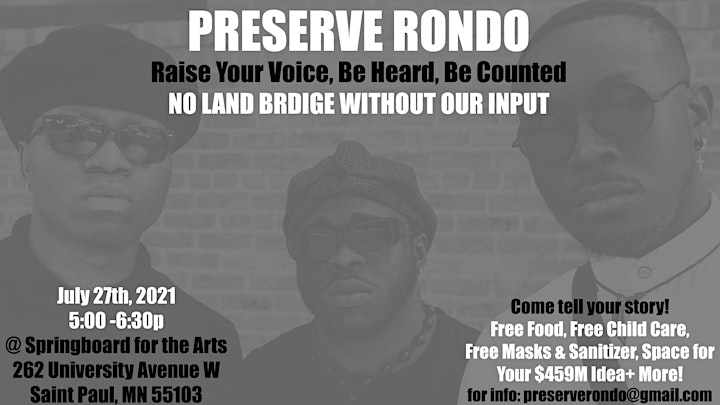 Organizer of Preserve Rondo: Raise Your Voice, Be Heard, Be Counted - No Land Bridge w/o
TruArtSpeaks is a Saint Paul based nonprofit, founded in 2006, that investigates the intersections of arts, civic engagement and youth development and the impact that intersection has on our global community.
Mission:
TruArtSpeaks cultivates literacy, leadership and social justice through the study & application of Spoken Word and Hip Hop culture.
Vision:
To counteract the dominant narrative by creating platforms for those rendered invisible to be heard, fostering the personal and social change required for equity.