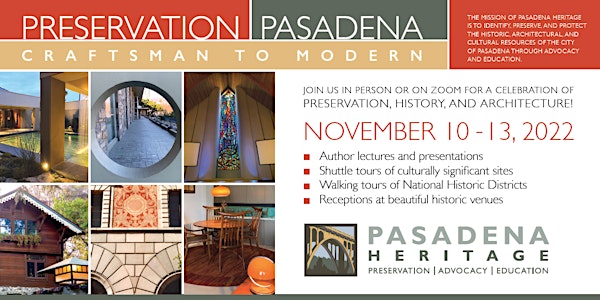 Preservation Pasadena: Craftsman to Modern
Preservation Pasadena: Craftsman to Modern, a four day celebration of Pasadena's history and architecture. Keep scrolling for all the info!
Refund Policy
Contact the organizer to request a refund.
Eventbrite's fee is nonrefundable.
About this event
Friday - Celebrate Pasadena's Craftsman Architecture
Home Tour and Breakfast at the Bartlett House
Friday, November 11
9:00 AM – 10:00 AM, 9:30 AM – 10:30 AM, 10:00 AM – 11:00 AM
Tickets: $30 members | $35 nonmembers
Enjoy this beautiful tree-lined neighborhood and take an interior tour of the Ella Bartlett House. Designed in 1906 by Walter J. Saunders, the home is a wonderful example of the dramatic Swiss-chalet style bungalow. The home was used to promote the Prospect Park tract with such headings as "Do you want a home like this?" Prospect Park, Pasadena's first National Register Historic District, was one of the first tracts laid out for the growing middle class and is home to many great architect-designed homes. After touring the Bartlett House and enjoying a bagel and coffee on the patio you may choose to join one of our docents to take a stroll down the street to admire the district of notable homes, including those designed by Charles and Henry Greene, Sylvanus Marston and Frank Lloyd Wright. Bagels, coffee and juice are included.
Author Talk and Discussion with Constance Hood – Restoring a Craftsman Home In-Person or on Zoom
Friday, November 11
12:00 PM – 1:30 PM
Tickets: $20 members | $25 nonmembers
Many homeowners know and understand the joys and struggles of restoration. Homeowner Constance Hood put her experience into a story that begins with a conversation with professor and architectural historian Dr. Robert Winter and ends with moving, restoring, and saving her house. What would possess a single mother to buy a piece of a canyon, cut a house in half, and tow it to a new location? Her book, Into Dark Corridors: A Tale of Hands, Heart and Home, will be available to purchase, and share your old-house stories as well!
Boxed Lunch
Friday, November 11
12:00 PM – 1:30 PM
Tickets: $20 members | $20 nonmembers
Don't worry about finding a mid-day bite to eat! Order your boxed lunch ahead of time and eat at the historic Blinn House Myron Hunt Room during the presentation by Constance Hood. Lunch includes: Lemon Basil Pasta Salad, Turkey and Swiss or Grilled Vegetable Croissant with citrus relish or spread and Lemon Bars and Strawberries. Beverages are included.
Walking Tour of Hillcrest Neighborhood and Work-in progress Tour of the 1917 Edmands House
Friday, November 11
2:00 PM – 4:00 PM, 2:30 – 4:30 PM, 3:00 PM – 5:00 PM
Tickets: $20 members $25 nonmembers
Take a tour of the exclusive Hillcrest neighborhood, including homes designed by some of Pasadena's most notable architects: Greene and Greene, Wallace Neff, George Washington Smith, and more. End this special tour with a hard-hat interior tour of the Heineman and Heineman-designed Lydia C. Edmands House. The Heinemans are known for the exquisite use of wood and fine craftsmanship, their "eyebrow" shaped gables and complicated and varying rooflines. The Edmands House is a fine example of an English Arts and Crafts, Cotswold Cottage style house. It is currently undergoing major renovation and restoration, so we will get a first look at this work in progress.
Reception and Documentary Showing of "Gustav Stickley" with Filmmaker Herb Stratford Co-hosted with The Gamble House
Friday, November 116:00 PM – 8:00 PM
Tickets: $45 members | $50 nonmembers
Friday will end with a reception and discussion with filmmaker Herb Stratford and a viewing of his documentary, Gustav Stickley, American Craftsman, co-sponsored by The Gamble House. Gustav Stickley: American Craftsman traces the development and evolution of Stickley's unique style as well as the creation of his diverse businesses, including furniture manufacturing, a ground-breaking Manhattan store, and the Craftsman Magazine and Craftsman Farms — a progenitor of the farm-to-table movement. It also details the eventual loss of his businesses, and, after several decades, the rebirth and recognition of the movement he inspired. Filmmaker Herb Stratford will join us for discussion. Herb is also a film critic and film festival programmer, and a nationally recognized leader on the restoration of historic theatres. Wine, drinks and heavy hors d'oeuvres will be served.
Saturday - Celebrate Pasadena's Revival Architecture
Walking Tour Featuring Bertram Goodhue and the Caltech Campus
Saturday, November 12
9:30 AM – 11:30 AM
Tickets: $20 members | $25 nonmembers
Historic Architect William W. Ellinger III, along with researchers and program developers Brian Baker and Dave Nufer, will give a guided tour through the Caltech campus featuring the work of Bertram Goodhue. Bertram Goodhue began his architectural practice designing primarily Neo-Gothic churches with his partner Ralph Cram in New York. He co-wrote an illustrated a 10 volume work on Spanish Colonial Architecture in the Western Hemisphere which was the standard reference on the topic for decades. He was architect for the 1915 San Diego-Panama Exposition, and his work there is widely credited with defining and igniting the 1920's California "Spanish Colonial Revival" style. In 1916 he became architect of record for Caltech, and over the next 15 years his firm designed almost a dozen buildings that defined the architectural style and character of the campus, with low-rise Spanish and Mediterranean quadrangles, built around lush garden and water elements. Goodhue was possibly the most skilled architect of his day in successfully combining the elements of many architectural traditions, as he did so masterfully on the Caltech campus.
Walking Tour of the Pasadena Playhouse Historic District
Saturday, November 12
12:00 PM – 2:00 PM
Tickets: $20 members | $25 nonmembers
Pasadena, settled by a group of farmers from Indiana in the 1870s, originally developed along the Arroyo Seco. The Pasadena Playhouse Historic District contains approximately 34 buildings, which represent the eastward growth of the City's urban core during the 1920s and 1930s, after Pasadena's economy had changed from agriculture to tourism. Development of this area was spurred by the construction of Pasadena's grand and imposing Civic Center in the 1920s, prompting the construction of residential, religious and cultural facilities in the district. This walking tour includes the Scottish Rite Temple, the United Artist Theater, the Pacific Asia Museum, the Pasadena Playhouse, the Professional Building (Pasadena's only example of Gothic revival office building architecture) and the Bank of the West building, to name a few.
Author Talk with Frances Anderton and Guests John Ripley and Juan Dela Cruz – Multi-family Housing in Los Angeles In-Person or on Zoom
Saturday, November 12
2:30 PM – 4:00 PM
Tickets: $20 members | $25 nonmembers
In her widely anticipated new book, Common Ground: Multifamily Housing in Los Angeles, Frances Anderton reclaims the multiple-unit dwelling as a vital element in the city's history, identity, and establishes it as a key approach to addressing a housing crisis decades in the making. The renowned design and architecture journalist has lived in an apartment building since moving to Los Angeles thirty years ago. As a city built on the dream of owning your own single-family home (perhaps with a pool and a palm tree) now struggles to confront a dire need for density and affordability, Anderton deftly demonstrates that much of the solution lies in our own backyard. Frances Anderton will be joined by local researchers John Ripley and Juan Dela Cruz who contributed to the book, for a discussion about what we can learn from our history of housing in Los Angeles.
Sunset Walking Tour in the Civic Center featuring the Civic Auditorium and Convention Center
Saturday, November 12
4:00 PM – 6:00 PM
Tickets: $20 members | $25 nonmembers
This special tour of the Civic Center will feature Pasadena Heritage's history of preserving the buildings. Special focus will be given to City Hall, the Civic Auditorium, and the former YWCA, designed by California's first licensed female architect, Julia Morgan. A City Beautiful Association in Pasadena was formed in 1914, but it wasn't until George Ellery Hale began pressing the idea of a true "civic center" with the CityBoard of Directors that actual planning began. Hale was a force of nature, a man with boundless energy, cosmopolitan tastes, and substantial powers of persuasion. He conceived of Pasadena as an "Athens of the West," with fine scientific, educational, and cultural amenities. In 1922, Hale presented his ideas for a new Civic Center to the City's Board of Directors who approved the plan. Weather permitting, this sunset tour will show off the beauty of our magnificent City Hall, which is a symbol for all that Hale dreamed of for our city.
Reception and Author Talk with Victoria Kastner – Julia Morgan, a Trailblazing Architect In-Person or on Zoom
Saturday, November 12
6:00 PM – 8:00 PM
Tickets: $45 members | $50 nonmembers
Zoom Tickets: $20 members | $25 nonmembers
Architectural historian Victoria Kastner will speak about her new book, Julia Morgan: An Intimate Biography of the Trailblazing Architect, which provides the first in-depth look at Morgan's fascinating private life, as well as her remarkable career. In 2022--Julia Morgan's sesquicentennial year--it is impressive to consider her pioneering achievements. In 1902 she became the first woman to graduate from the renowned architecture program at the École des Beaux-Arts in Paris. In 1904 she became California's first licensed female architect. And in 2014 the American Institute of Architects posthumously awarded her the Gold Medal, as its first female recipient. Best known as the designer of William Randolph Hearst's lavish estate at San Simeon--on which she worked for nearly thirty years (1919-1947)--Julia Morgan designed an astonishing 700 additional projects throughout the west. Victoria will not only share new information about many of these buildings; she will also reveal her new discoveries about Julia Morgan's inspiring personal life. Wine, drinks and heavy hors d'oeuvres will be served.
Sunday - Celebrate our Midcentury / Modern Architecture
Bullock's Pasadena (now Macy's) Department Store Tour
Sunday, November 13
11:00 AM – 12:00 PM, 11:30 PM – 12:30, 12:00 – 1:00, 12:30 – 1:30
Tickets: $20 members | $25 nonmembers
Back by popular demand will be guided tours of the 1947 Bullock's Pasadena, now Macy's, department store. Listed on the National Register of Historic Places, Bullock's Pasadena opened on September 10, 1947. Designed by Walter Wurdeman and Welton Becket, Bullock's Pasadena was seen as an innovative, high quality design at a time when the character of post-war suburban architecture was evolving. The idea of the new suburban informal lifestyle was sweeping the country following WWII, and Bullock's was the first department store tailored to the convenience of the automobile with ample parking lots and large entrances off of the upper and lower motor courts. The consideration of the car-mobile customer would come to typify suburban commercial architecture and urban planning over the following decades. This fabulous Late Moderne building retains many original features, and is one of Pasadena's post-war treasures. Pasadena Heritage played a major role in saving this building from destruction.
Tour of the 1978 Buff and Hensman-designed Hollis House
Sunday, November 13
2:00 PM – 3:00 PM
Tickets: $25 members | $30 nonmembers
Our shuttle bus will take you to one of Buff & Hensman's great houses from the 1970s! The Hollis House was designed in 1978 by Conrad Buff and Don Hensman who graduates and professors from the USC School of Architecture and had a very successful architecture career over several decades. This home is located in the hills above Annandale Golf Course with breathtaking panoramic views of Pasadena's skyline and the San Gabriel Mountains. As you enter the home through a private courtyard you are taken by the signature architecture of Buff & Hensman, with its clean lines, symmetry, open floor plan and light-filled rooms. The wide stairway leads to an amazing living room with 12' ceilings, built-in cabinetry, gas fireplace and 10' glass doors to the deck with breathtaking panoramic views. This tour is a great precursor to the evening reception that follows at the Moseley House. (A separate ticket is required.)
Exclusive Tour and Reception at the 1999 Don Hensman-designed Moseley House
Sunday, November 13
3:30 PM – 5:30 PM, 4:00 PM – 6:00 PM, 4:30 PM – 6:30 PM
Tickets: $85 members | $95 nonmembers
The finale of Preservation Pasadena is an exclusive reception at the Alex and Jaylene Moseley House. Taking full advantage of the sweeping view of the Rose Bowl and entire San Gabriel Valley, this 1999 house designed by Don Hensman epitomizes the ideal of integrating a structure and its site. The magnificent entry court, with its roof-high waterfall, provides a dramatic welcome to this classic contemporary residence. Guests will be shuttled up to the home and enjoy the sunset sipping wine and surrounded by the art and architecture of this stunning place. Wine, drinks, and heavy hors d'oeuvres will be served.
PAST EVENTS
Thursday - Celebrate Pasadena's History and CultureAuthor Talk and Presentation on California's Citrus Heritage In-Person or on Zoom
Thursday, November 10
6:00 PM – 8:00 PM
Tickets: $20 members | $25 nonmembers
Join us at the historic Blinn House, Pasadena Heritage's headquarters, for a lecture by Ben Jenkins, Ph.D University Archivist and Associate Professor at University of La Verne. The lecture is based on his book, California's Citrus Heritage. Since the first appearance of oranges at the Franciscan missions in the early 19th century, citrus agriculture has been an inextricable part of California's heritage. From the 1870s to the 1960s, orange and lemon groves were dominant features of the Southern California landscape. Observers did not exaggerate when they dubbed the southern portion of the Golden State an orange empire.Books will be available for purchase. Postcards of citrus labels will be on display. Citrus drinks and light refreshments will be available for those who attend in person.